I'm late to the party on this one! Slingbox has been out for a couple of years now and while I had heard about it in passing and kinda knew what it was, I was never that interested in it. What I surmised was that Slingbox was a device that hooks up to your TV setup at home and lets you stream live TV over the internet to your computer or your PDA. I was right. I wasn't that interested because I rarely have time to watch "live" TV. However, what I didn't realize was that it wasn't just limited to "live" TV. Sometimes it takes a good demo to get someone excited and that's exactly what happened to me. A friend showed it to me at Macworld Expo and I was floored. Not only was she able to show me what was playing live from her NY home, she showed me what was on her DVR. This 5 minute demo was all it took and I couldn't get to Best Buy fast enough to get one (could have saved money by ordering online, but hey I was excited!)
Although there are a few different Slingbox models, I was really only going to choose between two: Slingbox Solo and Slingbox Pro. There is a Slingbox AV, but it's limited to just Composite and S-Video ports so it wasn't even in my thoughts. The Slingbox Solo allows you to hook up to one source such as a Cable Box, DVR/TiVo, Satellite box, Coax Antenna Cable/Antenna, etc. The Solo has Composite, Component and S-Video connections. My other choice was the Slingbox Pro and the difference between the Solo and Pro is that the Pro can allow up to 4 sources to be connected at once. So it has the full complement of ports (Component can be added for $39-$49 via a dongle) and you can plug multiple devices into it. Although I could have gotten by with the Solo, the Pro wasn't that much more in price so I went for it (I hate those "I should have bought the next model up" regrets).
The main connection I wanted to make was to my Comcast DVR or my TiVo HD. Since the Slingbox has to be connected to an Ethernet connection, the most convenient spot was on a TV with a Comcast (Motorola) DVR on it. This particular TV also has an older DirecTV TiVo on it and having the Slingbox Pro allowed me to connect both of these. Overkill? Yeah probably.
How does it connect?
The Slingboxes have both in and out ports. So no matter which connection method you you use, you're connecting out from your source (such as a DVR), into the Slingbox and out of the Slingbox back to your TV. So it sits in between your source and your TV and therefore you don't need any extra ports which is great. I connected my DirecTV TiVo via S-Video and my Comcast DVR via the optional Slingbox Pro HD Component dongle along with the appropriate audio ports. Unfortunately none of these units have HDMI yet. I was impressed and pleased that all of the necessary cables were supplied. As I mentioned above, you will need an Ethernet connection from your router. If your router is NOT close by, they do sell a SlingLink Turbo which allows you to route the necessary Ethernet connection through a standard electrical outlet by just plugging in one near your router and one near your Slingbox. I didn't need this accessory, but it is getting good reviews on Amazon, so I assume it works. No drilling holes through your walls to run Ethernet cables. The last part of the setup is placing the IR emitters over your existing boxes. This allows you to control your devices from your onscreen SlingPlayer remote.

back of a Slingbox Pro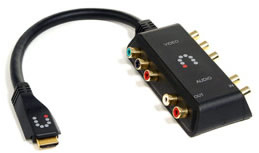 the optional Slingbox Pro HD Component connection

back of a Slingbox Solo
After you get it all connected up, then what?
There is a CD in the box for PC users to install the SlingPlayer. For Mac users you just download it from their website. Once you download the SlingPlayer, it walks you through setting up your Slingbox to be accessed over the internet. Although the setup assistant claimed to be able to configure my router automatically and claimed it did so successfully, it didn't work when I tried to access my Slingbox from outside my network. So I just opened up the necessary port on my router myself and it works like a charm.
How well does it work?
Your ability to watch YOUR TV or DVR while you're on the go is going to greatly depend upon available bandwidth. As you might imagine, streaming live video requires a pretty beefy internet connection. So your mileage (read picture quality) will vary depending on how you're connecting to the internet. Some public/pay-as-you-go internet connections expressly prohibit this kind of use. For example, Verizon's EVDO service prohibits streaming of live video and some users have had their accounts permenantly suspended as a result. Someone told me that a hotel they stayed at had high speed internet and right in the terms of service they spelled out "No Slingbox use". However, if you are on a speedy internet connection and you are not restricted from this kind of use, then slingbox performs extremely well. My connection at home is Cable Modem with very good throughput and I tested connecting back to my Slingbox over a DSL connection that was much slower (and under heavy use at the time) and the experience was more than adequate. I was also happy to see that it played nice with the different aspect ratios of my sources. My Comcast DVR is setup for 16:9, but my DirecTV TiVo is 4:3 and it remembers that in the player.
Also if you have a compatible Palm Treo, Symbian OS or Windows Mobile PDA, you can buy a SlingPlayer Mobile app for those too. They have also announced a SlingPlayer for Blackberry due out later this year. I have high hopes that once Apple releases the SDK for the iPhone next month that Sling Media will develop a SlingPlayer for iPhone! Fingers crossed.
Also keep in mind that while the Slingbox has to be connected to Ethernet, your computer that you're running the SlingPlayer on doesn't. So I can stream over my Wi-Fi connection with no problems. This would also allow you to watch TV in rooms that you don't have a TV in in your own house via your laptop.
Having access to my DVR makes all the difference in the world
I wouldn't call myself a TV junkie, but there are a few shows that I really like to watch. I can remember a few times last year of being on the road and getting back to my hotel room too late to catch "24" or "LOST". Now with Slingbox, I would be able to fire up my MacBook Pro, launch the SlingPlayer, go to the "My DVR" menu and start playing the episode that I recorded at home. What's even better is that I would be able to fast forward through the commercials and pause it as needed. DVRs allow you to "Time Shift" your TV viewing. Slingbox allows you to "Place Shift" your TV viewing. Forgot to set your DVR to record something before you left the house? No problem, fire up the SlingPlayer on your laptop and just use the onscreen remote to setup the recording remotely.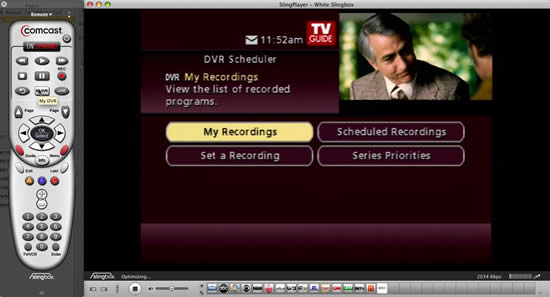 my Comcast DVR showing through the SlingPlayer on my MacBook Pro. They even match the remote. The little squares at the bottom of the screen are station presets that you can configure to jump to your favorite channels.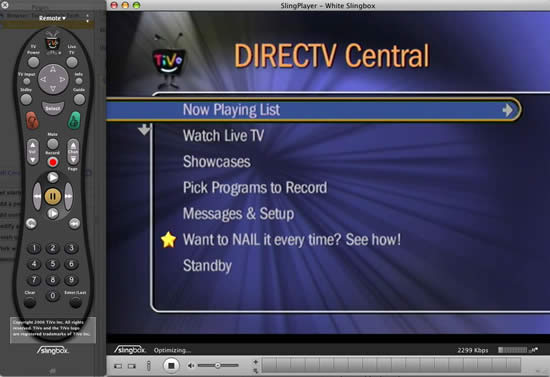 my DirecTV TiVo showing through the SlingPlayer on my MacBook Pro. Complete with an onscreen TV Remote.
How much does it cost?
If all you want to control or watch is one device such as a DVR or cable box, then I would go with Slingbox Solo which Amazon has for $144.99 with free shipping (regular price $179). If you want to have two or more sources, then you want Slingbox Pro which Amazon has for $179.99 (regular price $229.99). Keep in mind that with Slingbox Pro, if you want to connect via Component cables you will need the optional Sling Media HD Connect Cable for $38.99 at Amazon (regular price $49.99). If you just want a basic unit with composite connections, then you could go with the Slingbox AV for $109.72. Sling Media did announce a Slingbox HD that will be coming out in Q3 of this year and will go for $400. I'm not sure it would be worth the wait for most. I have the Slingbox Pro connected right now to an HDTV and there is no downside that I can see. Since bandwidth will be an issue, I'm not sure how effective you will be streaming HD anyway (outside of your home network).
There are no monthly service fees or contracts involved. It's just a box that streams over your existing broadband internet connection.
The bottom line
If you not only want to watch TV on your schedule, but also in the location of your choosing, then there is no better solution that Slingbox! For me it was a no brainer and it works as advertised. I would have gotten one of these a year ago if I had seen it in action. Sling Media, you need better marketing!