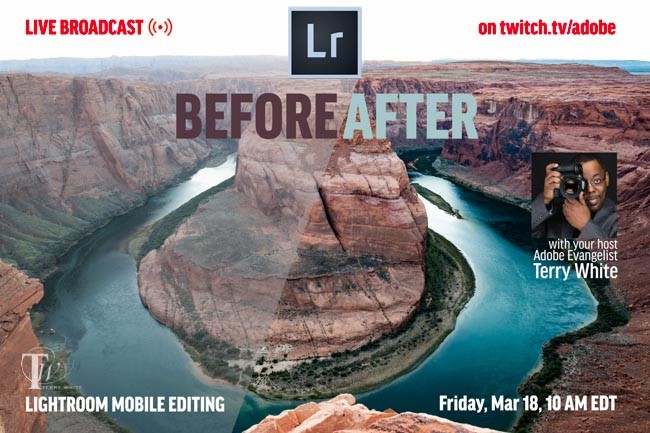 Join me tomorrow, Friday, March 18, 2016 at 10AM EDT for a LIVE session: "Lightroom Mobile from Scratch." If you've been wanting to take your photography to the next level by making sure that your images are easily accessible on your mobile devices and the web, then I've got something for you:
Everything you ever wanted to know about Lightroom Mobile
Tomorrow morning I'll be LIVE on twitch.tv/adobe and I'll be taking you through Lightroom Mobile from start to finish. We will be starting at the very beginning, including downloading the app and getting setup for success. You'll see ways to manage your ever increasing photo library and ways to edit your photos non-destructively on the go. Even if you're not a Creative Cloud member you'll still be able to take advantage of the mobile editing capabilities that I'll be showing. If you're up for it, you can participate in the "Lightroom Mobile Before&After Challenge" where you will show you will tweet your before/after pic for a shot at a prize.
There is no cost associated with this session. You can watch from your computer or your mobile devices via the Twitch.TV app. If you plan to comment/ask questions, then it's probably best to go ahead and create a free account on twitch.tv right now. While you're there follow me at twitch.tv/terrylwhite and follow twitch.tv/adobe.
I look forward to seeing you all tomorrow and every Tuesday and Friday at 10AM EDT for my regular show.
If you can't make it LIVE, you can watch the replays/Video On Demand (VOD) here.