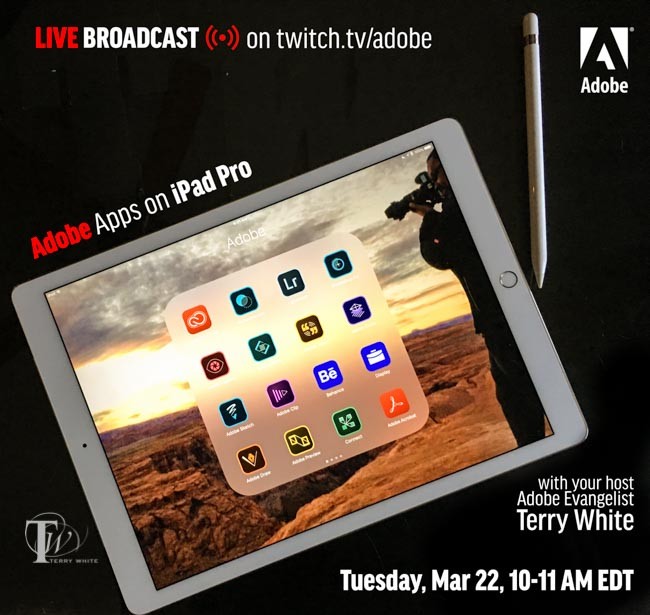 As expected, Apple just took the wraps off the latest addition to the iPad family, the NEW 9.7 inch iPad Pro! I'm excited about this one because it's the iPad that I really wanted. When the iPad Pro was introduced last year, the first thought that came to mind was "I don't really want/need a bigger iPad." However, after experiencing the fidelity of the Apple Pencil, I knew that this was the iPad to have for all things creative. Now that there is a 9.7″ iPad Pro with the same speed and Apple Pencil support it's clear that Apple is serious when it comes to enabling creatives to be creative on mobile devices…
Adobe Apps on iPad Pro
This is why I'm dedicating the first hour of my LIVE show tomorrow to showcasing the power and what can be done with Adobe Apps on iPad and iPad Pro with Apple Pencil. Whenever I show Adobe Apps on iPad Pro one of the first questions I get is "when will the Adobe apps be optimized for iPad Pro." The great news is that the vast majority of the Adobe Apps for iPad (which are FREE by the way) have already been optimized for iPad Pro. This means that they have Apple Pencil pressure sensitivity support where it makes sense and they also take advantage of the larger display as well as the split view options.
Join me LIVE at 10AM EDT Tuesday, March 22nd on twitch.tv/adobe while I walk you through as many apps as I can within an hour. Can't make it LIVE? No worries, you can watch the replays at twitch.tv/adobe/profile or on my YouTube channel at terrywhite.tv.
But wait, there's more…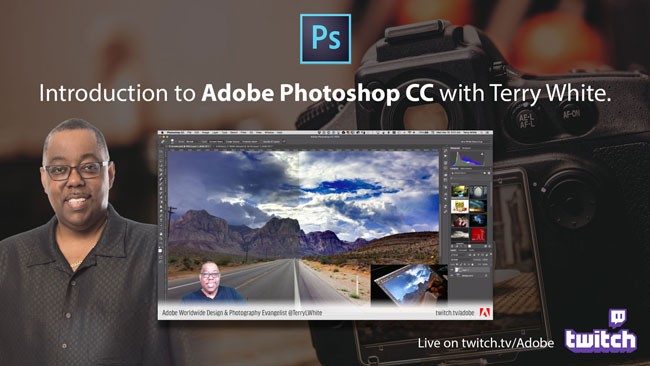 Introduction to Adobe Photoshop CC with Terry White LIVE
I'm already broadcasting LIVE on twitch.tv/adobe Tuesday's and Friday's at 10AM EDT. I've now dedicated the second half of my show (11AM-12Noon ET) to a "Learning Stream". This means for the next 5 weeks I'll be doing an Introduction to Adobe Photoshop CC every Tuesday and Friday for an hour. If you're NEW to Photoshop or know someone who is, this is you/their chance to learn Photoshop from scratch, for free. The fact that it's LIVE means that you can ask questions. While there is no registration or signup required, if you want to be able to chat you will need a FREE Twitch.tv account. It's probably best to create one now here. Once you create your account be sure to follow me at twitch.tv/terrylwhite and follow Adobe at twitch.tv/adobe so that you don't miss anything. You can watch via your browser on your computer or download the Twitch app for your mobile device.
You can see the list of Photoshop topics that I will cover here.
I look forward to seeing you tomorrow and every Tuesday and Friday LIVE!