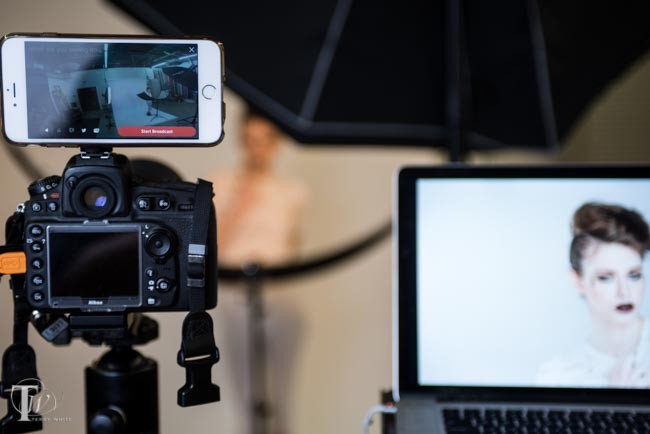 Live Streaming from a DSLR Point of View
Live streaming is becoming more and more popular and whether or not you're live streaming your photo shoots or just wanting to create a behind the scenes video, your DLSR has the best view. Let's face it. Your DSLR is pointed at the subject and has the best point of view. Sure, you can mount your smartphone or video camera on a stand/tripod to capture the "set", but your DSLR is always going to be focused on the action!
The good folks over at Arkon Mounts came out with a couple of NEW mounts that go on top of your camera via the hotshoe. The "Camera Hot Shoe Phone Mount" and my FAVORITE the "Camera Hot Shoe Magnetic Phone Mount". I opted for the later because I'm already using other Arkon magnetic mounts. I have a small metal plate on that comes with their magnetic mounts adhered to the back of my iPhone 6s Plus case (no the magnet doesn't affect the phone). With this magnet version I can quickly mount and unmount my iPhone from the new camera mount. The mount can be mounted either facing you so that you can see your smartphone OR you can mount it backwards so that your smartphone is facing the subject. This is really useful if you're photographing kids and you put their favorite videos/apps on display to capture their attention while they're looking at the camera at all times. This is a great solution, but…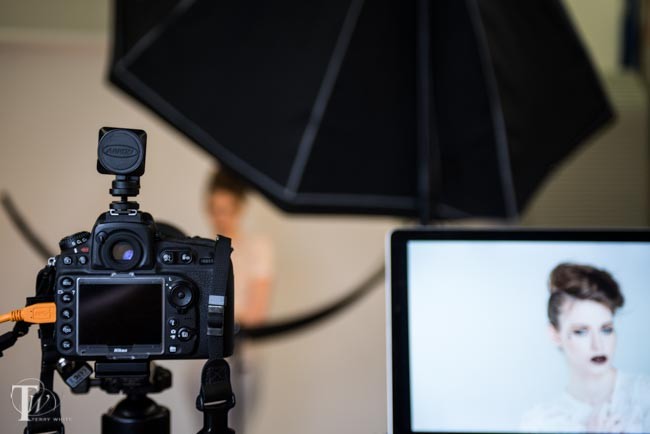 There is one problem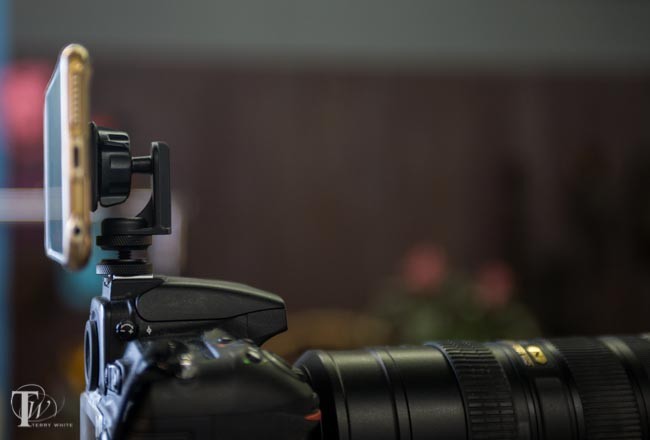 I used this mount on my most recent studio shoot, however that caused me to have to make a choice. Since it sits in the hot shoe this means that you can't use the hot shoe for anything else while your smartphone is mounted on it. That's fine when your light source is natural or continuous light, but it's a problem if you need to use a wireless trigger to fire your strobes/speedlights.
Problem solved!

I solved the problem with the Andoer Dual Hot Shoe Flash Speedlite Bracket Splitter. I found this gadget on Amazon and honestly I was bit skeptical. The price is under $12 and it's designed to allow you to use TWO hot shoe electronic devices at the same time. As a matter of fact when it arrived, I opened it and said "oh this thing is here" and I didn't even try it for a week. I just figured I would be disappointed. I was wrong. It works! I really only need it to work with one "hot shoe" device at a time since the Arkon mount is really a "cold shoe" mount as it has not electronics. I tried it with Pocket Wizard MiniTT1. I figured if it worked with this device, it would work with just about anything. They make the Andoer Dual Hot Shoe for both Nikon and Canon
.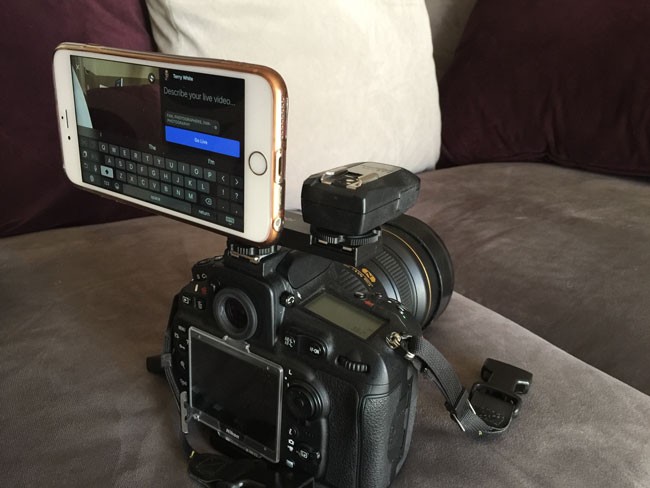 The Bottom Line
Whether you're Live Streaming or using Snapchat or recording a behind the scenes video, Live Streaming from a DSLR point of View is one of the Best options! You can get the NEW Arkon Camera Hot Shoe Phone Mount or the NEW Arkon Camera Hot Shoe Magnetic Phone Mount and take 15 % Off using the coupon code: "twhite" during checkout. You can get the Andoer Dual Hot Shoe Flash Speedlite Bracket Splitter if you need to have TWO items in your hotshoe. It worked out of the box and there is no battery required.
One more thing…
The folks over at Arkon (especially my friend Aaron) have been really generous to the streaming community. They've given away thousands of dollars in mounting gear. See this touching story from one of the lucky recipients: