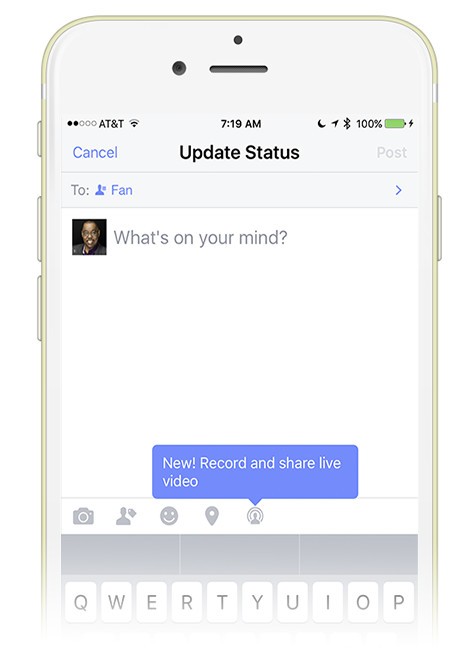 Twitter launched Periscope on March 26th, 2015 and so far it has been a hit with many. It's estimated that Periscope has 12 Million Users. It even got Apple's prestigious "App of the Year" for 2015. Yes, all things are pointing to Periscope only getting better from here on out. However, Periscope is in an ever increasing crowded field. While we don't see Meerkat in the new much anymore, there are others like Blab and yes the 800 lb gorilla, Facebook. Facebook has dipped their two into the live streaming pond a little at a time. Well recently, they waded out a little farther by starting to turn on Live Streaming in their regular Facebook iOS App for "regular folks". I say "regular folks" because before this advancement, Facebook only allowed Public Figures (and people with Verified Pages) to stream in their Facebook Mentions App. Now keep in mind that this is a slow rollout. You may not have it yet. This feature only started rolling out since December 14th, 2015. I only just got the feature (a button shows up when you have it) right around Christmas day. I have other friends that still don't have it yet. Whether you have it yet or not, you will ultimately have this ability (at least in the iOS App). It's just a matter of time as they turn on more users each day.
The Periscope App Could Learn a Few Things from the Facebook App
The first thing is that the Facebook App is both a iPhone app and iPad app. To my pleasant surprise the Live Streaming feature is also optimized for iPad. When you're broadcasting from an iPad you've got a bigger, better experience as the comments are on the side and don't interfere with the video.
Speaking of comments, not only do they not cover the video on iPad or iPhone, but the broadcaster can scroll them back down if he/she misses anything.
One of the biggest advantages that Facebook will have over Periscope is that it won't require users to do anything extra. They don't have to download an app. They don't have to create a new account. They don't have to build a NEW following. They just start streaming to their existing audience.
The other thing that makes the Facebook Live Streaming experience a little more interesting is that you can decide who sees the stream by aiming it at one of your Facebook Lists. For example, I have a Facebook List for Work, one for Fans, one for Close Friends, one for Family, one for Photography, etc. This allows me to do a stream to just my family members or one just to close friends. With Periscope it's either All or select Mutual Followers that you have to pick one by one each time.
While katch.me stepped in to archive your Periscopes longer than 24 hours, it's not really something that followers will see in the Periscope App. They will have to know to go to your Katch.me page to see your broadcasts that are older than 24 hours. However, your Facebook Live Streams turn into regular video posts on your timeline as soon as you end the broadcast and the comments made during the broadcast are right under the video.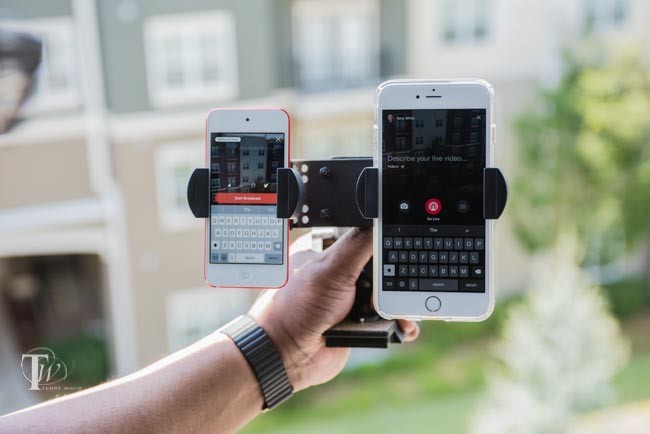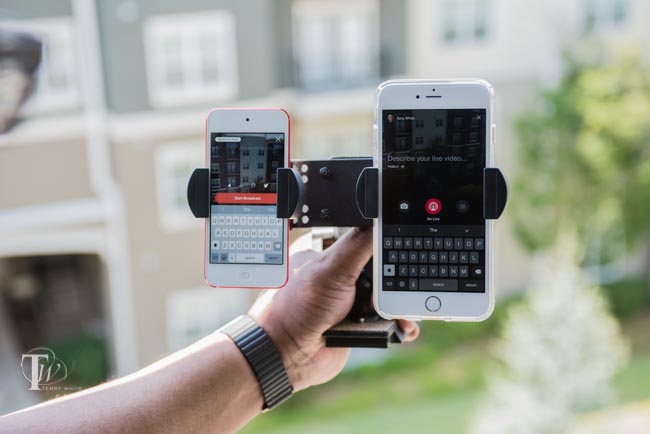 I could go on, but those are some of the main features I'd like to see in the Periscope App sooner than later. People are even questioning if Periscope has a future now that Facebook is getting into the game. To those people I say it has as much of a future as Twitter does. Twitter and Facebook coexist just fine and I'm sure that Periscope isn't going to die tomorrow. However, now that Facebook is bringing it's massive 1.55 BILLION USER BASE into the Live Streaming arena, Periscope Co. can no longer take so long between feature updates to their app. There are already lots of things that I like in the Facebook Live Streaming experience better. I'd also like to see Twitter simply add live streaming to the Twitter App! Why do we need a separate app just to stream? Facebook did it right by not introducing a separate app just for streaming (while they still could in the future like they did with Messenger, at least they get that this needs to be inside the regular Facebook app for maximum exposure.)
Be sure to follow me on Periscope here.
Here's a replay from my Periscope a couple of nights ago where I showed how to Broadcast LIVE via the Facebook App: