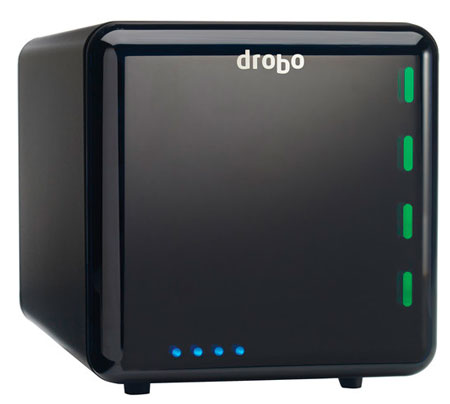 Drobo recently introduced their third generation 4-bay enclosure and I thought I'd take a look. I've been using Drobo storage units since 2008 (see my first review here). As a matter of fact that first unit is still in use today. Now I have five of them in total between home and my studio. So far to date I haven't had any hardware issues with my Drobo units. They have actually performed quite well. I did have a directory corruption problem early on that required me to reformat and restore from a backup, but that could have happened on any drive. Other than that one incident my five Drobo enclosures have worked just fine. I know that some, including my buddy Scott Kelby have not been so lucky. As a matter of fact Drobo has gone through some major changes (for the better) as a company as a result. With that said and since I've not had any real issues I continue to use their products.
What's New?
The new third generation 4-bay enclosure gets back to the basics. It reminds me of my first Drobo, only it's cheaper and faster with a more solid design. With this new model you can put anywhere from 1 to 4 drives in it of any capacity. Of course you're going to want to put at least two drives in it to get the data protection features. It has one interface on the back: USB 3. Aside from the USB 3 connection it looks and feels just like any other Drobo, but there are a couple of other things under the hood. It has a Power Fail Protection feature that protects the data you were transferring in the middle of a power outage. It also now sports a new Time Machine feature that lets you create a backup-specific volume. This is handy when you don't want Time Machine to eat up all the available space.
You can configure it up to 24 TB
Why Drobo?
I get this question all the time. Certainly there are less expensive RAID systems out there that are not proprietary. I went with Drobo for the following reasons:
Beyond RAID (their technology) means that I can mix the drive capacities. As the price of 4TB drives continue to drop, for example, I can replace my 2 and 3 TB drives without doing them all at once.
I can swap out a drive without having to stop the work or reformat. If I need to replace a bad drive or increase the total storage capacity, I can just eject a drive and replace it with another (potentially larger) one.
I don't have to be an IT expert to manage it. It sits in my server closet and just runs 24/7. If anything goes wrong it sends me an email.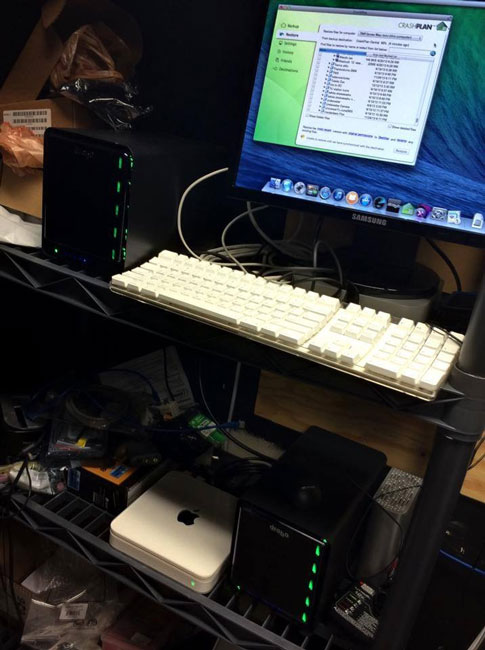 What if it fails?
I've heard the horror stories. As a matter of fact you'd be hard pressed to find ANY product that someone doesn't have a horror story about. However, I don't rely on or totally trust ANY single solution when it comes to my data. No matter who makes my storage units or how great their reputation is, I'm going to have my data backed up in multiple places including an offsite backup via crashplan.com. So if it failed tomorrow, I'd probably replace it with another one as nothing lasts forever and it will die someday. My favorite model is the Drobo 5D. This baby is fast and is connected via Thunderbolt to my Mac mini server. Again, I haven't had a moment's problem out of it since the day I turned it on. It's been running 24/7 since day one.
Although my Drobo units haven't failed, my hard drives have! Here's what Drobo does when a drive fails: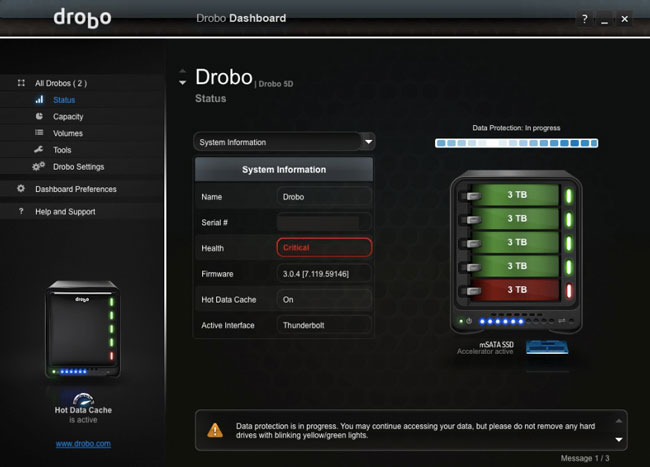 I got an email that the 5th drive was failing. I ordered a new one. It arrived in a couple of days. I ejected the bad one and put the new one in. I kept working the whole time. If you're super paranoid you can set it to protect you against TWO drive failures. This will reduce your total available capacity, but two drives could die at the same time and your data would still be protected.
You can get the NEW 3rd Generation Drobo here for $349 or less. Drobo increased their warranty period from one year to two years.