As a gadget guy there always seems to be a pile of stuff that I look at and say, "I need to sell that stuff on eBay." However, if you've ever listed something on eBay you know how tedious the process can be. I feel that my auctions bring in top dollar and the best response because of the time I put into creating the listing. I try to take several good pictures. I try to be very thorough with the description and up until now I've taken the time to use Adobe GoLive to generate the HTML to spruce it up a bit. I also try to always include all the original items such as the box and user guides. So sometimes (read: most times) it's just a chore getting everything ready to go.
I came across GarageSale after talking with some friends in my Mac Users Group. After I downloaded the trial and saw what it could do, I bought it on the spot. I almost forgot I had it. Last night I wanted to put one of my old iPhones up for sale on eBay and I decided that it was time to take GarageSale for a spin.

How does it work?
GarageSale is template driven. You have a wide range of templates to pick from. The templates are already HTML formatted and you can preview your listing in them. GarageSale is an approved eBay app. So it takes complete advantage of all the eBay listing features. What makes this app so easy and fun is that it's "Mac like" (sorry, there isn't a PC version). It integrates beautifully with the iLife apps with a built-in Media Browser as well as support for drag and drop.
I took pictures of my iPhone with my Nikon D300 in RAW. I processed them using Adobe Photoshop Lightroom and exported JPEGs to a folder. Then I was able to just drag them from the folder right into my GarageSale page using the built-in drop zones.
Using GarageSale I was able to specify:
a 99¢ starting price
a 3 day auction
a starting day and time (if I chose to) or use the built-in scheduler
the category for my listing
my shipping and payment options
a counter on my page
extras such as gallery picture, bold listing etc.
Once I was done with specifying what I wanted, I just hit the Start Auction button and my images were FTP'd to my server (an option) and my listing was posted right on eBay. GarageSale also tracks your items right in the same app. So no need to constantly go to the website.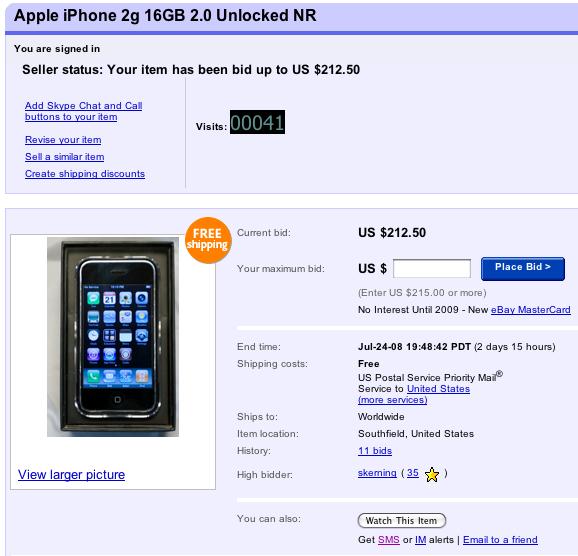 The Bottom Line
If you're a Mac user that regularly sales on eBay, you can't go wrong with GarageSale. After using it last night I feel that it was definitely worth the $34.99 ($59.99 Family License) admission price. Maybe now I can get to that pile I've been meaning to get to.
Hey, if you're looking to buy my iPhone 16GB, you better hurry. The beauty of this GarageSale generated auction has already gotten a lot of attention and bidders on eBay. Check out the auction here.