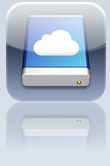 When Apple introduced the iPhone OS 3.0 update they also updated MobileMe to include the new Find My iPhone feature. One of the other things that wasn't widely publicized was that they also introduced a new iPhone App to allow you to access your MobileMe iDisk from your iPhone or iPod touch running the 3.0 update. Well Apple delivered the app this week as a free download from the App Store.
How does it work?
The App itself is very basic in operation and easy to use. Once you launch it you enter your MobileMe username and password. After that you're presented with 4 tabs: IDisk, Recents Shared Files and Public Folders.
The iDisk tab will show you all of your folders on your iDisk and let view any document that is viewable on your iPhone/iPod touch such as PDFs, MS Office docs (.DOC, .XLS. PPT), images such as .JPG files and iWork documents such as Pages, Keynote and Numbers.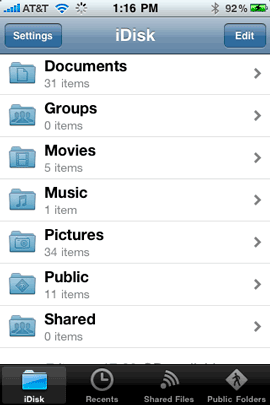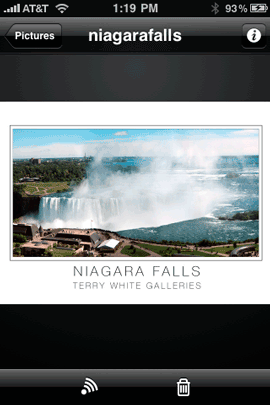 Yes, it does work in Landscape mode too.
The Recents tab is handy to get you quick access to the documents you've viewed "recently".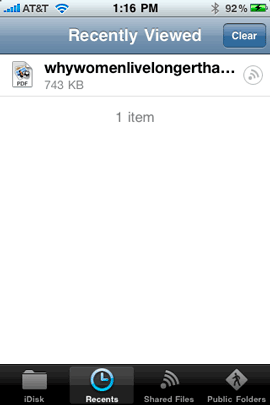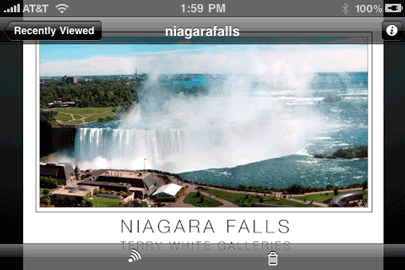 The Shared Files tab simply lists files you shared recently and their status.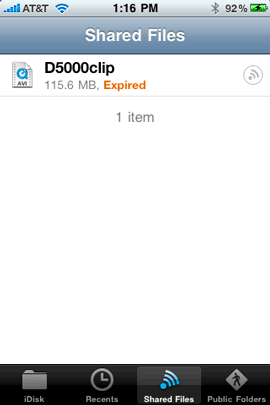 Public Folders is cool in that it allows you to access Other People's Public Folders! This makes it very easy for MobileMe users to check out documents of other MobileMe users that are publicly available.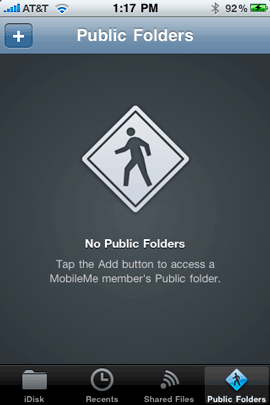 Public Folders are so last year! Use Sharing instead…
Public Folders are really cool, but you either have to make this area of your iDisk unrestricted OR you have to assign it a password and give that password out to users and then they have to figure out how to access your Public Folder.
Earlier this year, Apple introduced MobileMe Sharing, which allows you to Share Files from your iDisk very easily by sending users an email with a direct link to the file. The good part about this is that the file does NOT have to be in your Public folder. So if I share a file with you from my Documents folder, you can only access that one file. Just click the link in the file and download away.
Now you have this ability to share directly from your iPhone. Just select the File you want to Share and then tap the little broadcast icon. You can then address the email to whoever you want to be able to download this file and send it.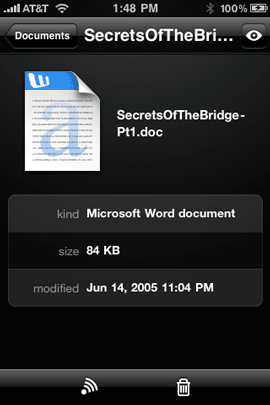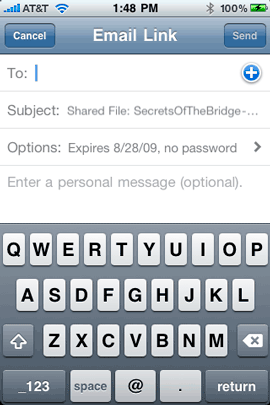 The Bottom Line
If you have an iPhone/iPod touch running the OS 3.0 update and you have a MobileMe account, this app is a no brainer. Download it today for FREE from the App Store. The more value that Apple pumps into MobileMe, the easier it becomes to justify the annual cost. One thing to remember is that you can almost always find MobileMe on sale! So never pay the regular subscription prices of ($99/$149 a year.) If you don't have a MobileMe account yet or want to purchase a retail pack for when your subscription needs to be renewed, here's a great deal on the Individual and Family Pack. The packs simply include a registration code so pay no attention to "Older Versions". Any retail pack you buy will work!
Features I LOVE about MobileMe:
Push Email, Contacts, Calendar
Syncing Contacts, Bookmarks, Calendars, etc. between multiple computers and iPhones/iPods
Find My iPhone
iDisk – Easy File Sharing
Nice Web Galleries
and now the iDisk App.