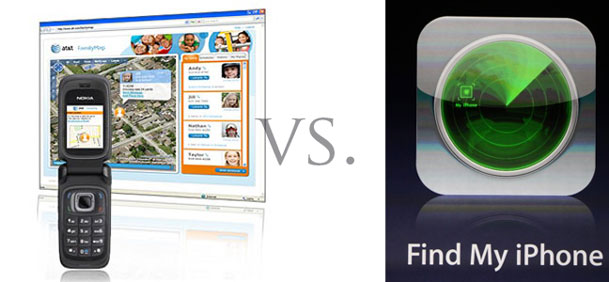 A couple of months ago I reviewed AT&T's FamilyMap service. This service allows you to track the location of the cellphones you have on an AT&T Family Plan. However, since that time Apple introduced the Find My iPhone feature, which works with iPhones and iPod touch devices as long as you have a MobileMe account ($99/year or less). After I posted my FamilyMap review, many of the blog readers here signed up for the free trial and many said the same thing. "It's just not accurate enough." Now while I didn't have a problem with the accuracy of it, I do have a problem continuing to pay for a service I may not need anymore.
AT&T FamilyMap
This service works by giving you a website that you can go to and "Locate" your loved ones. Depending on the phone the accuracy and the ability to pinpoint the location can vary widely. For example, a phone with a built-in GPS is liable to be more accurately found than a phone without one as it would have to rely on cell tower triangulation. AT&T FamilyMap starts at $9.99/month for up to 2 phones and 14.99/month for up to 5 phones on the same family plan.
MobileMe – Find My iPhone
The MobileMe Find My iPhone feature only works with iPhones and iPod touch devices. You log in to the me.com website, click the settings icon and then click the Find My iPhone link. Your iPhone's location will be pinpointed on a map. You have to have a MobileMe account to use this feature and MobileMe retails for $99/year (or less if on sale). In order to find more than one iPhone, you would need the Family Pack which is $149/year (or less if on sale).
AT&T FamilyMap vs. MobileMe Find My iPhone
Although the two services allow you to pinpoint an iPhone's approximate location, they really aren't designed to compete with each other. The AT&T FamilyMap service is designed specifically to locate loved ones on your Family Plan. The Find My iPhone feature is designed to locate a lost or stolen iPhone and remote wipe it if necessary. Also even if you have a MobileMe Family Pack, you can only locate one iPhone per sub account. So that means in order to locate my daughter or her iPhone, I would have to log in as her. Since I have everyone's login information, this is not a big deal, but it would be nice if MobileMe would allow the master account holder of a Family Pack to be able to locate all the iPhones associated with the account. While AT&T FamilyMap works with any phone, Find My iPhone only works with iPhones or iPod touch devices.
Which one is more accurate?
I was stunned by how much more accurate Find My iPhone was over AT&T FamilyMap. I did a side-by-side comparison while my daughter was out and about and Find My iPhone was dead on!
Here's the AT&T FamilyMap display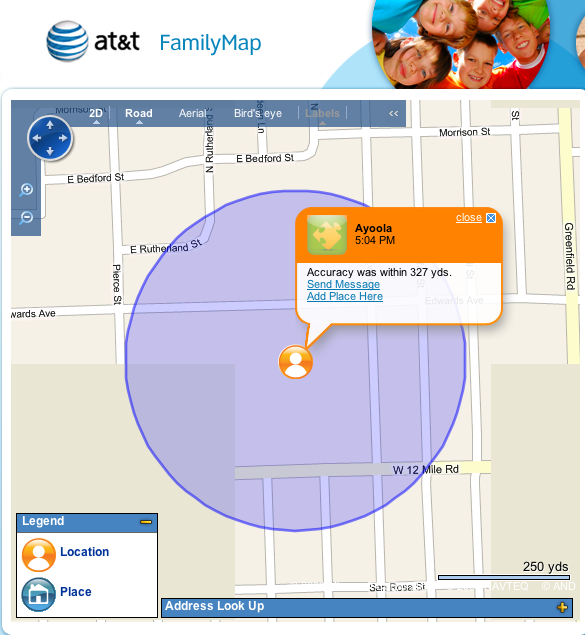 Now here's the Find My iPhone display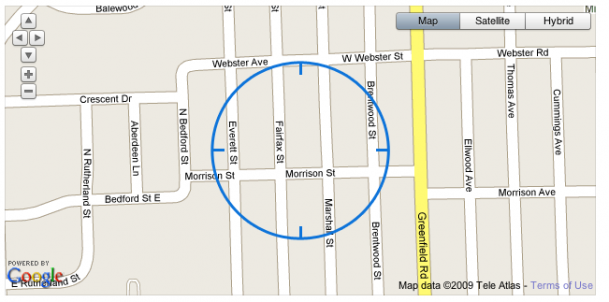 I happen to know exactly where she was during this test and the Find My iPhone location was right on the money.
The Bottom Line
Like I said, I didn't really have any complaints with the AT&T FamilyMap feature and accuracy. However, once I got the ability to use Find My iPhone through MobileMe and I saw how much more accurate it is, I dropped FamilyMap that day! Now also keep in mind that all of my immediate family members use iPhones. So for me it was easy. If you need to track non-iPhones, then FamilyMap is going to be the better option.
Also for less money than the monthly fees of FamilyMap you get many more features with MobileMe than just locating your iPhone. See the features here.
You can get an individual MobileMe account here for $61.49 and a MobileMe Family Pack here for $103.99. Pay no attention to the fact that it says "Older Version", all you get in the box is an activation code. It doesn't matter how old the retail packaging is, you get the same services! So you might as well save the $$. These retail packs also work for renewing. So I buy them when I find them cheap like this and either hold on to them or renew early.