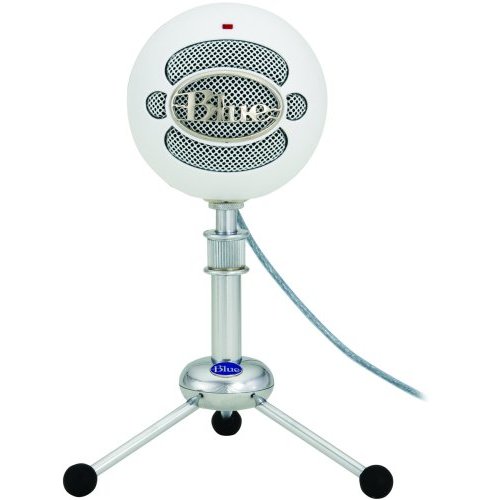 I've always used a headset mic when recording my Adobe Creative Suite Podcast episodes. However, now that I'm experimenting with ScreenFlow and doing more "on camera" stuff, I don't want to have the headset show in the video. So I decided to give the Blue Microphones Snowball Mic a try.
This USB mic puts you in the mind of the old radio style mics. It's very stylish (kinda big – think softball) and draws stares by anyone who walks by my desk. Setup was as simple as it could be. Just plug in the USB cable and then choose it as the audio input source. That's it!
The first time I used it, I wasn't as happy with the sound quality as I was with my noise canceling headset mic. However, this time I tried it with my latest episode and I'm quite pleased with the results. It's nice because you don't have to be right up on it. As a matter of fact it sounds better when you're back away from it a couple of feet. This makes it great because it doesn't have to be in my shot.
Now this is one of those, "you get what you pay for" kind of things. This is a $100 mic. It's not a $500 mic, so my audiophile buddies out there may not think it's all that great, but for my needs and probably the needs of most of the readers here, it would be great.
What about travel?
There's no way that I'm going to travel with this thing. It's designed for your desk, not your laptop bag. While I was in Portland a couple of weeks ago, I stopped by the downtown Apple Store (had to take advantage of the "no sales tax".) I went in for a couple of things and then my buddy Dave pointed out another much smaller mic (wait for it:………), the SnowFlake! I haven't had a moment to test this one yet, but I will try to get to it this week and review it here. The SnowFlake ($45) is very compact and folds down neatly to fit in a notebook bag pocket.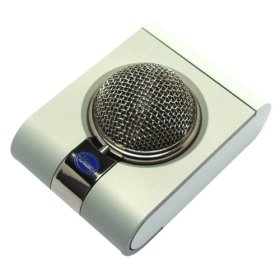 So in a nutshell, I'm snowed in!