It never fails for me. I'll ask one of my friends something like, "do you know a good carpenter?" Of course the answer usually is something like "yeah, I got a guy." Well I get asked for recommendations all the time. If you have someone that's good enough to recommend, chances are that person or business is in your Contacts list. My problem with the iPhone since day one is that there was never a way to easily share a Contact with someone. So needless to say, I was pretty happy to see some apps on the App Store that actually allow you to email a contact to someone. That leads me to this week's iPhone App of the Week: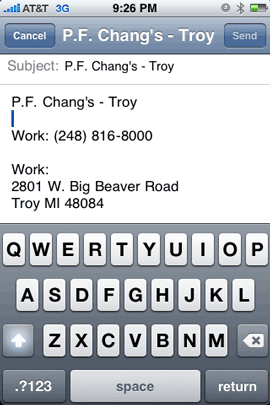 EmailContact
This app allows you to select one of your contacts and email it to someone. That's pretty much it! It converts the Contact's info into text and puts it into the body of the message. What's nice is that you also have the option of turning on/off various fields that you want sent or don't want sent. For example, I sometimes put notes on my Contact records that are personal to me. So I wouldn't want the Note field to be sent. No problem, just turn off the Note field. Or maybe you want to send the work phone number, but not the home phone. That's not a problem either.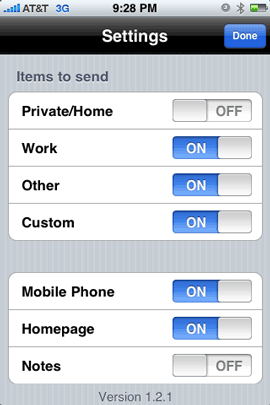 Like I said and show above with the first screen capture, EmailContact sends the Contact information for the Contact that you select, as text. So the recipient is going to receive the information as text in the body of the email. It would be nice if this app offered the option to also send the Contact info as a vCard.
Sadly it doesn't, but I do have an app that does. So this week you get two iPhone app recommendations for one. I also use an app called vCard Mailer. vCard Mailer works very similarly to EmailContact, except that it sends a vCard attachment instead of text. So it really depends on what you want to send (text or vCard)? For me it depends on why I'm sending the info and who I'm sending it to. Just the other day one of my friends needed the phone number for someone that we both knew. Since the iPhone doesn't yet have Cut/Copy/Paste, I wasn't able to just copy the phone number to an email. So I used EmailContact to send the info that he needed. Next my wife asked me for the address of a friend of ours and I knew that she would want to put all of this particular friend's info in her Address Book, so I sent her a vCard using vCard Mailer. This way she could just double click on the attached vCard and automatically import it into her Address Book.
The Bottom Line
Both of these apps are necessary because neither app does what the other one does. Could you get by with one or the other? Sure. However, if you want the option to send text OR vCards then you're gonna need both. The good news is that they are both economically priced. EmailContact goes for 99¢ and vCard Mailer goes for $1.99. Both apps work on either the iPhone or iPod touch.
Bonus App of the Week – Obama '08
OK, so now I'm going to recommend a 3rd app to take a look at. Let me start by saying that I recognize that you may or may not support Obama for president. So please don't respond with comments on how much you love or hate him (I'll just delete them anyway). I'm not interested in your political views just like you're probably not interested in mine.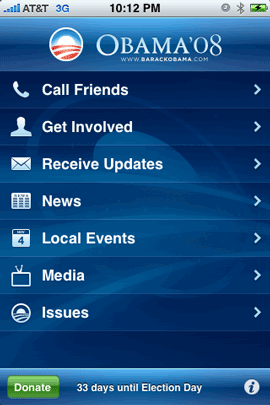 My point for talking about this app is that I'm impressed with the use of the technology! This app allows you to get news about the Obama campaign, see videos and even find your local Obama headquarters based on your current location (it uses Location services). There's even a feature (Call Friends) that displays YOUR contacts in order by the battleground states (that they are in) that Obama needs to win the most so that you can call your friends and persuade them to vote. Pretty innovative, although I'm not sure that I would feel comfortable calling all my friends and trying to tell them "how" they should vote (just like I don't want them trying to tell me how I should vote), but it's a cool feature nonetheless. Republican or Democrat, this app is cool and very well done. Whether you support Obama or not, you should check it out from a technology stand point. I think this app could be the model for a lot of other apps that could provide similar info/features for celebrities and organizations. Get the Free Obama '08 app here. Works with both the iPhone and iPod touch.
Although I don't care which way you vote, I do encourage EVERYONE to get out and VOTE! This is one of the most important elections of our time!