My friends keep telling me how much they appreciated My Top 10 Favorite iPhone Apps post. They liked it because I not only said which were my favorite apps, but why they were my favorites. Well I as stated in the post, this list would always be changing. I discover new cool apps all the time. There are over 1,600 apps for the iPhone and iPod touch on the App Store and more and more are coming each week. So I decided to do a weekly review (no promises) of an app that stands out and that I really enjoy using.
This week's app is Save Benjis
Actually it's about saving money (save Benjamins). We've all done it! You're standing there in the aisle of a store. You're holding a product in your hand. You're looking and the price and you're asking yourself, "is this the best deal?" Save Benjis lets you do a quick check right there on the spot! Simply type in the product name or better yet (for accuracy) the UPC number on the barcode and Save Benjis will lookup the product in question at some of the most popular retailers and etailers.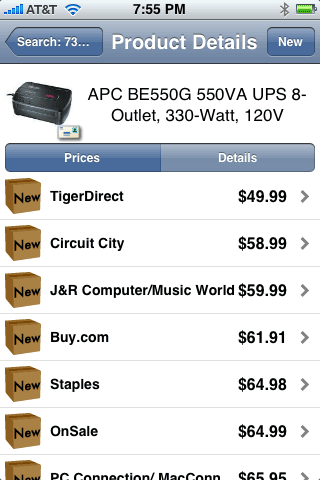 I used it just the last week and saved a quick $10 in Staples. I was buying another APC UPS unit and the price seemed higher than I thought it should be. I whipped out my iPhone and keyed in the UPC number right off the box. Save Benjis revealed that the $74.99 shelf price was indeed HIGH. As a matter of fact it was $10 higher than their own web price and even cheaper just about everywhere else. Since I wanted the unit right then and there (didn't want to wait or pay for shipping), I asked the cashier if they would match their own web price. They said, "no problem." If I decided to get it from one of the lower cost sources I could either have the app take me right to the appropriate page in Safari on the iPhone or email me the link to buy it later when I get home. In this example (not including shipping) I could have saved $25 off the shelf price of Staples by ordering it from TigerDirect.
Save Benjis is FREE and works with both the iPhone and iPod touch. However, for touch users it may not be as useful because you would need a Wi-Fi connection to do an on the spot comparison. Thanks to Adam Pratt for turning me on to this app.