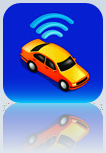 I've spent the better part of this week doing a 3 part series on some of my favorite travel tips and accessories (see Part 1, 2 and 3). So I thought I would wrap things up this week with one of my new favorite Apps: Taxi Magic.
True Story
I was in a meeting in San Jose and during one of the breaks I checked my Genius App Recommendations and one of them was Taxi Magic. So out of curiosity I decided to take a look. First off, this app was getting hammered in the reviews. However, I didn't let that stop me since the app was free and also one of the biggest complaints was the $1.50 charge if you pay for your Taxi with your credit card. I wasn't too worried about that, so I downloaded the app.
At the end of the day I needed to go from the office in San Jose to the San Jose airport and I was going to go by Taxi. So I decided that this would be as good of a test as I could give it. I didn't have much time and quite frankly if the app didn't work, I may have been late/missed my flight. Risky, I know.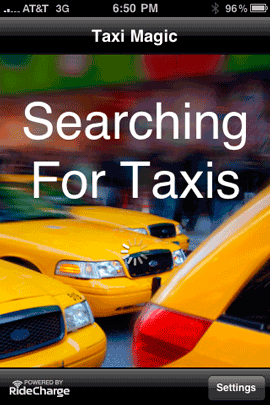 I fired up Taxi Magic at 6:20 PM. Keep in mind that I had already configured it with my credit card info and account setup prior. It did a quick Location check and I then keyed in my pickup address. Next I requested a Taxi to pick me up "Now" (you can schedule it later). After putting in the details and tapping "Book". I got a confirmation in about 20 seconds and was blown away that not only did it show me that my Taxi was on the way, but it showed me how long it was going to take to arrive and where it was at the time! Real-time updates! Note the new version that just came out yesterday now shows your taxi's location on a map.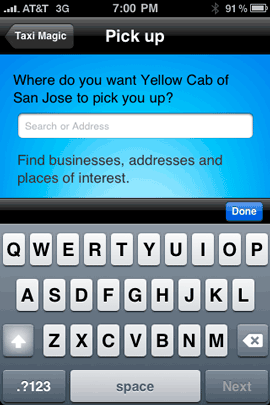 .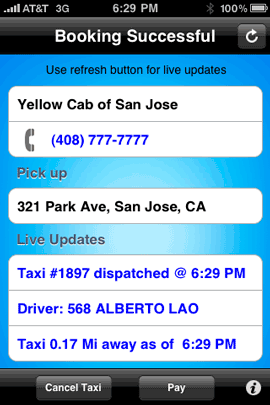 The taxi showed up about 2 minutes later and when the driver got out he asked for me by name. Whoa! I got in and was on my way to the airport.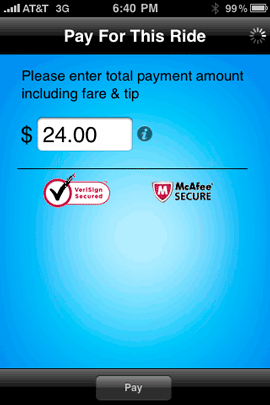 .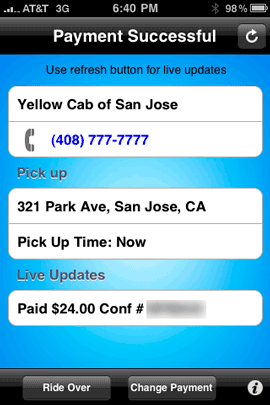 Once we arrived he told me my total and I decided, "why stop here? Let's see if I can pay with the app?" So I tapped the Pay button and keyed in the amount I wanted to pay (fare plus tip). I got a confirmation number in a few seconds and read it off to the drive. DONE!
How does it work?
If you in one of the cites serviced by RideCharge then when you launch Taxi Magic you'll either be given a large button to tap called Magic Book and this will allow you to make your booking directly with the Taxi company's dispatch system. This worked perfectly in downtown San Jose, CA.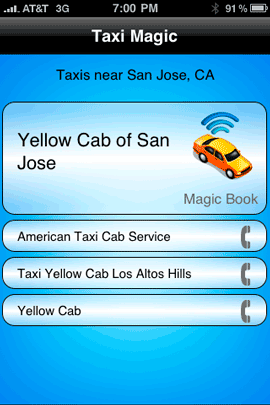 .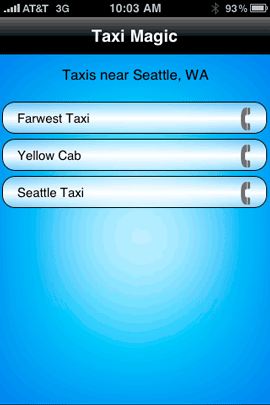 However, once I got to Seattle (one of the covered cities). I tried on several occasions to see if the Magic Book option would come up and it never did (the second biggest complaint of other reviews on iTunes). In that case you'll simply be presented with a list of cab companies in the area and have the opportunity tap to call any of them. This of course leads to the one of the main criticisms of the App and that is it's really hit or miss as to whether or not you'll be able to use the cool Magic Book feature. However, the way I look at it is that the app is FREE and if you are standing in a spot that Magic Book works, GREAT! But even if you're not you can still have direct access to the local taxi companies and call them the old fashioned way. So really what do you have to lose?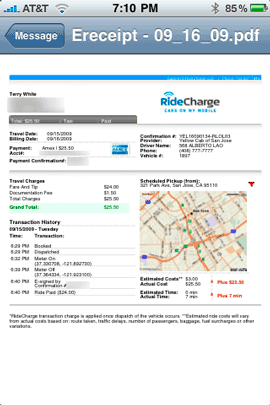 At the end of the process. The app lets you tap an "End" button, which will stop the taxi tracking feature and allow you to book another Taxi if you like or simply exit the app. Since I paid by credit card, not only did the drive hand me a receipt with the confirmation number on it, but RideCharge mailed me a VERY DETAILED PDF receipt with not only all the charges, but also a small map with the route that was taken and mileage. It's clearly the most detailed ground transportation receipt I've ever received.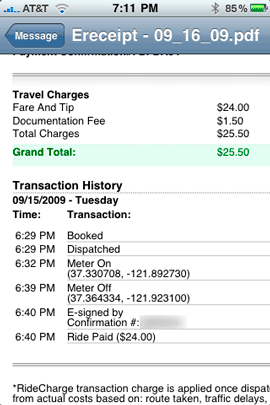 .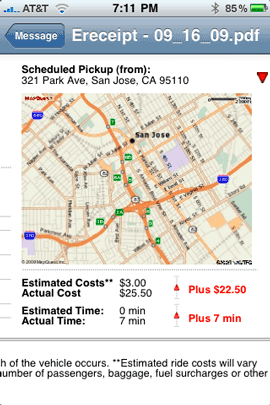 Yes, there is a charge to pay "magically". You have the option of ether paying cash or paying by the credit card that you keep on file with the app/RideCharge. If you pay by Cash, that it. You pay your fare/tip and you're done. However, if you do pay by credit card, which I prefer, you will be charged $1.50 on top of the fare. Some really balk at this and of course it's your money (or your company's money) so you have the right to not want to pay it. Again, for me I don't have a problem with the $1.50 fee because it's just easier on the back end for doing expense reports if my taxi charges are all charged to my corporate card. Since I didn't pay by cash.
The Bottom Line
If you're in one of the supported cities for this App and you need to have a Taxi pick you up, this app rocks! If you are in one of the Magic Book zones, then it truly is like magic. You can download Taxi Magic here from the App Store: