If I covered every single item I traveled with it would probably bore you to tears. So instead I'm going to focus this last segment of my favorite travel tips on my favorite/must have travel items that I take on practically every trip. Now keep in mind that the items I mentioned in Part 1 and Part 2 are also included in my favorites.
At least one camera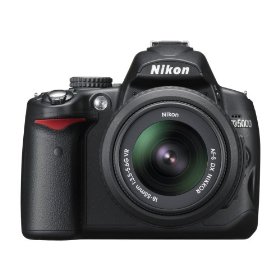 Honestly I usually have 3 to 4 cameras with me on every trip. At a minimum I have my iPhone 3GS, which I consider to be my "I want to take a picture and don't have anything else with me" camera. I also keep my Canon PowerShot ELPH 870IS point and shoot camera in my laptop bag (in one of those mesh bags I mentioned earlier this week). Between these two I'm usually covered for those surprise photo ops. However, if I know that I'm going to be taking pictures or the purpose of the trip is photography, then I'm also going to pack either my Nikon D700 or D5000. If there is going to be a video opportunity I'm also going to pack my Canon VIXIA HF10 HD video camera too. So you see, we got to 4 cameras without blinking an eye. I never want to say that "I missed a great chance to take a shot because I didn't have a camera with me-AGAIN."
I also always carry either my di-GPS Pro (if I carry the D700) or Nikon GP-1 (if I carry the D5000) GPS units for Geotagging my Photos.
My Wacom Intuos 4 SMALL tablet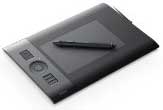 Yes, I'm that hooked on Wacom tablets that I now have one that stays in my luggage. I can no longer do retouching with a mouse/trackpad. I don't know how I ever used to do it, but now I refuse. Often times I'm so excited about the shots I took that day that I want to retouch a couple of them that night and well, I need my tablet! Hey, if you've got room for a MEDIUM or larger one, go for it. The SMALL fits comfortably in my laptop bag. See my Intuos 4 Review here. The Intuos 4 Small Tablet goes for $199 here.
For the Rental Car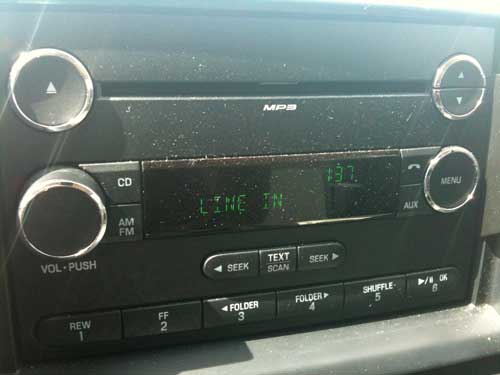 The items here are usually packed in the outside pocket(s) of my roller board suitcase (the one I carry on). The first item is my Garmin Nuvi 765T GPS unit. Yes, I'm definitely a fan of the Navigon GPS app for iPhone and hopefully it will soon replace having to carry a dedicated GPS, but it's not there yet. I'll need traffic support and a car kit that boosts the iPhone GPS signal before I could drop my Garmin. The other thing I'm totally hooked on is the Garmin GPS Friction (bean bag) mount. I hate suction cup mounts because they never work for me.
You remember in Part 2 I talked about the importance of car chargers.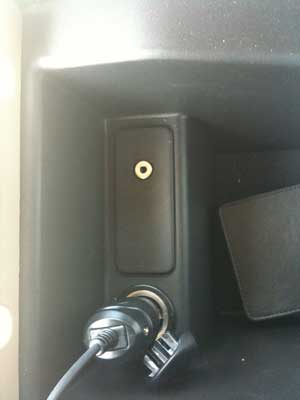 Well there is one more thing I'm now including and that is an audio cable. My last 3 rental cars all had stereos with Line In jacks. So that means that I can listen to my own music on my iPhone or Nuvi 765T right through the car's stereo system. So I now keep a 3.5mm Male to Male audio cable in my luggage. Here's one that's less than $3. So even if you left it in the car by accident or lost it, it wouldn't break the bank.
Another option here is to burn an MP3 CD. Many of the newer cars have in dash MP3 CD players. Just keep the disc with your favorite tunes on it in your luggage and you'll always be ready.
My CradlePoint CTR500 Router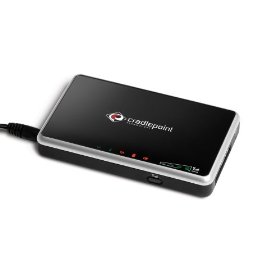 I stopped depending on having a Wi-Fi connection at the hotel or meeting room long ago. Now my favorite travel router for both 3G cards AND Ethernet is the CradlePoint CTR500. See my original review here. Now no matter what I have an Wi-Fi internet connection where ever I go.
Griffin Aircurve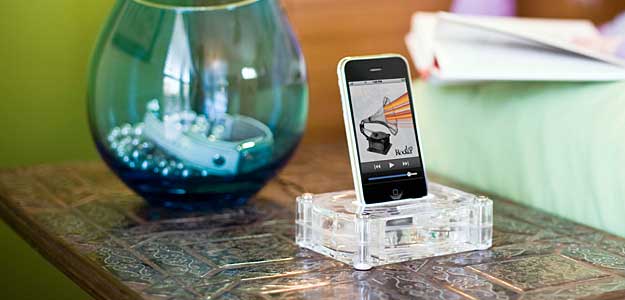 It's a great acoustic speaker that requires no power! See my original review here.
Samsonite Travel Pillow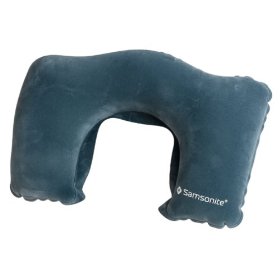 It doesn't run on batteries and there is no dock connector, but it's always in my bag. I can't tell you how much better it is to have this inflatable pillow on those long flights than to not have it. It makes all the difference in the world since who ever designed airplane seats obviously was short, skinny and never had to sit in them for more than 10 minutes. It's the best $10 I've spent on travel. It folds down to take up minimal space in my bag.
My 15" MacBook Pro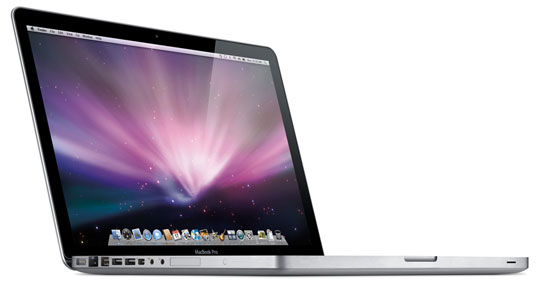 It's a work computer, but I still never go anywhere without it. When the work day is done, it provides hours of entertainment with the multi-media capabilities and of course the internet. The built-in iSight camera also makes it great for doing video chats with friends and family (Skype or iChat AV). Also being able to run both the Mac OS and Windows (even at the same time) has eliminated my need to have two laptops to demo on both platforms.
OK, which bag is all this stuff in?
Besides a generic 21" roller board suitcase for my clothes and some gear, my main laptop bag is nothing special It's a Samsonite laptop bag on wheels. Bags are a very personal choice and It's impossible to make a recommendation that everyone is going to like or agree with. Each person likes something different. I chose this bag because number one, it's on wheels. I refuse to carry a shoulder bag again. Number two, it was big enough for what I wanted to carry, but small enough to fit under the seat in front of me. Lastly, it had a cushioned compartment for the notebook computer so that as your wheeling it around and hitting bumps, it wouldn't bounce the notebook around too much. Why Samsonite? No reason whatsoever. I looked for what I wanted first and it just happened to be a Samsonite. I could care less about the brand name that's on it. I got it at Staples.
Other Misc. Items I Usually Have On Hand
Emergency boot and repair discs are a must. If I run into a problem and need to reinstall/repair my OS, I need to do it right then and there.
External portable bootable hard drives.
Blank media (CDR-DVD-R)
Thumb drives
Short cables – If I don't need a long cable, I look for a short alternative to take up less space (Firewire, USB, etc.).
Video adapters to hook up to projectors
3G Broadband Modems
A Mouse (now it's the Wacom mouse that came with my tablet)
UPDATE: Noise Cancelling Headphones/Earbuds
I had a couple people comment about Bose and other Noise Cancelling Headphones. Sorry I forgot this important category. I absolutely love my Bose Quiet Comfort 2's. However, they are they aren't the ones I carry all the time anymore simply because of their bulk/size. See my review here of the Shure's that I use. This is an important category. Sorry I overlooked it.
The Bottom Line
Yes, I travel with a bunch of stuff! However, I found it's easier to have it and not need it than to need it and not have it.