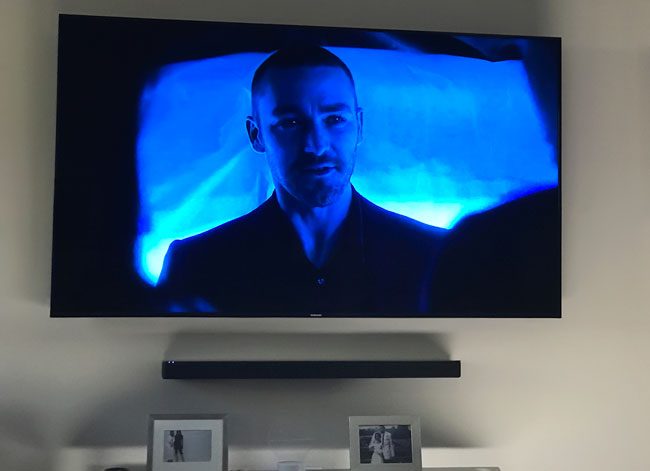 Have you ever bought something with one use in mind and then later you realized that you could use it for another purpose too? That's exactly what happened to me when I bought my Bose SoundTouch 300
Soundbar. I was looking for a 5.1 WIRELESS surround sound system. I'm a fan of Bose gear and when my neighbor told me that Bose had just the system I was looking for I ordered it on the spot. Yes there are other wireless systems out there and I even had one. I had a Vizio soundbar with wireless subwoofer. However, with the Vizio soundbar the satellite speakers plugged into the subwoofer. In my family room I don't have a back wall to run wires. Therefore the Vizio system presented a wiring challenge. The Bose SoundTouch 300 is actually sold piece by piece or you can buy the whole setup. You can just buy the soundbar. You can add on the wireless subwoofer (Acoustimass). You can add on the rear speakers. They are all wireless. Each speaker needs to be plugged into an AC outlet for power, but they don't need to be wired to the soundbar or any central point. This was exactly what I was looking for. I am completely happy with the performance of the Bose SoundTouch 300.
What I didn't realize at the time was that you could add additional SoundTouch speakers for music in every room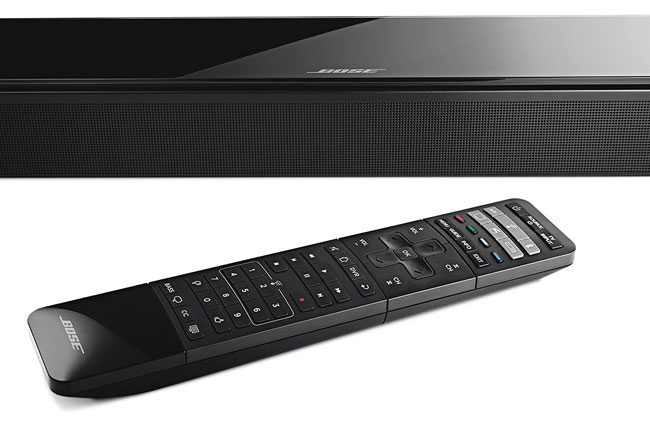 On the remote for the SoundTouch 300 there are 6 preset buttons. You can configure these buttons to play your favorite playlists/channels from streaming services such as Pandora, Spotify, Amazon Music, Deezer, iHeartRadio, Internet Radio, SiriusXM, your music library on a NAS or Computer (ie. iTunes). There is a SoundTouch mobile app to setup the speaker and to configure the music. I did this for the SoundTouch 300 and while reading about the music features I realized that you could add additional (wireless) SoundTouch speakers in other rooms to stream the same music (or different music) in each room.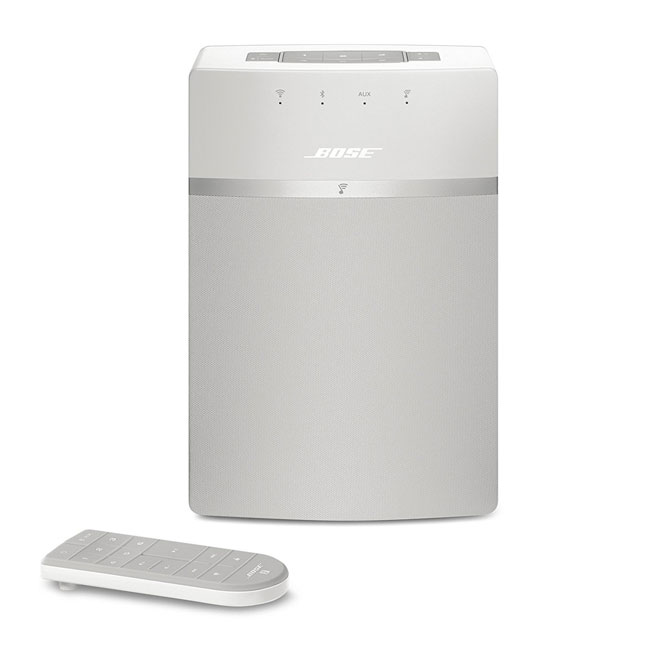 I asked for a SoundTouch 10 (the smallest SoundTouch speaker) for my birthday to test the waters. I was very impressed with the way the speaker sounded and worked. The speaker and the included remote have the same 6 preset buttons on it. Once it's setup it already knows what you have the 6 presets set to. Just walk up to the speaker and press #4 and you're listening to your favorite House Music from Amazon. If you want to listen to a station/playlist that's not one of the 6 presets, simply open the app on your smartphone, select the speaker you want and choose any music that you wish to start streaming to it. Each SoundTouch speaker also has an AUX in port as well as Bluetooth connectivity (keeping in mind that WiFi is the primary way of connecting).
Your smartphone acts as a remote, not the music source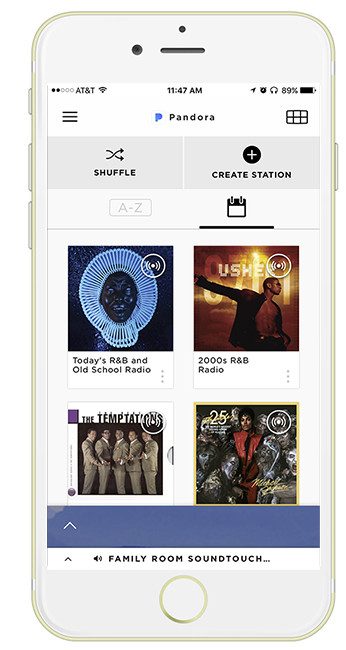 There are hundreds of bluetooth speakers out there that will allow you to stream music from your mobile devices. The problem with bluetooth streaming is that it requires your smart device to stay within range and to remain powered up. Once you start playing music on a SoundTouch speaker either from the App or the speaker itself, your smartphone is no longer needed. The speaker is actually playing the stream from the internet/your network directly via WiFi.
Add additional speakers whenever you want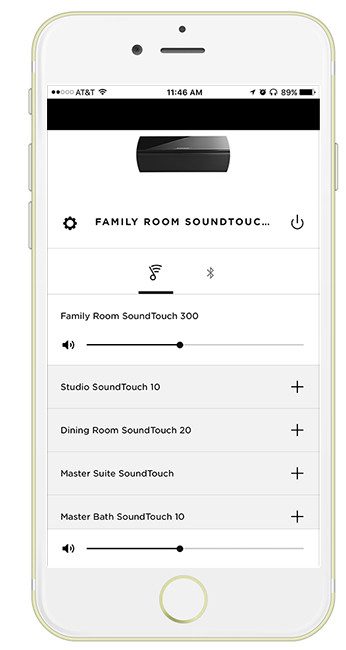 You can start with any one of the SoundTouch speakers and add on as needed. I say that both in terms of buying speakers for your rooms AND in terms of music playback. When playing music on one speaker and you want the same music to play on additional SoundTouch speakers all you have to do is launch the app and tap the plus sign + next to each speaker that you want to play the current music. You can also just tap PLAY ALL to play to all speakers at once.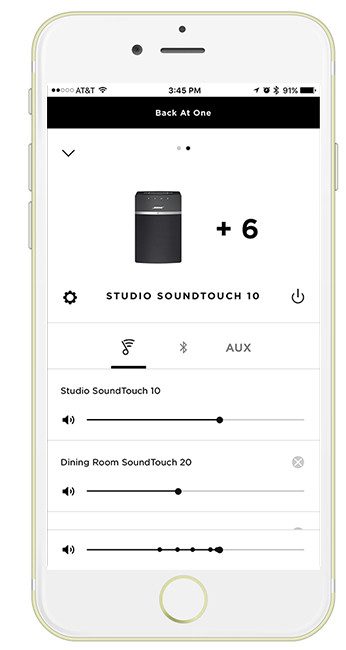 What if you already have a great speaker or stereo that you like?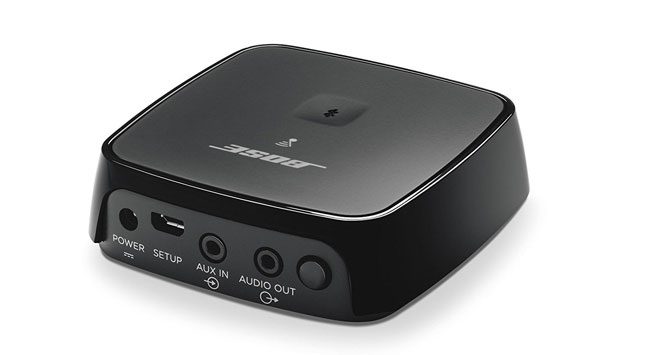 I started with the SoundTouch 300. Then I added the SoundTouch 10 that I got for my birthday. Then I added three more SoundTouch 10's, and one SoundTouch 20. However, I already have some pretty good speakers that I don't want to have to replace. No problem! Bose also makes the SoundTouch Wireless Link. This small black box (resembles a small Apple TV) allows you to use ANY existing speaker as a SoundTouch speaker. You can connect your existing speaker via the audio in/optical port on the speaker. Once the wireless link is setup you can stream the same music playing from your other SoundTouch speakers to the existing speakers you already have. I bought two SoundTouch wireless links to use in rooms where I already have great speakers.
Small, Medium or Large – SoundTouch 10, 20 or 30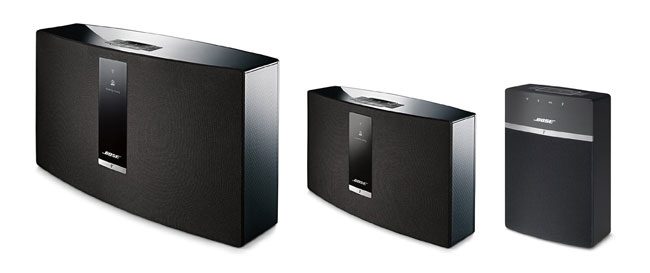 Bose made it pretty simple to choosing SoundTouch speakers. You can buy them either in a small, medium or large size. The small SoundTouch 10 sounds great and has some oomph to it. However, the SoundTouch 10 has a deeper bass response and richer sound. I don't have a SoundTouch 30 to compare, but I would imagine it would be even more room filling. Also let's not forget the ultimate sound of the SoundTouch 300. If you're in need of a soundbar for your TV, the SoundTouch 300 serves double duty as your soundbar for your TV as well as the best sounding SoundTouch for music in the same room.
What could be better or improved?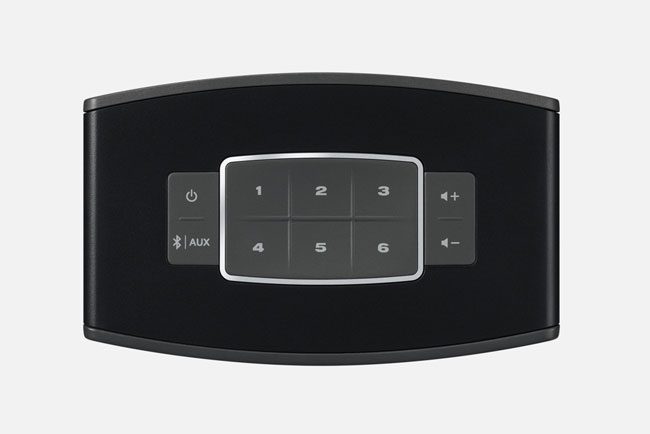 I'm completely happy with this system. No sound issues or dropouts. The wireless speakers work just as good, if not better than any wired speakers I've ever used. However, there are some weird omissions on the SoundTouch 10, 20 and 30 speakers themselves. For example, on the SoundTouch remote you've got access to the 6 preset buttons, power on/off, Play/Pause, switch between SoundTouch and Bluetooth (yes these are all Bluetooth speakers too!), Skip and Back buttons,  and even a Thumbs up and Thumbs down button for services like Pandora.  However, on the speaker itself there is no Pause button or Skip button. You have to either use the app or the physical remote to pause the music or skip to the next song. That just seems odd to me.
No Apple Music – It appears that Apple doesn't currently allow Apple Music to stream natively from the Bose app (they do for Sonos). Since Sonos is supported hopefully it's just a license agreement that Bose has to work out with Apple to allow the same. So for now there is no built-in support for streaming Apple Music natively. However, you could always use bluetooth or AUX to stream Apple Music from an Apple device. If you add your iTunes library from a computer you'll need to download the SoundTouch app for your Mac or PC. However, your music will need to actually be on your hard drive to be seen by the SoundTouch app. In other words no streaming from iTunes Match. I have a Mac mini as a file server and it also has all of my iTunes content on it. I installed the SoundTouch app on it and like magic all of my playlists show up and are available to stream to the SoundTouch speakers. Since I'm both an Apple Music and iTunes Match customer, I had to make sure that my iTunes Match content was downloaded to the drive. The songs that came from Apple Music simply don't appear in the playlists in the SoundTouch app.
The bottom line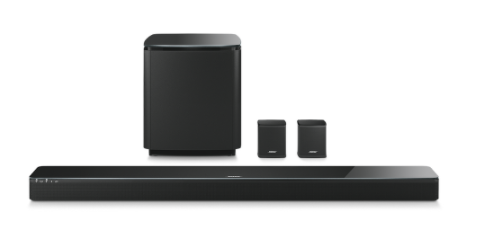 The Bose SoundTouch is clearly the Bose answer to Sonos
. For years Sonos has been the leader in whole house music streaming. I've never used a Sonos system, but anyone that has ever mentioned it to me has had nothing but good things to say about it. Had I not started with the SoundTouch 300, I might have even considered Sonos because I simply didn't know that the SoundTouch system existed. I'm completely satisfied with the speakers. The iPhone app could stand a design update, but I've gotten used to it.
You can get the speakers below:
SoundTouch 10 white
| SoundTouch 10 black
SoundTouch 20 white
| SoundTouch 20 black
SoundTouch 30 white
| SoundTouch 30 black
SoundTouch Wireless Link
(for your existing speakers)
SoundTouch 300
complete system (soundbar, bass module and satellite speakers)
SoundTouch 300 soundbar
, SoundTouch 300 bass module
, SoundTouch 300 satellite speakers
,
You can also get the Bose Wave SoundTouch Music System IV
if you like the traditional Wave system.