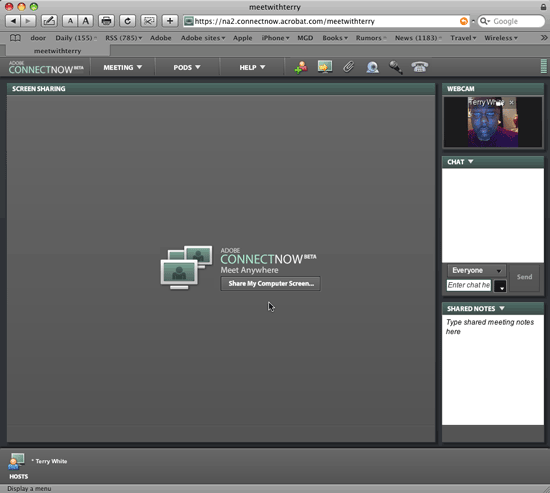 I'm a fan of web conferencing! It just makes sense. I can remember the old days of getting up at the crack of dawn to get on a flight to Chicago for a meeting. My part in the meeting would last an hour at best. Then I was back on the plane home. Keep in mind that this was a one day trip because it was close. If it was further away or the meeting was earlier in the day, then that would be mean flying out the night before, getting a hotel room and hoping that the meeting would end early enough for a return flight right after the meeting. Otherwise, a one day meeting could turn into a three day trip. Thankfully now I have Adobe Acrobat Connect Pro and I have many of my meetings wherever I happen to be as long as I have a good internet connection.
 
Web Conferencing is NOT just for the big guys
Although Acrobat Connect Pro is aimed at larger organizations, there is a FREE version that is very powerful for most individuals, freelancers and small businesses. It's called Acrobat Connect NOW. You may remember that I blogged about this when it was code named "Brio". Now the service has been officially rolled out and access to it is even built-in to the Creative Suite 4 apps with a menu command under the File menu called "Share My Screen." Although I encourage you to use Adobe apps whenever possible, you can use Connect NOW with any app that you wish to show someone. It could be PowerPoint, iPhoto or whatever.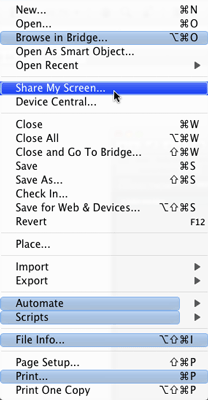 As a matter of fact I used this technology to present to several users groups in 2007 and 2008 that I otherwise would not have gone to. One of the advantages of Acrobat Connect Pro is that the meetings can be recorded. As a matter of fact you can check out the presentation I did for the North Coast Macintosh Users Group on Adobe Photoshop Elements 6. They were able to distribute this link to all of their members who couldn't make the live presentation. Other than a low audio problem I was having with my headset, they were able to see and hear the presentation over 2,000 miles away. Once I was done, I turned off the light and walked upstairs and I was home. 
 
I found this great article listing the "10 Reasons Why Web Conferencing is a Must Have Technology During a Recession". Definitely worth a read.
 
How does Adobe Acrobat Connect NOW stack up against the competition?
Sure there are other players in the field. You might have heard of WebEx, Go To Meeting and others. The problem with all the other solutions is that they usually require the meeting participant to install something or somehow change a setting or two on their computers or networks. Acrobat Connect NOW is Adobe Flash based and since 98% of computers on the internet today have the Flash player installed, they can join your meeting without installing anything extra. This also means that Acrobat Connect NOW is fully cross platform. So it doesn't matter if you're presenting from a Mac or PC or if your meeting participants are on Mac or PCs. Now if you are sharing your screen there is a small plug-in (Add in) that gets downloaded automatically (upon your approval) and installs automatically. The whole process takes a couple of minutes on average. So even if you walked up to a computer that had never used Acrobat Connect NOW you could log on with your account and start presenting in less than 5 minutes flat.
 
What do you get for FREE?
With Acrobat Connect NOW you get a static URL for your meeting room that you can use 24 hours a day, 7 days a week. Unlimited use. You can have up to 3 connections/participants in your room at once (including you). However, let's say that one of your participants is in a conference room with 50 other people connected to a projector? No problem. It will still only count as one participant. You can of course share your screen (any app or document on your screen would be broadcast to the participants). You can even hand off this ability to any of the other participants whether they have an account or not as long as they are in your meeting room. You can even request or grant control of your computer/their computer which is AWESOME for remote troubleshooting/help desk work. You can share your live image via a webcam and of course there is Voice over IP. However, if you want to get on the phone, there is an teleconference number assigned to your account. It's not toll-free to dial, but it's there if you need it. There's also a text chat feature. There's even a File Share pod to distribute supporting files and a Whiteboard for live brainstorming.
As a matter of fact there are a host of other free very useful services on Acrobat.com. Check them out!
 
What's the catch? Why is this free?
Simple! If you like it, you'll use it. If you use it, others will be exposed to it. If they like it and need MORE, then they may opt to go to Acrobat Connect Pro. 
 
What if I need more than 3 people in my room, but don't need all that comes with Connect Pro?
There is something in the middle of FREE and the higher cost professional option. It's called Acrobat Connect. With Acrobat Connect, you get up to 15 people in your room at once. It's $39/Month.
 
Don't hesitate
Sign up for your Acrobat Connect Now account NOW!
Travel is a luxury. Communication is not. 
Learn more: