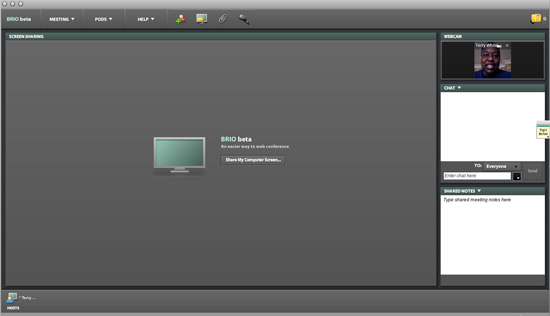 More and more people are wanting to share ideas and and concepts without having to physically drive or fly to where their clients, colleagues or friends are. Typically web conferencing systems are reserved for business use and well, out of the reach of smaller shops, consultants and individuals. Adobe hopes to change all that with a new FREE service code named BRIO. One of Adobe's best kept secrets is Adobe Acrobat Connect Pro which is a full fledged conferencing and eLearning system for business and education. BRIO is based upon the same technologies (Flash) and aimed at getting people to experience web conferencing first hand without the up front costs and infrastructure.
How could I use this?
As we all know it's sometimes (most times) easier to show someone something rather than trying to explain it over the phone or via email. Once you set up your BRIO account you get a static URL to your meeting room. You login to your room and invite up to two other people. Once all 3 of you (or 2 of you) are in the room, you can then share your screen and the other folks see exactly what you're doing in real-time. Although you're limited to 3 paricipants in your room at once, that doesn't mean that those participants have to be alone in their physical rooms. This could be 3 conference rooms full of people all watching on a big screen.
This would be a great way to show your client the work you're doing without actually having to give them the files just yet. You can show the actually apps you're working in, slides or whatever you want. Not only can you share your screen, but you can upload files for them to download (we all know how hard it can be to send email attachments through corporate firewalls right?). It gets better, your BRIO account comes with the ability to use your webcam to broadcast your live video. You also get VoIP AND a teleconference number to boot. Although the teleconference number is not toll-free (ie. it's a long distance call), it is free to use. So if you don't have the bandwidth or microphone setup to do VoIP, just have your folks dial in to the conference on their phones. In addition to screen sharing, webcam video, and VoIP, there's also whiteboarding and even the ability to request control of a meeting participant's computer so that you can not only show them how to do something, but you can do it yourself while they watch.
Yes, it really is FREE
Although your BRIO account is in fact FREE, there are some limits compared to the full Connect Pro product. In the full Connect Pro product you're not limited to just 3 participants. You can also setup multiple meeting rooms, you get multiple room layouts to choose from, the ability to upload video content that plays back through Connect Pro, record meetings and host of other features. However, for just starting out and for smaller meetings, you just can't go wrong with BRIO. Also keep in mind that BRIO is cross platform and doesn't require your participants to download or install anything. They likely already have what they need to watch the meeting in their browser, the Adobe Flash Player!
OK, nothing's free, what's the catch
Yep, you caught me! You're right, there is some angle. There must be! Well, it's true. OK, here goes. It's FREE! I know, I know, but it is. The only catch is that Adobe hopes that by trying this FREE version out, you'll get so hooked that you'll want more and you'll want to step up to the full version of Connect Pro for your business or organization to get rid of the limits. However, you're not obligated to do so. So you have nothing to lose. Account setup is painless and if you already have an Adobe ID, it takes about 1 minute to set up your BRIO account.
Um, so what are you waiting for? Go create your FREE BRIO account and meeting room today and give it a shot. Show off that cool work you've been doing. You'll look so good to your clients this way.