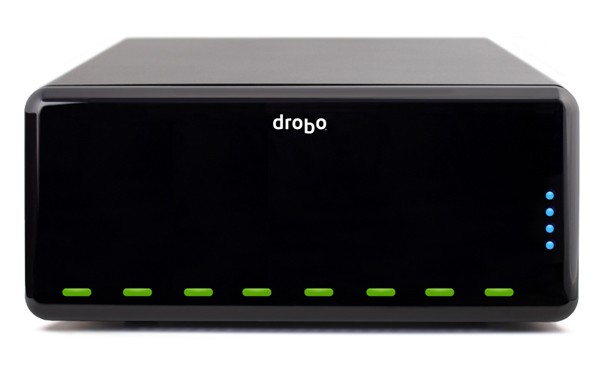 If you've had your heart set on serving up some serious amounts of data and doing it really fast, you'll be interested in two new products that were announced today. First off, the folks at Data Robotics introduced a new model called DroboPro. This new 8 bay beast can be configured with anywhere from 1 to 8 hard drives of any capacity. The largest hard drive available today is 2TB. So now you can realize your 16TB dream. The other addition to the DroboPro is a new connection called iSCSI. It's a gigabit Ethernet port, but don't get too excited. It's not what you're thinking. It's not for setting this up as a NAS (network storage device). It's just to provide super fast transfers to your ONE computer. That being said, there's nothing to stop you from sharing it over the network by connecting it to a network server (like I do now).
I hear some complain about the "proprietary" BeyondRAID system that DataRobotics has implemented. However, I love the idea of having a single storage device that can grow as my needs grow without having to constantly reformat and start over each time and being able to mix drive sizes. Also if a drive fails, you swap it out and keep going with virtually no downtime.
Of course as I've written in the past, no system is perfect and even a Drobo needs backing up because it can't protect you from data corruption and viruses.
I recently setup a second Drobo on my iTunes server and began the long process of ripping my DVD collection to it to create my own On Demand Apple TV movie system in my home.
The DroboPro will set you back $1,299 for an empty one! For that kind of dough it really should have networking capabilities built-in. (Data Robotics why are you so against this? Paying extra for your SLOW DroboShare product is unacceptable) It's nice to know that the DroboPro is out there, but currently my two non-pro Drobos are more than enough for me especially as drive capacities keep increasing each year.
Yes there are definitely cheaper solutions out there, but I haven't seen one yet that does all that Drobo does.
My buddy Scott Kelby has a nice write up today on the DroboPro and how as a pro photographer you can never have to much storage space or be to paranoid about protecting your data.  Also check out this first look, er um listen at MacVoices with Data Robotics' Sr. Director of Products and Markets Mark Fuccio. Checkout Drobo's website for more details.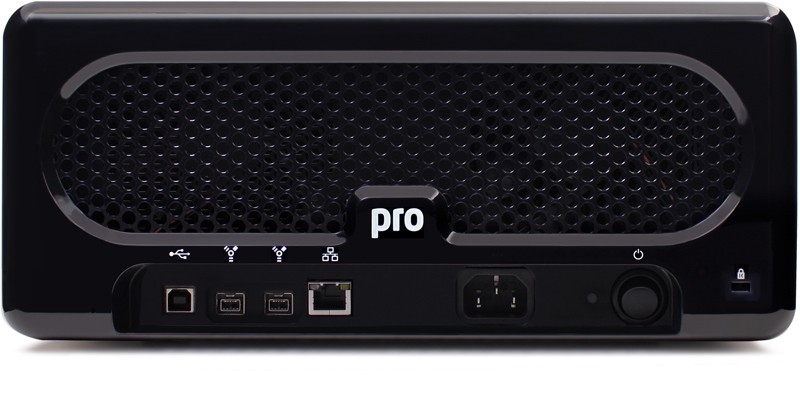 Next up, Apple Serves up a New Xserve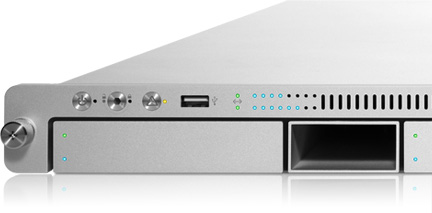 The rumors were true and Apple did release a new Xserve based on the intel Xeon Nehalem processors. What does that mean? About twice the performance! Although I've always dreamed of owning an Xserve, it would be overkill for my simple serving needs. I'm still on a Power Mac G5 (with Drobo) as my Mac OS X Server and it's rock solid. However, if you need to serve up large amounts of data to a workgroup or company really fast, then you should definitely check out the Xserve. It comes preloaded with Mac OS X Leopard Server is rack mountable and serves both Mac and Windows clients. This new model is also more energy efficient.