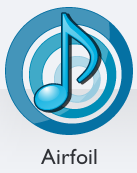 Although I've been enjoying streaming music wirelessly throughout the house using Apple's AirTunes technology, there is one small problem. AirTunes only works with iTunes. AirTunes is built-in to the AirPort Express and now Apple TV hardware. The concept is simple. You put either an AirPort Express or Apple TV in any room that you want to stream music to and connect the device to a stereo, receiver or set of speakers. Then you launch iTunes from any computer on the network and choose the appropriate AirTunes speakers and when you play your music it will be streamed to your speakers (up to 3 rooms at a time).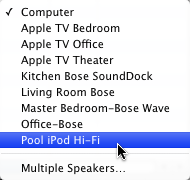 This is all well and good, but like I said, it only works with iTunes. What if you want to listen a different source app throughout your house? This is where Airfoil comes in. I have XM/Sirius satellite radio in my cars. With XM/Sirius account(s) you also get the ability to log on to their websites and listen to your favorite stations via the internet at no additional cost. While this is great, I want to be able to hear this content in any room and over my better speaker/stereo systems. I already have AirTunes setup, but again it only works with iTunes!
That's were Airfoil comes in
Airfoil is an app that you install on your Mac or PC that allows you to direct any app/source to your AirTunes speakers. It even comes with a bonus app called Airfoil Speakers that allows you to stream from one computer to another. Airfoil is very simple to setup. Once you download, install and launch it, it will automatically show all of your AirTunes speakers and make them available to any app or the system audio on your computer.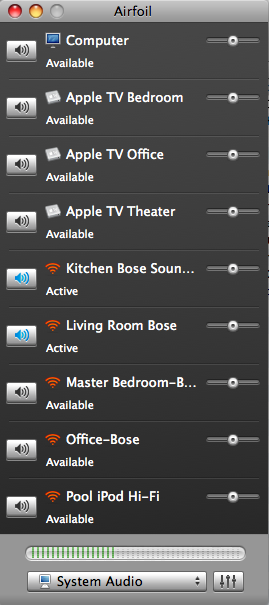 Once I installed Airfoil, I simply fired up my web browser and logged into the XM site. I selected a station, hit play and had music streaming throughout the house.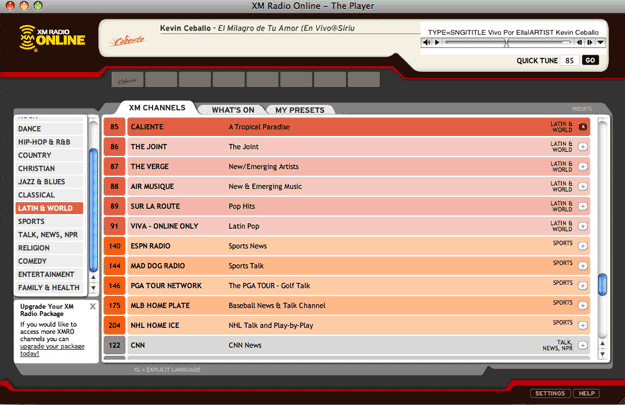 The Bottom Line
Airfoil is by Rouge Amoeba. It goes for $25 and is available for both Mac and PC. If you use AirTunes and want to stream sources other than iTunes to your speakers then Airfoil is your answer!