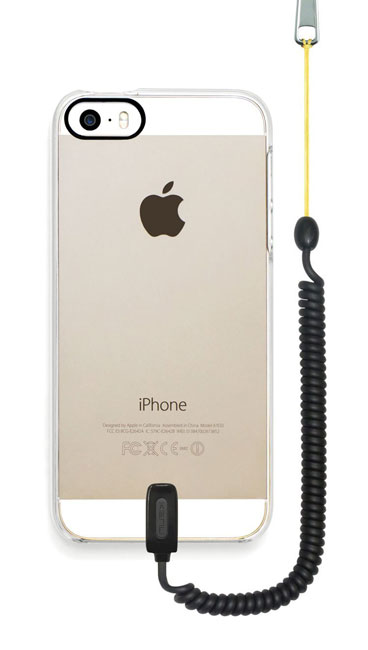 Chances are either you have dropped your iPhone or know some who has. Hopefully the case protected it and there was no damage. Unfortunately more often than not we know at least one person that has a broken screen right now. So far I've been lucky. I've had every model of iPhone since the original back in 2007 and I have dropped them all at least once, but no broken screens for me to date. Kenu, the makers of my FAVORITE smart phone car mount, the AirFrame have come out with a solution to cut down the chances of you dropping and breaking your iPhone or worse dropping it and not realizing you dropped it and you lose it. This product is called the Keuu Highline. It's combination clear case (which I love) and a bungee cord that's designed to attach to the bottom of the case. It has a quick release so that you can easily disconnect your iPhone/case from the cord. The cord can attach to anything from a belt loop to a zipper. Once attached you can drop your iPhone while in a standing position and the cord is short enough so that the iPhone won't actually hit the ground. This is great especially if you're going to be out and about, walking, taking pictures or sporting activities.
While I like the whole concept as a packaged product, what I found that I liked the most was the actually case. I love clear cases that don't add a lot of bulk to the iPhone and this one has become my favorite. It's just thick enough to add protection and yet then enough to not feel like your iPhone is in a case.
You can get the Kenu Highline here.
Also see it in action here: