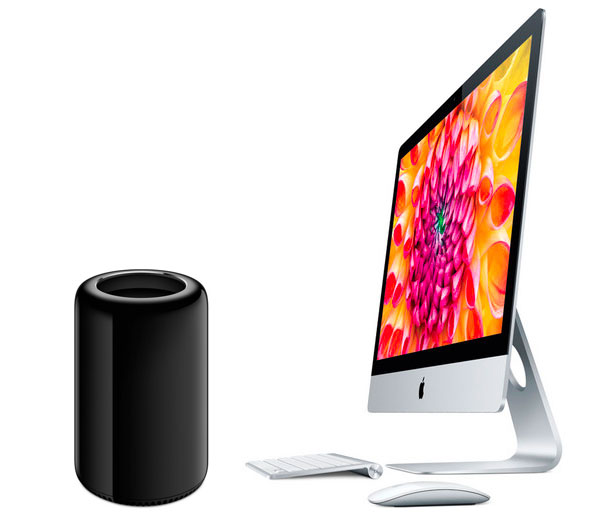 Rather than just do a review of the new Mac Pro and tell you how fast it is vs. any other Mac that Apple has made, I decided to approach this review from a different angle. There was a time when I bought Mac Pro towers because I wanted the fastest Mac available. However, I soon realized that as much as I didn't want to admit it, the Mac Pro is "overkill" for what I do on a day-to-day basis. Sure, faster is always nicer than slower when it comes to waiting for a process to complete, but honestly I'm rarely waiting for a process to complete these days. Sure, I render video on a weekly basis and it would always be nicer to have those videos render faster, but is the faster render worth the money for a Mac Pro? The answer will of course depend on how much you find yourself waiting on your computer and not being able to do anything else while you're waiting.
Let's get some ground rules out of the way first
If you don't like Macs or don't want a Mac for whatever your reasons are, you can pretty much stop here and find something else to do with your time. I find it entertaining when people feel compelled to tell you/me how much they don't want the thing you're reviewing or writing about because they use something else. This is not a Mac vs. _______ post. If you're happy with a Windows PC or Linux, or anything else, I'm happy for you. If you're reading the rest of this post then I'll assume that you're a Mac user or thinking of becoming one.
The next thing I'd like to get out of the way is that if you're looking for a Mac Pro review that tells you this new Mac Pro is better than the previous Mac Pro with all the benchmarks to back it up, then you'd probably be better served by other reviewers who have targeted the performance of the new model vs. the older model. I'm doing this review/comparison simply to answer the question, "as a photographer would I be better off spending my money on an iMac/MacBook Pro or a Mac Pro?" If you're a videographer and you're a Mac user then you probably already have the new Mac Pro because you demanded the fastest Mac you could get to render your videos.
Introduction
When I saw the rumors that Apple was going to release a radically different design for the Mac Pro, to be quite honest I was only mildly interested. As I stated above, I realized with my last Mac Pro that I wasn't really a Mac Pro customer. Sure I appreciate the faster performance, but I found myself only using my Mac Pro when I knew a process was going to take a long time to complete. Otherwise I was quite happy just using my MacBook Pro simply because I could use it in any room at any time. I could take it with me on the road. However, I said to myself perhaps if the performance (for what I do) is significantly better and the price point for an entry model was $2,500 or less, I'd consider getting one. Well we know the latter didn't happen, so now it was time to test the performance. I got the opportunity to test a Mac Pro standard configuration in my studio for a few weeks. I loaded the latest version of my Adobe Creative Cloud applications on it as well as a few utilities that I use such as ScreenFlow. Next, I began running side-by-side tests of the things that I do daily that take more than a few seconds. My assumption was that the Mac Pro would certainly be at least twice as fast at everything I threw at it than my 2012 MacBook Pro Retina Display Mac. Actually I was wrong!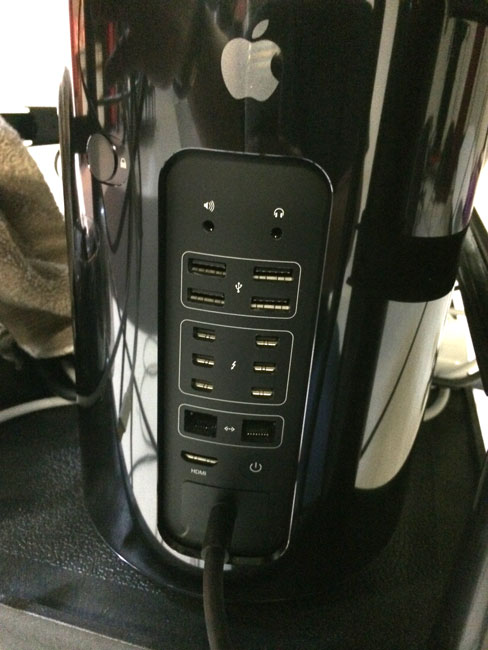 When will a Mac Pro significantly outperform any other Mac?
As I said above, I was wrong in my assumption that the Mac Pro would be at least twice as fast at everything. Actually it is faster at everything! Just not by a margin of two. On every test I threw at it the Mac Pro outperformed my now two-year-old MacBook Pro, but in some cases it was only slightly faster. This is when I realized that in order to see significant speed improvements the software you're testing not only needs to be optimized for the faster processors, but also it would need to take advantage of the multiple cores. Even then, the MacBook Pro is no slouch. It's got multiple cores too. Where I saw the biggest differences was in (no surprise) video rendering and processes that take longer than a minute or so anyway.
What I do as a photographer
As a photographer I spend most of my time in Adobe Lightroom 5 and Adobe Photoshop CC. Photoshop CC definitely takes advantage of multiple cores and now has Open CL support. So filters will run faster on the new Mac Pro. All of these applications are 64bit native and that means that they'll take advantage of additional RAM.
My first test was one of the things I do after every shoot. I convert my RAW files into .DNG (Digital Negative) format. This is one of the few times that I see a progress bar in Lightroom because it does take time to do it. I converted 435 16MP Nikon .NEF RAW files into DNG format.
First on the MacBook Pro it took 14 minutes 35 seconds
On the Mac Pro the same conversion took 12 minutes 12 seconds.
Yes it was faster! However, it was only about 2 minutes faster. I must say that I was a little disappointed. However, I moved on to the next test.
The next test was using the Web module in Lightroom to export a web gallery using the Client Response Gallery Template from The Turning Gate.

On the MacBook Pro this export took 7 minutes 41 seconds

On the NEW Mac Pro it took 4 minutes 9 seconds.
Ahhhh, much better. Almost half the time.
The next test was a simple HDR (High Dynamic Range) conversion in Photoshop CC using three RAW files. This is a two-part process. The first part is simply combining the three (or more) images together and aligning them. Then the second part of the process is applying whatever settings you want to control how your HDR looks.
The first part on the MacBook Pro took 12.70 seconds and on the Mac Pro it took 9.10 seconds
The second part on the MacBook Pro took 13.00 seconds and on the Mac Pro it took 11.13 seconds.
The next test was stitching a Panorama together using Photoshop CC and 10 RAW files
On the MacBook Pro this process took 1 minute 12 seconds
On the Mac Pro this process took 51 seconds.
I could have gone on running other tests and other filters, but these are the things I do on a regular basis. If it was faster at something that I rarely do, then I really don't care as much. As you can see from the results above, the Mac Pro wins on every test as you would expect it to, but the results (even if it was twice as fast in every case) may not justify the difference in cost. We'll get to that at the end.
Next it was time to look at what I do as a Photographer when it comes to video
I use video in a couple of different ways. The first as a photographer is to tell my story. This means capturing video with my DLSR, GoPro, iPhone, etc. I use Adobe Premiere Pro CC to assemble those videos and then output them to share (usually on YouTube). The next way that I use video and probably the way that I use video the most often is to record my Creative Cloud TV video podcasts. These screen recordings are done with ScreenFlow and since the editing I do is pretty simple I can edit these right in ScreenFlow. Of course I need to export those videos out and this can take a while depending on the length of the video. I had no doubts that this is where the Mac Pro would really shine. After all these are the kind of processor and resource intensive tasks that the Mac Pro was built for. I was not disappointed.
The first test I ran was an export of an hour-long edited video out of ScreenFlow.
On the MacBook Pro this export took 60 minutes
On the Mac Pro this export took 33 minutes.
It gets better in Adobe Premiere Pro CC and the Adobe Media Encoder CC. I needed to convert this video into a different format using the Adobe Media Encoder CC.

On the MacBook Pro this conversion/export took 34 minutes 36 seconds

On the Mac Pro this conversion/export took only 12 minutes 36 seconds
The Bottom Line
The NEW Mac Pro is the fastest Mac that Apple has ever created. The question you have to ask yourself is, "Is the speed difference worth the difference in price?" For me the answer is no. Sure if I spent my days rendering video all day every day, I'd already have the Mac Pro. There would be no question. However, as a photographer I can't justify the difference in price. Hey! Wait a minute, you said in the title of this post "iMac or Mac Pro?", yet all you've talked about is the MacBook Pro vs. the Mac Pro. This is true. I didn't have a new iMac to compare it with. However, if you're looking for a "desktop" Mac as a photographer, I'd seriously consider the current iMac. The current iMac will be as fast or faster than my 2012 MacBook Pro in every case. So here are some prices and specs to look at:
The Mac Pro model and configuration that I tested above is here. (Now keep in mind that if I was going to buy one I'd start with this configuration and I'd go with a bigger internal drive and more RAM)
The base configuration 4th gen 21.5″ iMac is here. However, this model is not a fair comparison. It's probably a little slower than my MacBook Pro as it has a slower processor, less RAM, and no Flash Drive.
This would be the configuration that I would recommend and would be more of a fair comparison: 27″ iMac here.
If you're interested in a similar configuration (using the current model) to my MacBook Pro 15″ Retina, it would be this one.
Why an iMac? Although I don't use one, an iMac makes sense because you're getting a fast Mac with a nice big 27″ display all in one.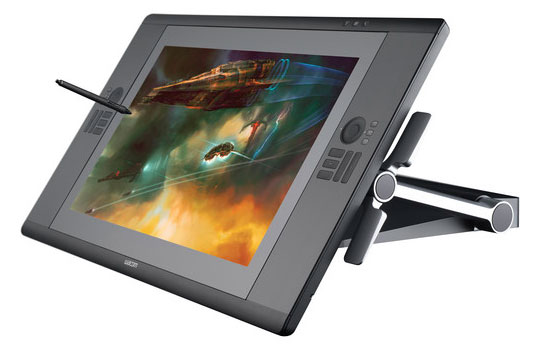 Why a MacBook Pro? For me the MacBook Pro makes the most sense because when I'm at my desk I have connected to a nice 24″ HD Wacom Cintiq display/tablet. When i get ready to go I disconnect it and go. I have a computer with a nice 15″ Retina display when I'm on the road. If I didn't travel for a living then I'd probably have an iMac. Since I travel a lot, a MacBook Pro makes more sense.
If you want the fastest Mac and you don't mind spending $3,000-$4,000 (or more) on it, then definitely go with a Mac Pro. Everything you do will likely be faster than the Mac you're currently using. Keep in mind that you'll also need to buy a display, keyboard and mouse/tablet to go with it. At the end of the day I realize that computers have become "fast enough" and that I don't spend a lot of time waiting these days. Even when a process such as a video render/export is going to take a few minutes I can toss it to the background and work on other things in the foreground. My last Mac Pro once configured set me back over $5,000 and while it was a beast, I found that I wasn't really using it as much as I had hoped I would, so I sold it. The new Mac Pro is faster, but is it $4,000 faster? For me it's not.
UPDATE: Now that the iMac Retina 5K is out I got my hands on one and did a comparison here.