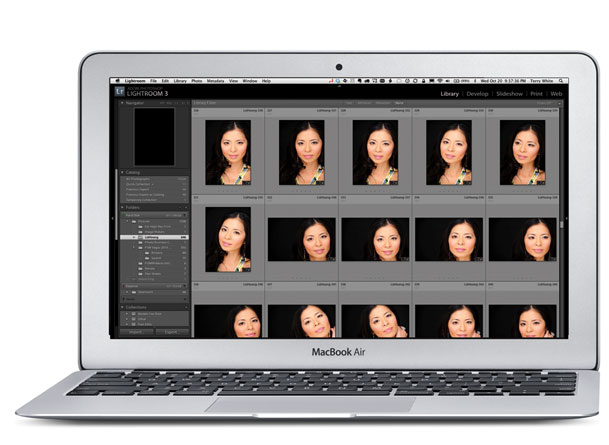 When the iPad arrived in April I had high hopes (I still do) for it to become a great tool for photographers and in many ways it has. More photographers showed their portfolios at Photoshop World this past September electronically than they did in print. Just recently I published my list of 8 Must Have iPad Apps for Photographers. Yes, progress is being made, but yesterday Apple released the long awaited update to the MacBook Air and the more I looked the specs the more it made me think about this new MacBook as a better choice for photographers in the field.
The iPad appeal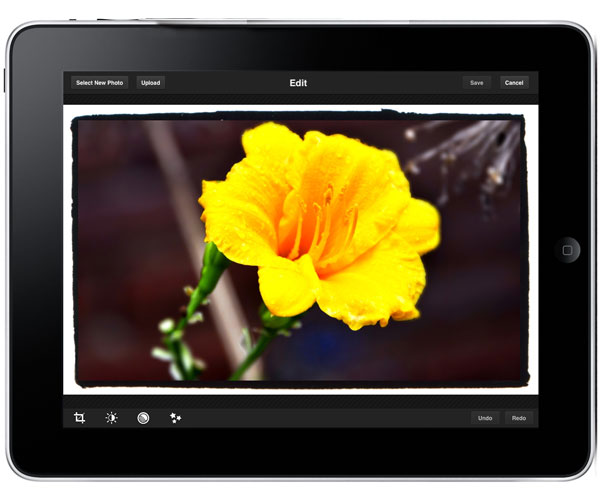 The iPad is/was appealing because it was small, lightweight, has a relatively long battery life, relatively large display and is capable of importing images via the Camera Connection Kit. It can do moderate photo editing on the go. Also the instant on and not having to manage a file system are pluses in many ways.
The NEW MacBook Air offers so much more for not much more money

The most fair comparison I can make is to compare the 64GB iPad Wi-Fi model ($699) with the new 64GB 11.6" MacBook Air ($999). Yes, the MacBook Air is $300 more and weighs 0.7 lbs. more. The MacBook Air is also a few inches bigger.
MacBook Air
iPad

Size and weight

Height:

0.11-0.68

inch (0.3-1.7 cm)

Width:

11.8

inches (29.95 cm)

Depth:

7.56

inches (19.2 cm)

Weight:

2.3

pounds (1.06 kg)1

Size and weight1

Height:

9.56

inches (242.8 mm)

Width:

7.47

inches (189.7 mm)

Depth:

0.5

inch (13.4 mm)

Weight:

1.5

pounds (0.68 kg) Wi-Fi model;
Once you get past the slightly larger size and weight of the MacBook Air, you can then start to justify it for what it offers over the iPad. The MacBook Air (MBA) has the ability to run your standard Mac applications (or even Windows Applications using Parallels or other Virtualization apps). So instead of trying to find replacement Apps on the iPad, it can actually fun Adobe Photoshop Lightroom 3 and Photoshop CS5. Instead of having to use the Camera Connection Kit with low power/speed CF Cards/Readers, you can plug in any standard USB Card Reader and Import photos from any memory cards. With the MBA you can also more easily offload your images onto another hard drive just by plugging it in to the USB port and doing a standard file copy. Also since many photographers publish their websites using Adobe Flash, you can view those sites on the MacBook Air by installing the latest Flash Player if you choose to. Lastly, and probably one the biggest reasons is that the you can shoot tethered to a MacBook Air and see your images on the nice big 11.6" display. Lightroom 3 already does native tethering and that means that the MBA can already do this. Yes, the MBA is $300 more, but you get a much more capable device for that $300.
What I would have liked to have seen
There are two things that I would have liked to have seen on the MacBook Air. The first is a built-in option for 3G connectivity. That's one of the things I love about my iPad is that I can take it out of my bag and get online pretty much anywhere. Sure I can use my MiFi or a 3G USB Stick, but a contract free 3G option built-in the MBA would have been killer. The next thing I would have loved to have seen is a TRUE HYBRID between these two devices. Imagine a MBA in the same form factor, but if you open the lid and flip it over it becomes an iPad and can run iOS Apps. While it's true that a touch screen on a vertical display would be a pain, there's no reason that the display has to stay vertical if it swiveled and reversed. That would have truly been the best of both worlds!
What will I do now?
Believe it or not I have no plans to get a MacBook Air pretty much for the same reasons that I didn't buy myself the first model. When I travel for business I need the most full featured and powerful MacBook Pro available and the MacBook Air just isn't enough muscle for what I do. Since it's not going to replace my current MacBook Pro I see no need to travel with TWO laptops. A MacBook Pro and iPad will continue to be my tools of choice. However, if you're a photographer that doesn't demo software for a living like I do, then the MacBook Air might be a GREAT tool for you! If I didn't need the power of a MacBook Pro, I would seriously consider the Air!