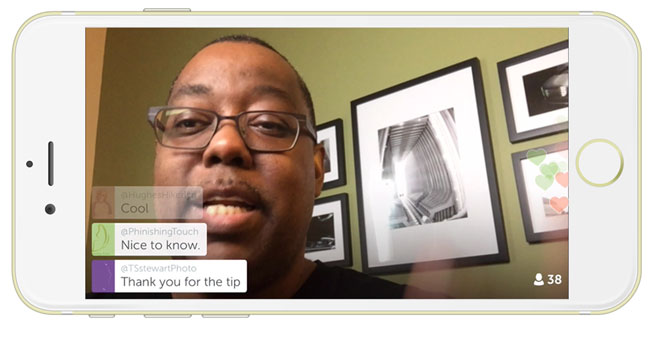 The latest update to Twitter's live broadcasting app, Periscope brings the long awaited landscape orientation that it so desperately needed. I have a renewed interest in using Periscope and now have the choice to broadcast in portrait or landscape based on what's best for the content I'm showing. I'm also noticing more and more people getting on board. That's why I created this NEW video that goes into detail about How to Get Started on Periscope and it even includes a live Periscope broadcast to show how much fun you can have using Periscope:
I shared some tips in the video, but here are some tips that every Periscope user should know:
Make sure you have sufficient bandwidth. The Periscope app itself does a test before even allowing you to start your broadcast, but I like to know even earlier. So I run the Speedtest App to check my speed. You probably want at least 2mbps upload speed to have a good experience.
Create a compelling title for your broadcast. Remember that you're competing for the attention of your viewers. If they see an Untitled broadcast or a title that is weak or not very descriptive then they will likely not tap on it to watch. For example I could have titled this post "Periscope tips and tricks", but "The Ultimate Cheat Sheet On Periscope – 10 Killer Tips" sounds way better. Bonus Tip: Add a few emojis to the title so that it stands out even more.
Time to Break Your Egg. When you first sign up to Twitter or Periscope your profile pic will default to a picture of an egg.

You need to change it before doing your first broadcast. Unless I know your name, I will likely never tap to watch or follow anyone with an default profile pic. I will dismiss you/it as spam.
Introduce yourself every time you broadcast. This is one that I have to remember to do each time. You might think "why do I need to introduce myself? These are my followers." That's true, but what you have to remember is that a lot of people may be watching you for the first time that have not followed you yet. They saw your tweet, they saw someone else's share, or perhaps they saw your broadcast on the Periscope map. They don't know you!
Continue reading "The Ultimate Cheat Sheet On Periscope – 10 Killer Tips"