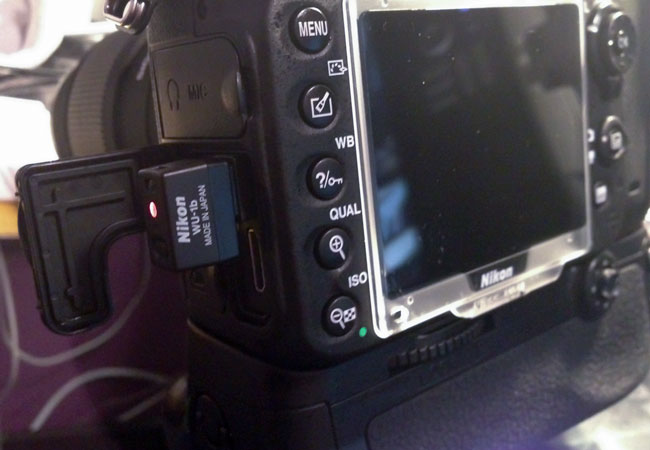 I've been a fan of shooting wirelessly to my iPad since the early days when I got my Nikon D7000 using an Eye-Fi Pro X2 card. After that I configured my Nikon D4 and WT-5a module to shoot either wirelessly to my MacBook Pro or my iPad and now that I have a Nikon D600 (and loving it!) I was interested in seeing how the new Nikon WU-1b module works. The idea in all of these scenarios is to use the iPad or iPhone for review of what I'm shooting with my DSLR and sharing with email or social media of quick event photos.
The Nikon WU-1b is a narrowly focused solution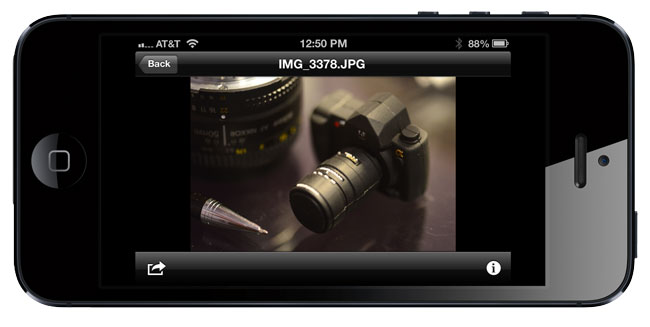 With the Eye-Fi and WT-5a module for the D4 you can wirelessly transmit your photos to a variety of Apps. However, the WU-1b seems to be narrowly focused by Nikon to shooting wirelessly to your iPhone or Android Smartphone. They provide a Free App (Wireless Mobile Adapter Utility) for both platforms (see my review of the iPhone version here). Once you download the App it's pretty easy to get started. Just plug in the module into your D600's USB port and turn your camera on. The WU-1b will start broadcasting its own WiFi hotspot. Connect to that hotspot via your smartphone and launch the App. Once you're in the App you can either set it to wirelessly fire the shutter (with Live View on your smartphone) of your D600 and then transmit the image to your smartphone or you can switch the App to the mode that allows you to shoot normally with the camera and the images will be transferred to your smartphone as you take them. Whether you shoot in RAW or JPG the module will send JPGs to your smartphone. I normally shoot RAW to the 1st card and Basic JPG to the 2nd card (my Eye-Fi) card. When I'm in this RAW+JPG mode the WU-1b seems to send the smaller basic JPG. However, when I'm in just RAW mode it sends a larger full-sized JPG and of course that takes a lot longer. Speaking of time, the smaller JPG (about 500kb) takes about 5 seconds to show up on my iPhone. The larger JPG (about 1.6-2MB) takes about 10-15 seconds to show up on my iPhone.
It works as advertised, but…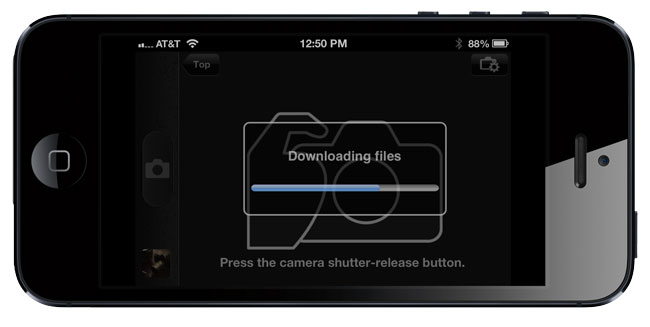 While the WU-1b works as intended it really falls short in the review department. Unlike other tethering solutions you don't actually see the images as they come in to their App. Instead you see a progress bar and once the images are there you tap to review them. Also while the camera settings are displayed, there is no way to change them in the App. Look at this is merely a transfer utility and remote shutter. Also there is no native iPad support. Yes the app works on an iPad, but in the smaller phone size.
Shuttersnitch saves the day AGAIN!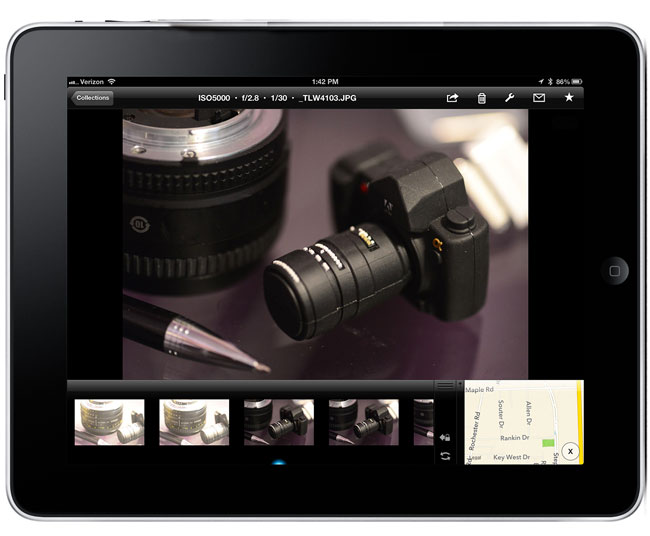 Shuttersnitch is the App I use for All my wireless tethering to iPad needs. It works with the Eye-Fi cards and it works with the Nikon WT-5a module. The good news is that it also works with the WU-1b module. Unlike the bear bones Nikon Utility, Shuttersnitch gives you a great way to review your images as you take them, star rate them, geotag them and share them via email, social media and cloud storage such as Dropbox or any FTP/WebDAV location. It's a professional App! I remembered that a recent update of the App mentioned support of the WU-1b module and sure nuff it works great! I had to simply turn on support for the module in the settings and just start shooting. The images came in as usual.
Shuttersnitch for iPhone and iPad
The Bottom Line
For the price, there's really no reason not to get the WU-1b module if you have a Nikon D600. It provides a pretty painless way to get images from your Nikon D600 wirelessly to your smartphone and it can work anywhere since it creates its own ad-hoc network. Add the Shuttersnitch App and you'll be even happier with it. Oh yeah, one more thing: Nikon can you please explain why the Nikon WT-5a (for the Nikon D4) costs $500 more than the WU-1b (for the Nikon D600)? Is there really $500 more technology in the WT-5a? I'm thinking not! Yes I see the price is coming down on it from the outrageous $877 that I originally paid, but really? c-mon!