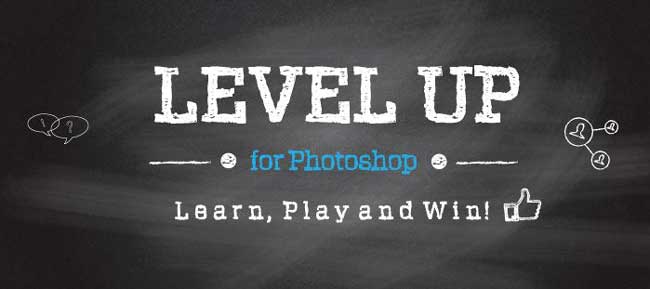 Download a Photoshop extension that not only makes it fun to learn image editing but may even earn you Amazon gift cards or a year's subscription to the Creative Cloud.
LevelUp for Photoshop is a game of missions that help you learn basic Adobe Photoshop skills. You complete missions to get points and badges. The more you interact with the game and learn about Photoshop, the more points you earn!
Starting on June 15, 2012, every 400 points gives you an entry in a weekly drawing to win a $100 Amazon.com gift card. One lucky person will win our grand prize, a year's subscription to Adobe's Creative Cloud.
You can download the extension here. The contest will run from June 15 through July 15, 2012.
Playing the Game
Once you download LevelUp for Photoshop and install it, go to Window>Extension>Level Up for Photoshop to launch the game panel. The game begins with a mission to correct red eye. You can use the supplied image or one of your own. Accomplish the task in fewer steps to rack up higher points. You also earn points by sharing your progress on Facebook and Twitter, passing quizzes, and more.
There are many other missions, including removing unwanted objects, turning a photo into an oil painting, and replacing colors.
You'll need Photoshop CS6 or CS6 to play. If you don't own CS6, you can download the free trial version here .
For more about the contest, see the game's Facebook page and the game's microsite. The LevelUp for Photoshop hashtag is #levelupforPS.