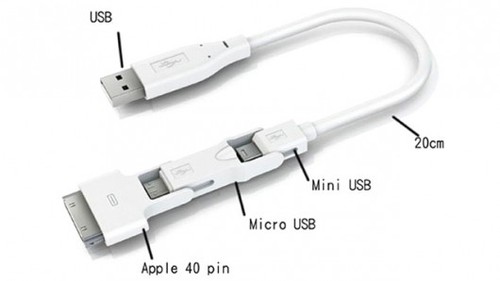 Because I travel for a living, I'm always looking for ways to consolidate and have smaller peripherals and gadgets. I carry a bunch of cables because I never know what I might need. This also includes a variety of USB cables. I carry iOS Device Sync/Charge Cables, USB Micro cables for charging things like my Jawbone BT headset and a USB mini cable for connecting hard drives.

The Innergie 3-in-1 Cable does it all
This one cable allows me to connect or charge the vast majority of devices that I carry. I can use it to charge/sync my iPhone or iPad. I can use it to connect a USB hard drive and I can use it to charge a variety of my USB peripherals such as my Logitech Ultrathin iPad Keyboard, Jawbone BT Era Headset or Jambox. The design is pretty cool. All 3 connectors are available by simply unplugging down to the one you need. If you need the iDevice 30 pin connector, then simply plug all 3 together. If you need one either the USB micro or mini just unplug the connector above it and pivot out the one you need.
My only complaint with this cable is that it's very short (20cm). It's fine for connecting to your computer, but if you're going to plug something into a wall charger then you're probably going to want it to be longer. You can use an extension cable like this one. The only other downside is that you can only use one type of connector at a time. This means that you'll still need to carry multiple cables if you want to charge multiple devices at once.
I got a couple of these to keep in each of my bags. Now I know I'll always have the right USB cable.
You can get the Innergie 3-in-1 Cable here.