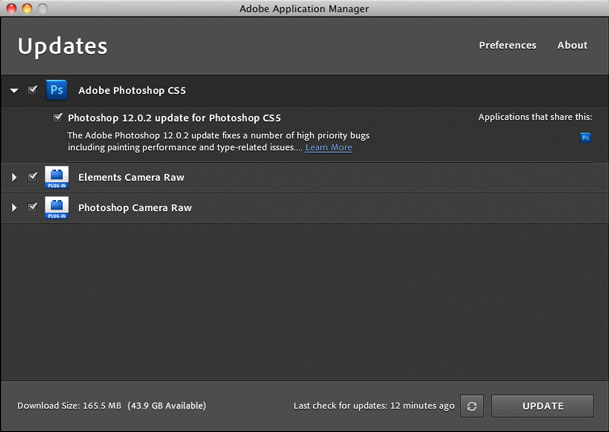 Adobe just released updates for Photoshop CS5 (bug fixes), Camera RAW and Lightroom 3
Adobe Photoshop CS5 12.0.2 update
December 7, 2010
The Adobe Photoshop 12.0.2 update fixes a number of high priority bugs including painting performance and type-related issues. The most significant fixes in the Photoshop 12.0.2 update include the following:
A number of potential security vulnerabilities have been addressed
Top type and font crashers found in the field have been addressed
A number of performance issues have been addressed
Crash opening 3D layers has been addressed
Color Engine crash has been resolved
Intermittent file format issues addressed
Shift scrolling bug fixed
Sharpen crasher fixed
Marching ants not seen at certain zoom levels fixed
Metadata focus distance issue addressed
File info bug addressed for Orphea Studio jpg's
TWAIN crashers fixed
Brush cursor bug fixed
Histogram progress bar issue fixed
Droplet issues addressed
Multiple languages: Windows | Macintosh
December 7, 2010
The TWAIN plug-in update includes fixes for multiple document scanning and a crasher when attempting a second scan.
Camera Raw 6.3 Update
December 7, 2010
This new version of the Camera Raw plug-in replaces the original one that was installed with Adobe Photoshop CS5, Adobe Photoshop Elements 9 and Adobe Premiere Elements 9 software. Visit the Camera Raw page for a complete list of supported cameras.
Lightroom 3.3 update
December 7, 2010
The Adobe Photoshop Lightroom 3.3 update includes these enhancements:
Additional camera support for several new camera models including the Canon PowerShot 95, Nikon D7000, Olympus E-5.
Corrections for issues introduced in previous versions of Lightroom 3