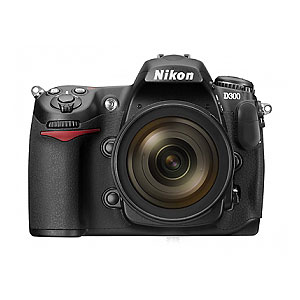 I picked up my new Nikon D300 last Wednesday from the good folks over at Adray Camera (who assured me that I would be one of the first kids on the block to get one, Thanks Kevin!). It was great having the holiday weekend to put it through some initial tests. I'm coming into this new camera body from a Nikon D80 and my main motivation for upgrading (the D80 is great camera) was to be able to shoot at higher ISO settings with less visible noise. In brief, the new Nikon D300 does just that. Now for those of you who currently have D200's there's probably not as much of a need to upgrade to the D300.
The first thing I noticed was how smooth the camera operated and especially the 51 point focus system is killer. This camera also has several more ways to customize it compared to my D80. It took me a while to figure out where the options were located for some of the things that I had setup on my D80. For example, something as simple as turning on the image review (after you take a shot, the LCD displays the last shot you took for a few moments), took me several minutes to find. Everything I wanted to set was there, it was just that some of these options were buried and had obscure names. I like to think that I should be able to pickup a new Nikon (now that I'm on my 3rd one) and be able to set it up the way I want without having to refer to the manual. Sadly, that was not the case this time. One setting I gave up on was the setting that allows you to use the Command Dial to quickly thumb through your shots. I just couldn't figure out what Nikon would call this feature or where it was located in the menus. So I called my buddy Scott Kelby who shoots with a Nikon D200 (his D300 is on the way too) and he walked me through to the right menu which was Custom Settings Menu -> Controls -> Customize command dials -> Menus and playback = ON. Maybe that seems straight forward to some, but my brain just never saw that as being the option I was looking for.
On to the noise tests
Once I got all my settings set I moved on to the noise testing which again was my main motivation for upgrading. I want to be able to shoot in lower light situations at a higher ISO setting with less Christmas tree like noise. My first round of tests was to use natural light coming from a nearby window to shoot a floral arrangement on a black Westcott background. I was very happy with my results!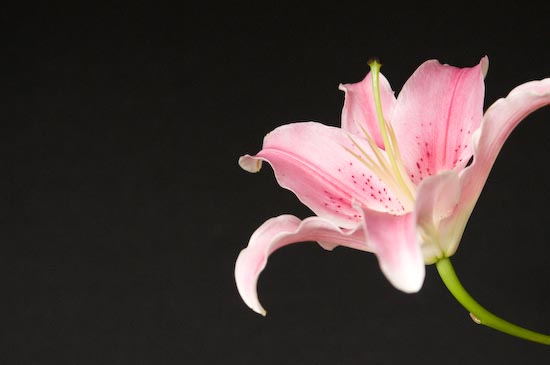 I shot the flower above at a full range of ISO settings and I'm happy to report that shooting at ISO 800 was extremely acceptable. I could even go higher before starting to cringe.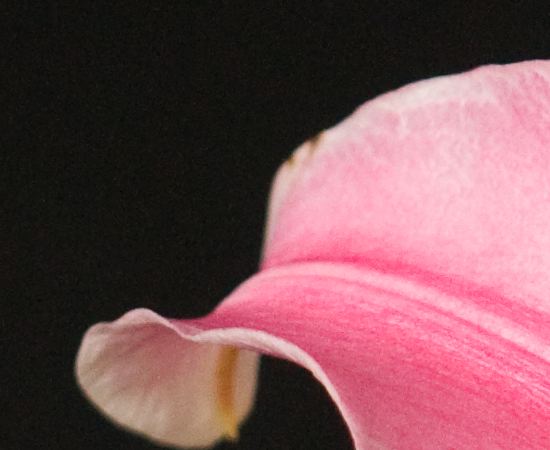 Zoomed in 1:1 in Adobe Photoshop Lightroom on a shot at ISO 800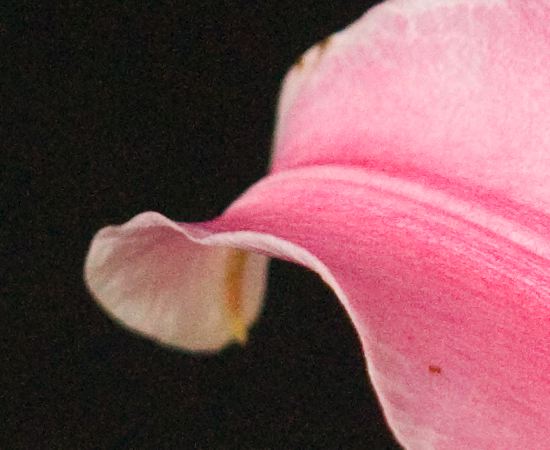 zoomed in 1:1 in Adobe Photoshop Lightroom on a shot at ISO 1600
Here's a link to 4 of my shots (39MB download) at ISO 200, 800, 1600 & 3200 shot in Camera RAW and then converted to Adobe .DNG format using Lightroom.
The higher the ISO setting the more noise/grain you'll see. However, compared to my D80 this is a night and day improvement. The other thing that I'm totally addicted to is the speed of this puppy. While the D3 would probably be better suited for sports photography, this camera would be a great second choice at less than half the price of the D3.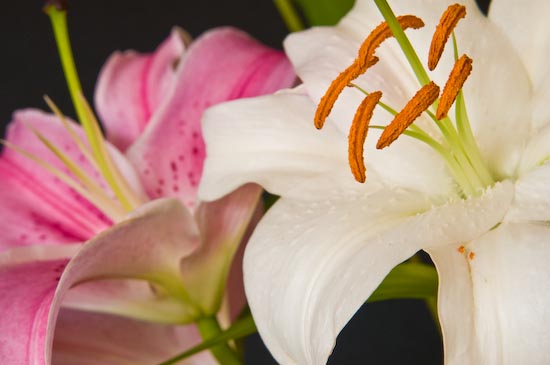 My setup
Nikon D300 (shooting in RAW)
Tamron 28-75mm f/2.8 lens
shot at f/4.5 in Aperture Priority mode
Westcott reversible background
Adobe Photoshop Lightroom 1.3 running on Mac OS X 10.5.1 Leopard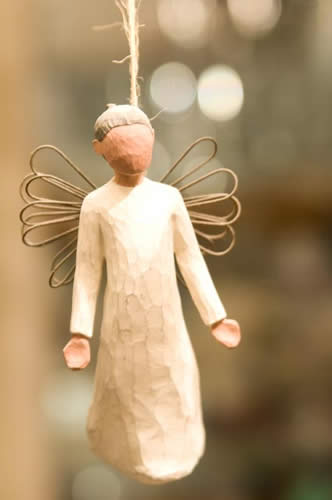 Bottom Line
While I've only had this camera for a few days, I'm very happy. I've also ordered a di GPS unit that attaches directly to it. Look for that review here. The Nikon D300 goes for $1,799.95. If you would like to read a full review and see all the specs, check out these two: dpreview and Steve's Digicams should have one up soon.
Hey, I'm selling my Nikon D80 gear! Check it out here on eBay