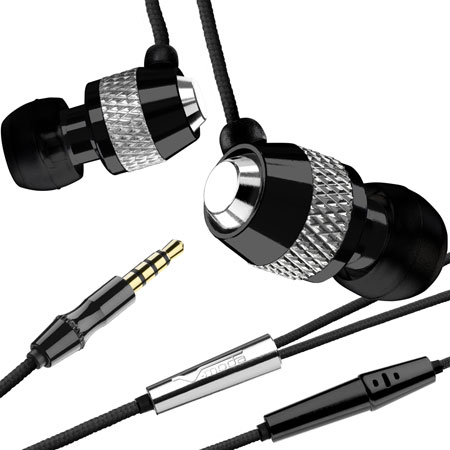 Like many of you, one size doesn't fit all. Although I have big ears my ear canals are relatively small which makes me not a fan of in-ear anything. So the standard Apple ear buds (although the more recent ones are a lot better) tend to be uncomfortable after extended use. Now this isn't a problem for the iPod because there is a dizzying array of choices for iPods, there aren't as many for iPhones. The two big obstacles are for one the iPhone's headphone jack is recessed and most standard ear buds don't fit without an adapter and two, most standard 3rd party ear buds and headphones don't have an integrated mic and control for accepting calls.
So I was intrigued when a friend was telling me about the v-moda vibe duo headset. This headset was designed with the iPhone in mind and works perfectly with it right out of the box. It comes with, count them, 6 different sets of ear cushions (2 sets of 3 sizes in black and white for your style preference). The small white set come pre-installed and those were the most comfortable for me right off the bat. After getting a good fit, the next test was using them while I was on the phone. So I returned a call and carried out my entire conversation without the person on the other end asking, "are you on a headset?" Sound quality is GREAT! While phone call clarity passed the test, the next biggest area was sound quality while listening to music. Keep in mind I'm not an audiophile, so your mileage may vary. I fired up a few of my favorite tunes and while the sound was great, I can't say that it was leaps and bounds better than the stock ear buds. There was good base response (considering that these are ear buds) and the sound was crystal clear. I also checked out the integrated remote and was able to pause/start my music as well as advance to the next track without having to touch the iPhone. This remote also allows you to answer calls too without touching the iPhone itself. I was also happy to see that they include a carrying case. This is often overlooked by some manufacturers and since I plan to carry these in my coat pocket, it's great to have a case.
I got these on sale during Apple's Day After Thanksgiving Sale. The regular price is $99.95 ($99 at Amazon.com). That seams a bit steep for ear buds (and it is), however, if you're looking for optimum comfort and sound quality and out of the box iPhone integration, you can't go wrong with the vibe duo nero headset.