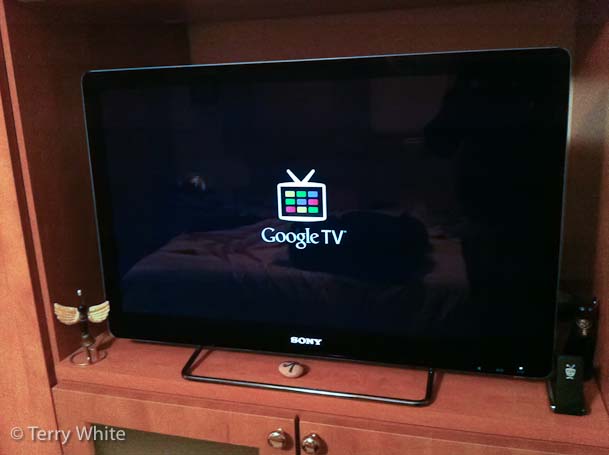 A little bit about my habit
I admit it. I'm a TV junkie. Yes, I'm one of those guys that actually enjoys TV. Now while you may be picturing this guy laying on a couch with empty potato chip bags all around, I'm not quite that bad. I use TV as a form of turning my brain off. I work long hours every day. I travel for a living and that in and of itself adds layers of stress on my life. I'm constantly on my computer working or reading up on the latest things in tech. When I've had enough! It's time to veg in front of the TV. This means that I'm not looking for inspiration. I'm not looking for a message on life. I'm not looking for controversial issues. I'm looking for simple entertainment. That's it.
With that said, I've got all the latest TV gear in my home. HDTVs, a theater room, TiVo HD, Apple TV, Comcast HD Cable Service, Slingbox, Playstation 3, Nintindo Wii, Xbox 360 and a Netflix account. At one point I even had both DirecTV AND Comcast until DirecTV all but accused me of lying about a pay per view that I didn't order (as a result I'm no longer a DirecTV customer, their loss!). There is no shortage in ways to watch TV in my life.
When do I find the time to watch?
I almost NEVER watch a live broadcast. I just don't have the time to sit in front of a TV on someone else's schedule. That's why TiVo HD is my favorite piece of gear out of all of the above boxes. I set up the Season Passes and one time recordings for the shows I want to watch and when I'm home and done with work for the day, I can usually get 3-4 shows in (fast forwarding through commercials) in one sitting. My second favorite box is my Slingbox. This allows me to stream my own TiVo recordings anywhere I happen to be traveling on my computer or my iOS devices. Lastly I also like to watch on those long flights. Therefore I either bring Netflix DVDs or rip the TiVo'd shows to my laptop or my iPad. That pretty much covers that ways that I watch content. I'm not a regular Hulu user and I rarely if ever watch shows on the network websites. The biggest reason for this is that I'm either watching at home and using TiVo or I'm in the air and don't have an internet connection to stream content. So streaming shows to my computer is the least interesting option for me.
The road to Google TV
I was intrigued by Google's initial teaser video on the upcoming Google TV and put it on my list of gadgets to check out. At the same time I was looking to replace the HDTV in my bedroom. The one I had was a Sony 32" 720p lower end Bravia. While this TV worked fine, I wanted a few more HDMI ports, Full 1080p resolution and the power saving aspects and clarity of the new LED sets. I was in no hurry and was just waiting for the right deal to come along. Also I had no particular brand in mind. I have no love or hate for Sony. I have several Sony products, but if a better set came along by another manufacturer I'd consider it.
Then I got an email from Sony announcing "the world's first HDTV powered by Google TV". I thought "perfect timing"! I was in the market for a TV and I wanted to tryout Google TV and this would kill two birds with one stone.
First Impressions Out of the Box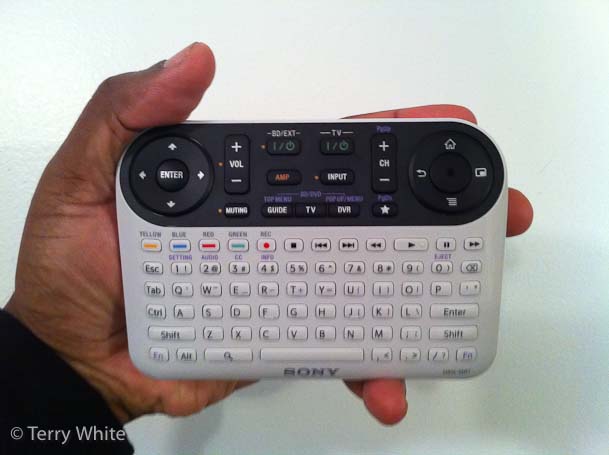 I feel like I'm reviewing two things at the same time. There's the television and there's the Google TV that is built-in. So at first glance I fell in love with the actual TV. I didn't think I would like the white backing, but it's fine. The only complaint I have with the TV itself is that 2 of the 4 HDMI ports are on the side and that can cause cable management issues. The other thing I was afraid of was the keypad/remote. From the pictures I saw on the web it looked HUGE. However, it's nice and compact. It's just big enough to be useful, yet not bigger than it needs to be. I hate onscreen keyboards and after about 60 seconds with this keypad I was in love with it. An onscreen keyboard is ok when you only have to enter text occasionally. However, for a web surfing appliance like this you're going to be typing more often. My two thumb pecking was much quicker than I anticipated and it has a nice feel to it. So the thing I thought I would like the least is actually one of the things I like the most. Although this keypad is necessary for many of the functions I still wanted to use my Harmony One Remote. I turned on the TV and walked through the setup process. There was a firmware update waiting so I figured I would setup my Harmony One while the new firmware for the TV was downloading and installing. Although it said it would take 10-15 minutes on screen, it took more like 30-40 minutes. I was connected using the built-in 802.11n connection. It has an Ethernet port too.
Logitech keeps their supported products updated pretty regularly, but this new model TV (that had just started shipping) was not in the database yet. The only option was to learn the remote button by button (or wait until the remote profile is added by Logitech). I tried to have it learn the buttons and nothing worked. I then realized that this keypad is probably Bluetooth connected like the PS3. During the initial setup I did have to "pair" it and that screams Bluetooth. I was really bummed at this point. I do NOT want to have to use two remotes (one for the Google TV and one for everything else). Granted I know that I would need the keypad remote for the internet features of Google TV, but I'm not going to be using those every time I watch TV. The Harmony One is my universal remote of choice and I really want that one to work. As luck would have it, I went ahead and pressed my normal "watch TV" onscreen button and it worked! Since my old TV was a Sony, the same standard IR commands worked on the new one! The TV apparently has both Bluetooth and IR connectivity. Woohoo!
What does Google TV Offer?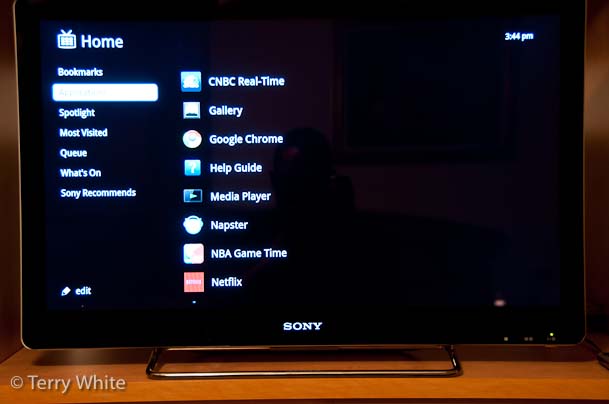 As many would note, this is not the first attempt of combining TV and the Web. There have been many failed attempts. Anyone remember Web TV? What it really boils down to is accessing Internet CONTENT. Although it's nice to have an integrated browser (Chrome) on my TV, I'm not going to be surfing the web on this device on a regular basis. What most people will want is the ability to access streaming online content from the internet on a TV as opposed to your computer. So sites like Amazon On-demand, Netflix, Hulu, Podcasts, and Pandora come to mind. I don't want to watch TV on my computer and I don't want to surf the web on my TV. I do both of these things only when I need to, but not regularly. A computer is great for the web and a big screen TV is great to WATCH TV on. I was hopeful that Google TV would offer me more content options than standard cable. After all that was the promise of "Google TV". Google TV for the most part delivers on this promise, but there have been some bumps along the way.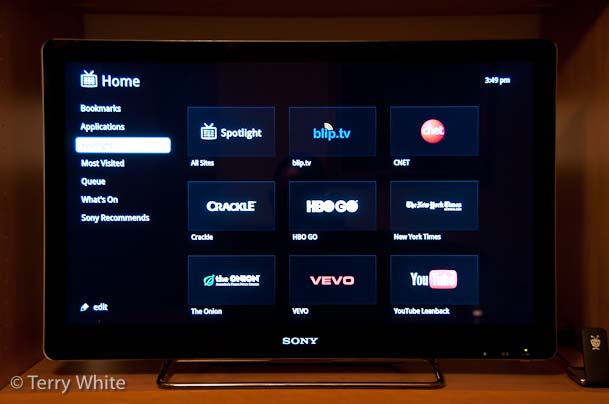 Once again the networks are in the way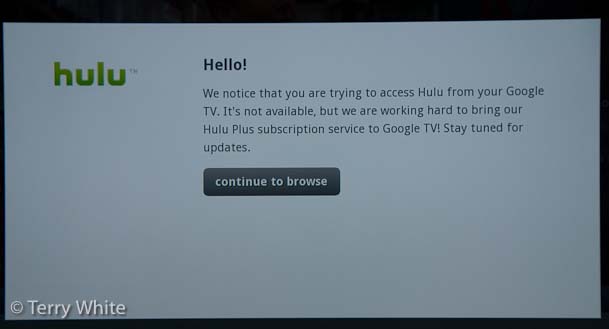 From my computer I can go to Hulu.com and watch a broadcast for free. I can go to most network websites and watch the latest episodes of their current lineup for free. Of course there are ads along the way, but that's the model for TV. The ads are supposed to pay for the broadcast. So my question is, why is this somehow different on Google TV? Google TV for all intents and purposes is a computer hooked up (or built-in) to a TV (a monitor). Yet, if I go to Hulu.com using the built-in browser (which has Adobe Flash by the way), I get a message stating that they are working on offering their "premium" (pay for) plus service! WTF? Why do you care if I watch the SAME content with Ads on my Google TV vs my computer? It's not just Hulu. ABC, CBS, and NBC are blocking their shows from working on the Google TV. This has nothing to do with the technology! Google TV has everything it needs including Adobe Flash Player to view their streaming content. They can certainly show ads during the broadcast. I don't get it!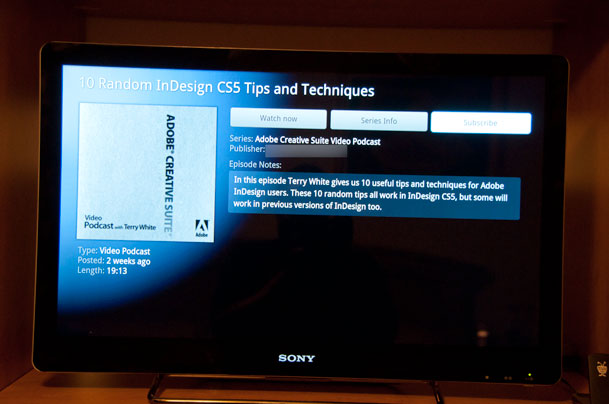 With that said, there is plenty of other content and apps that are working with Google TV. Netflix is built-in. So is HBO Go. Pandora is there too. I had no problem subscribing to my Creative Suite Podcast. I'm not into sports, but there's an NBA Game Time option too. Since Google TV is upgradeable via software updates, more content can be added at anytime.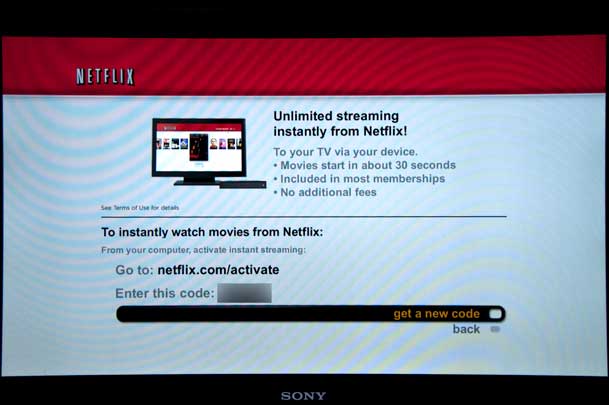 Although Google TV has Netflix, I won't be using it on this device. I think the new Apple TV's Netflix implementation is better and since I also have an Apple TV plugged into this TV I have no need to have it setup on both devices.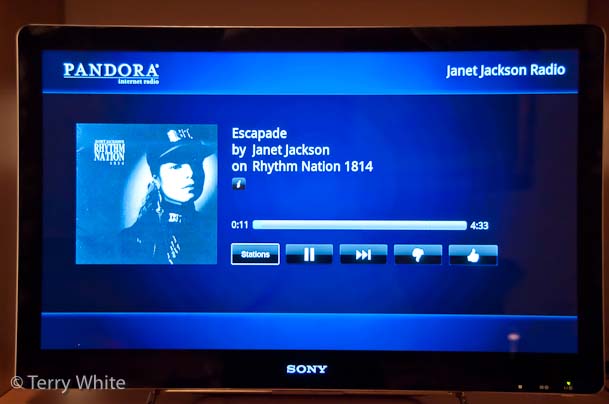 Speaking of lack of content! In all fairness, the NEW Apple TV suffers from the same (Networks in the way) issue. The promise of renting TV shows on that device is hampered by the fact that not all the networks are providing shows for rental and the current selection is pretty limited. Networks seem to want to hang onto their old model of selling ads AND charging the consumer to watch the shows too. It's going to take time for a change to come about.
Web Surfing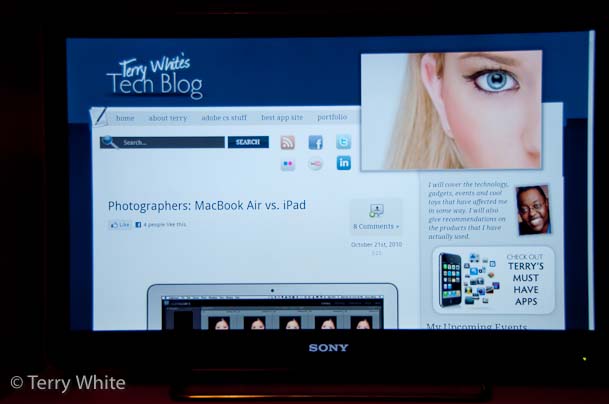 While I don't plan to go to my TV to access the Web, it is nice to have it right there at the touch of a button when I want it. If a commercial comes on (and you don't skip past it) you can bring up the built-in Google Chrome browser and go to any website you want. Your TV show will go into Picture-in-Picture mode in the lower corner (you can close if you want). The browser worked well and I was able to go to all the sites I tried without issue. Twitter is also a built-in app.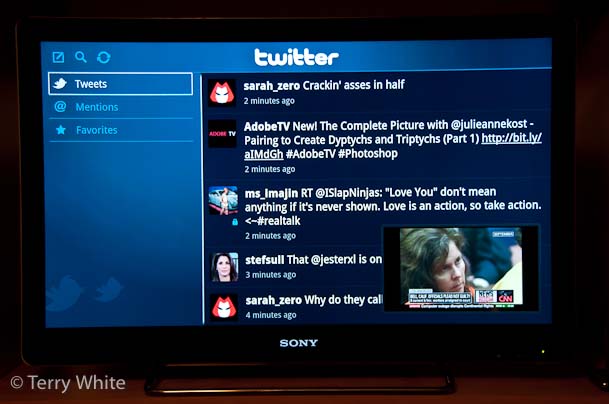 Live TV playing in the bottom right corner of the Twitter App.
Since Google TV is powered by Android, there will probably be more Apps coming! At Adobe MAX in LA this week Adobe introduced AIR 2.5 with TV support for Apps. This means that developers can now write Apps for any AIR enabled TV device.
It has Adobe Flash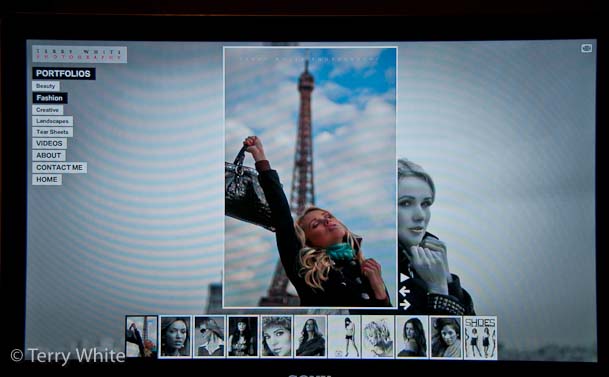 Like it or not Adobe Flash is all over the web and I appreciate not seeing holes on pages wondering what content I'm missing? I tried my own Flash based portfolio and it worked GREAT! No problems viewing the content and even watching the Flash videos.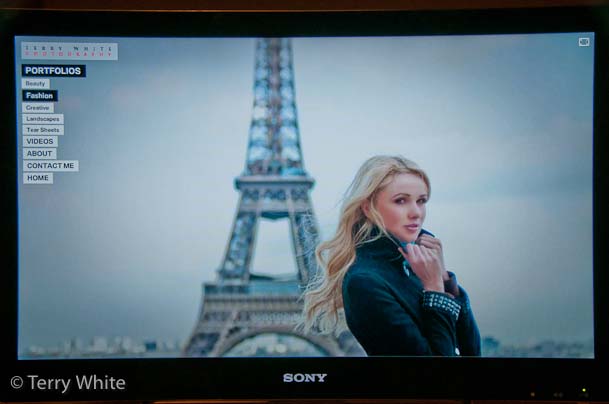 Can I use Google TV with my existing TV?
I was in the market for a new TV so I bought this Sony TV with Google TV built-in. However, if you have a TV that you're happy with and just want to add Google TV to it, there are options and probably will be several players in the near future. One of those options is the Logitech Revue. The Revue is a Google TV set-top box that you hook up to your existing TV. It comes with its own keyboard/remote and has all the same Google TV features that I've discussed here.
The Bottom Line
Now for the big question. Do I recommend Google TV? I would say first off it depends on what you're trying to accomplish. This product would appeal most to people that are trying to eliminate a cable/satellite subscription. After all that's the beauty of being able to watch internet content on your own time. You will be frustrated by the content that is blocked by the networks, but most of that content is available in HD over the air anyway. While it would be nice to stream it over my internet connection, I'd be OK if I didn't want to pay for Cable and hooked up an antenna for the over the air broadcasts and Google TV for everything else. So the answer is yes I'd recommend it to that person. However, if you're like me and don't mind paying for cable and just looking for ADDITIONAL content via Google TV, then you might be disappointed at this point until Google works out deals with the networks. Even if Hulu was working today, I would NOT pay for it. Let's hope they work out deals with the other networks. I'm intrigued by the possibility of Apps and the door is now wide open to developers to develop Apps for Google TV. However, for today Google TV is A Work in Progress.