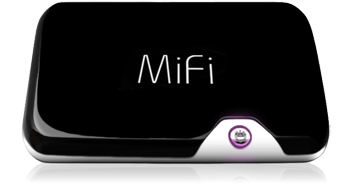 The Novatel MiFi is something I've been drooling over for a while now. I think it was first introduced on Verizon and then Sprint. I have an existing 3G datacard from my employer on AT&T. So I waited for AT&T to bring out the Novatel MiFi for HSPA and as of the writing of this review they still don't offer it.

What's a MiFi
You;ve probably seen those 3G cards that all the wireless carriers offer (around $60/month here in the US) that basically allow you to have a 3G data connection for your laptop anywhere that they have 3G coverage. This is great for frequent/business travelers when you can't always depend on there being a WiFi hotspot around. Normally this 3G cards either connect to your computer via USB or a card slot like ExpressCard. Plug it in, connect and you're on the internet.
MiFi is the same thing, but instead of having to plug it into your computer (and installing drivers), you just turn it on and it becomes a 3G WiFi hotspot for up to 5 computers. Of course you can set it up with your preferred network name and secure it with a password.
I got tired of waiting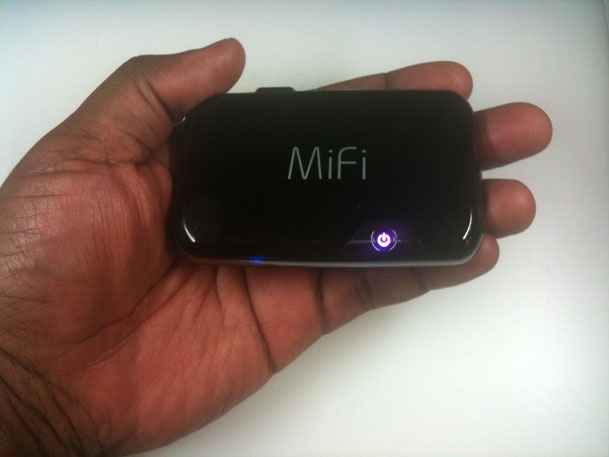 I'm sure AT&T will come out with the MiFi some day and who knows we may even see iPhone 3G tethering from them, but I'm tired of waiting. Since my existing 3G USB card has a SIM card in it, all I needed was to find an unlocked MiFi sold in another country, buy it and stick in my AT&T SIM card. Done!
I found one from this guy on eBay, ordered it, got it and it works great.

How does it work?
My first impression out of the box is that it was about half the size that I thought it was. I had only seen pictures of the MiFi before and I couldn't believe how small it was. I was able to configure it without any problem and setup the network the way I wanted. I also installed the latest driver from the Novatel site for my MacBook Pro so that I could use it as a 3G modem via USB if I ever need too or if it's battery is drained.
Here are the results from my first speed test (test your speed here):


As far as the range goes I had no problem using it from across the room. The 802.11b/g connection works great. The battery life is supposed to be around 4 hours, but I haven't needed to push it to the limit yet. The battery is user replaceable too. So in theory if you needed to be on battery power for the day you could buy a couple extra batteries. It has a Micro USB connector on it for charging/data and comes with both a USB to Micro USB data cable and a USB wall charger. If you are near an outlet, say in a hotel or meeting room, you can run it from the wall charger all day long. Keep in mind that extensive use could put you over your data limit with your provider (on average 5GB/month). You have been warned. I was also lucked that the wall charger came with an assortment of different plug types for different countries including the US plug. 🙂

USB rant
Speaking of USB power, which I'm definitely a fan of. Do we really need yet another type of USB connector. We started with USB A & B. Then we got USB mini (usually found on cameras), now we have USB micro. How many different USB connectors do we really need to make. I understand that something small like a cellphone or bluetooth headset can remain small with the USB micro connector, then let's stop making USB mini. Now I have to travel with at least 3 different USB cables to charge "USB powered" devices. End of rant.
Bonus: There's a Micro SD slot on it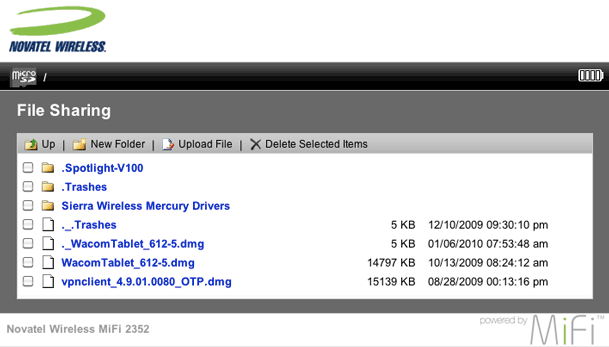 Just like my USB modem, there's a Micro SD slot on the MiFi. Plug a card in and now you have a mini file server to share files over WiFi to up to 5 people that connect. Although I have no plans of sharing files with others this way, I will use it to store files I may need, like the drivers for various devices!
The Bottom Line
The MiFi has already come in handy a couple of times and since it creates a WiFi network I can share it with my iPhone, MacBook Pro, family members and colleagues that I'm traveling with. Some day we'll see this from AT&T, but if you already have an AT&T 3G data card, you don't have to wait. Also because this one is GSM based and unlocked, I could use local SIM cards in other countries instead of having to pay the outrageous roaming charges.
P.S. I'm hoping that Novatel releases a new firmware update soon to resolve the recent hack-security risk to the device.