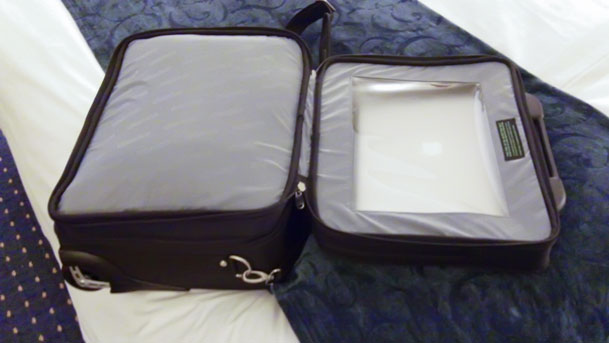 Being a frequent traveler means that I get to go through the TSA airport security line quite a bit. A few weeks back I wrote a post called "Avoiding a TSA Bag Check." Basically it's about reducing the clutter in your bag so that the person looking on the xray screen can identify the contents. If you've got a bunch of electronic devices and cables all piled on top of each other and they can't make heads or tails of what it all is, they'll just say "bag check" for someone to walk over and take your bag to a table to examine the contents by hand. This of course means an extra delay for YOU! Remember they've got all day, they're at work. Even though the bags of cables and drives that I pull out certainly reduce the chances of having a "bag check", I also have to pull out my laptop too. That's just one more thing to have to unpack and pack on every single trip.
I was excited when they announced "TSA friendly" bags that opened flat so that your laptop can be in a compartment all by itself and go through the xray without having to be taken out of the bag. However, I'm a roller bag guy and there was no way that I was going back to a shoulder bag for my computer. So I waited until someone figured out how to make one of these TSA friendly bags in a wheeled configuration.

I got the Skooba Wheeled TSA Friendly Bag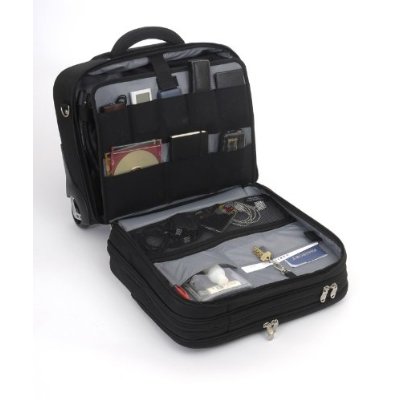 I happened to see an ad for this bag in the "Laptop" magazine and I ordered it immediately. It was just what I was looking for. They even took it one step further by designing the notebook compartment with a see-through panel so that when it is unfolded the TSA agent can "see" your laptop as well as xray it.

My first trip with the Skooba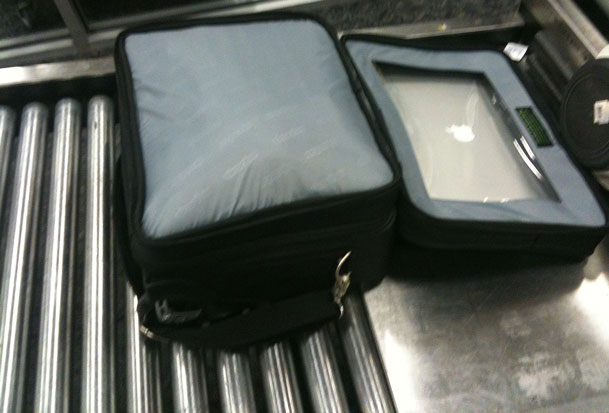 Last week I had a business trip and was anxious to see if my new bag would work. Keep in mind that TSA can still ask you to remove your laptop. Having a bag like this doesn't give you any special rights. Just to be on the safe side I still removed my cable pouch and my HyperMac battery (they always pick it up and give it a once over anyway because they don't know what it is). Success! My bag, and 15" MacBook Pro went through both ways (DTW and SFO checkpoints) no problem. The 2nd TSA agent on the other end at DTW said "neat bag".

There is one downside
Although this bag is great and works as advertised, it is missing one thing that all my other laptop bags have had over the years and that's an outside pocket. I can't believe how much stuff I pack in the outside pocket until I transferred it all to the inside of this new bag. Now it does have a "document" pocked on the back that would hold a file folder or two. The reason that they can't make it with a big outside pocket is that the notebook computer has to be able to be in a compartment all by itself with nothing on either side. When you unzip it and unfold it flat, there would be no where for an outside pocket to be. I used to keep smaller items sun as pens, 3G cards, business cards, thumb drives, etc. in that pocket for quick access. So now I've had to use the inner pockets for all that stuff. The bag even comes with a small see through removable pouch for your small items (like the ones I'm describing). So I use that now instead.

On the plus side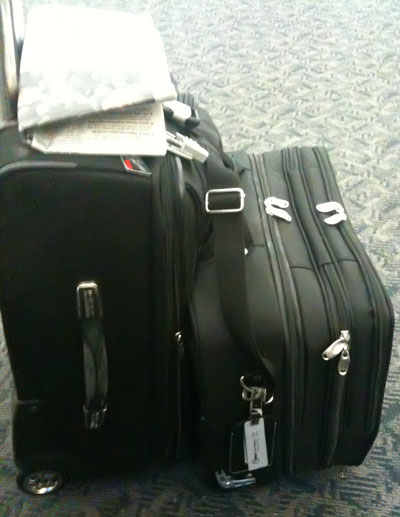 Even though I lose an outer pocket, I gain the ability to access everything while this bag is strapped to my larger roller bag. It just so happens that the handle (nicely padded I might add) is positioned at the back of the bag and therefore doesn't block any of the compartments. This is great for when I need to get something out and now I don't have to unhook it first.

The Bottom Line
This is a well constructed bag and while there is no guarantee that TSA still won't want to do a deep probe of my gear, if it cuts it down to half the time it was money well spent. You can get the Skooba bag here for about $133 (List price $190).