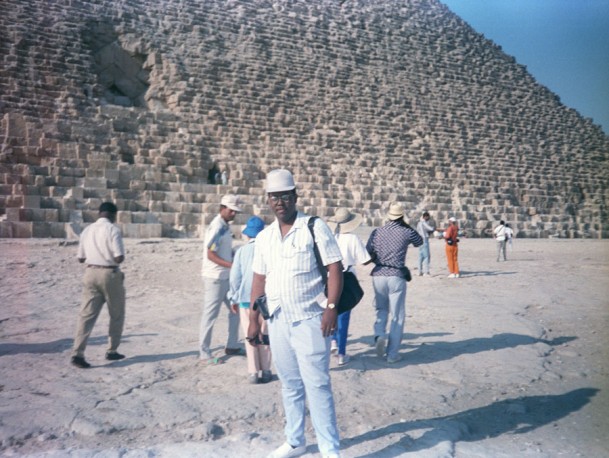 Believe it or not there was a time that I actually shot with, (gasp) film. Yes, I wasn't always a digital photographer. Although I was an early adopter and saw the handwriting on the wall when I got my first Apple QuickTake Digital Camera, I did shoot with regular film cameras before then. I did NOT consider myself to be a photographer at that time. I was mostly doing family photos and photographing my travels. I had never used an SLR camera before and most of my equipment was of the point and shoot variety. No, I didn't really get serious until digital came along. The picture above is from my trip to Egypt back in 1990. Is it a great shot? No not at all (as I cringe at the question), but it's one of the few that I actually have of me from the trip. Therefore, it's important to me.
With digital I have the vast majority of my catalog of images stored, well um, digitally. They exist on hard drives and backups of those hard drives. However, what about all those pictures I took before digital? Like many hobby photographers out there I have that "shoe box" of prints and negatives. Of course I also have those binders and binders of photo albums too. Most of this stuff is over 20 years old. There are a lot of good memories there too.
It's all starting to fade away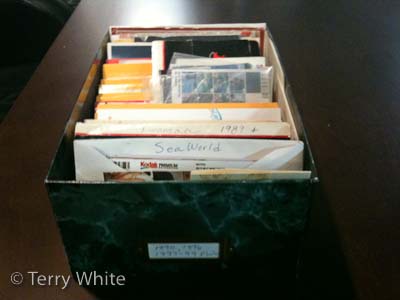 Negatives, Prints and Slides WILL deteriorate over time. My collection is no different. So I figured it was time to start transferring these precious memories into the digital world. For negatives and prints that means scanning! I've owned more scanners through the years than I care to think about. I even owned a couple of dedicated slide and negative scanners too. The one thing I've learned is that I just don't have the patience or the time for scanning! I bought a low budget Film Scanner a few years back with good intentions on scanning my negatives and slides. I figured I'd do a few at a time whenever I had time. I started out at a good pace and realized that the results just weren't what I hoped and that it was a tedious, slow and painful process. In order to get the quality I was looking for, my negatives would need to be cleaned and then corrected after they were scanned. Sorry, but I just don't have that kind of time or will. So I boxed up the scanner and sold it on eBay. Yes, I gave up! I didn't think about this project again for several more years.
ScanCafe
I had heard about ScanCafe a few years ago. The service sounded great and certainly the price was attractive, but even then it was one of those things that I said, yeah I'll get to it some day. Well someday finally came! I tripped over that box again and said, "you know what? Instead of this box just sitting here fading away, It might as well be on it's way to ScanCafe." So I went to scancafe.com and started an order. Now of course I wanted to test it first, so I started with a small batch of what I estimated to be 180 negatives (turns out it was really 212). When ScanCafe first came onto the scene, you could ship them as many negatives as you wanted, they would scan them all and you would only pay for the ones you wanted. My guess, is that policy got abused and now they make you pay for 50% of your order up front. So if you send them 100 negatives, you're on the hook for 50 of them (any 50 you want). That's fair since they're going to scan everything you send and you only have to pay for half of them.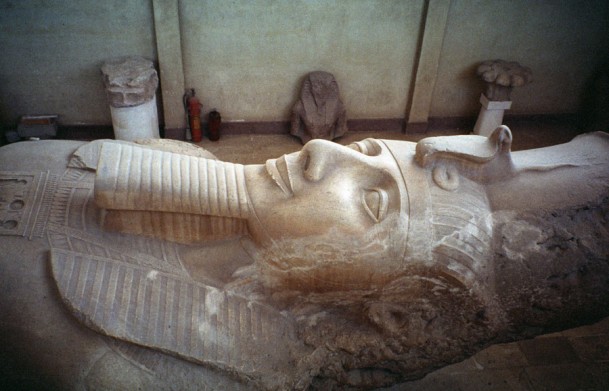 More than just scanning – ScanCafe doesn't just scan your slides, negatives and prints. They clean, color correct and scan each one by hand. So you get back the best possible image that you can get from what you send them. Now keep in mind the old rule of "garbage in, garbage out" still applies here. If you send them a crappy picture, you're going to get a scan of a crappy picture. There are no miracles here. This was proven by some of the ones that I sent them. They were crap to begin with and they were still crap several years later. Luckily, I didn't have to pay for those. 🙂
How does it work?
You go to scancafe.com and setup a free account. You then count up the number of slides, negatives and or prints you want to send.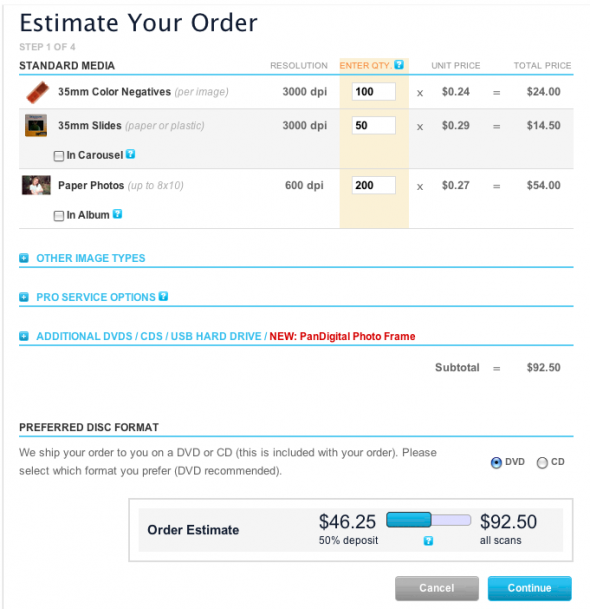 You'll see the prices right there on the spot and how much your deposit will be. You pay your deposit via a credit card and you'll be presented with a prepaid UPS shipping label for your package. Then you box up your materials to be scanned, print the label and put the label on your package and drop it off at your nearest UPS shipping location.
Then you wait! It's funny how something can sit around for years and you not think twice about it and then once you decide to do something about it, you're all of a sudden in a hurry. It takes over a month folks! Your order is shipped to California. From there, they ship it to their facility in India to do the actual scanning. Since every single negative, slide and print is scanned by hand, it takes a while.
The timeline for my order
I shipped my order via the faster UPS 3 Day Select Service (don't ask me why?) on May 28th, 2009. They received them on June 2nd, 2009 in California. They sent me emails to let me know where my pictures were in each step of their process. I finally (yes, I know finally right?) got an email on June 27th, 2009 letting me know that my images had been scanned and I could review them online.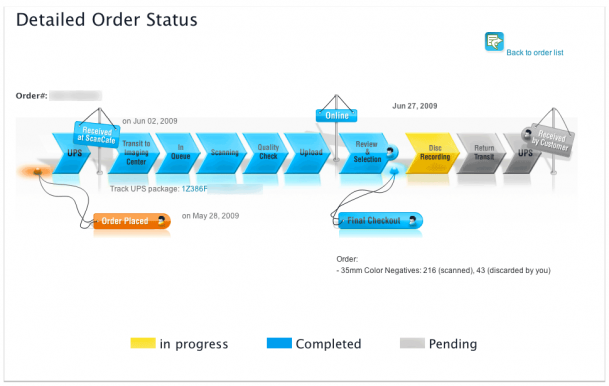 I like their selection process. Instead of you picking the ones you want one by one, they assume you want all of them or at least the majority of them and all you have to do is pick the ones you DON'T WANT! So you're going through them and eliminating the pictures/scans you don't want and don't want to pay for. Once you eliminate them, they are deleted for good. I like this process because it's very similar to what I do when I shoot today. I shoot, bring all the shots into Lightroom, review them and delete the ones I don't want.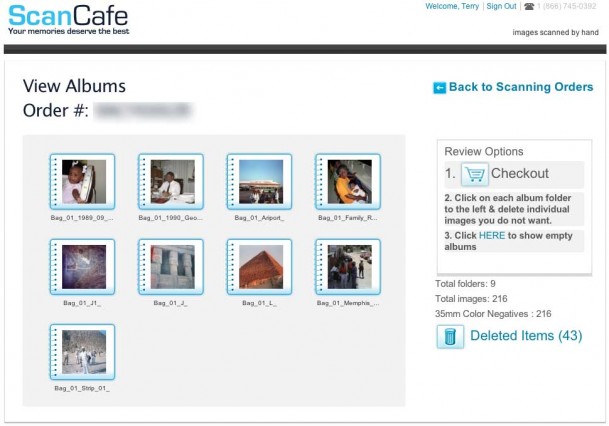 Out of my 216 negatives, I discarded 43 almost instantly. Again, crappy pictures become crappy scans. So it wasn't hard to discard those at all. Also each one discard is one less that you have to pay for (until you hit the 50% mark).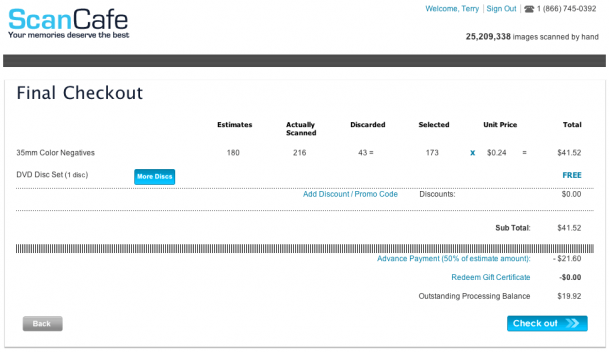 My final bill for the 173 images I kept was $41.52. I had already prepaid $21.60, so my balance was $19.92. Once I checked out, they burned my final images in JPEG format to a DVD and shipped it to me along with my originals. The package arrived Friday, July 10th, 2009 on my door step via UPS.
The Bottom Line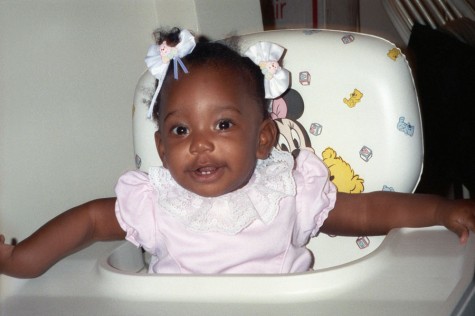 I probably have thousands of old photos that will never look as good as they do right now. As each day passes, they will continue to fade. Left up to me, I would probably never have gotten to a point that I had enough free time to scan these treasures. Now I can not only relive these memories, but I can now do so in more modern ways such as slideshows, social networking, on the big screen via Apple TV, etc. etc.
I've already shipped off my second, larger batch off to ScanCafe. This is just the kind of service I need and the prices are great too. ScanCafe is not the fastest thing in the world, but most of us are just sitting on this stuff anyway. So it might as well be making its way through their system instead of sitting in a box in your house.
How could ScanCafe be any better? The only part of the process that I thought could be improved is that once I made my selection of images, I would have liked an option to be able to download them right then and there in addition to receiving them on a disc. I'm sure there are bandwidth costs in place here and it adds another level of support on their end, but it would have been a nice option.
Questions? You can learn more and get your questions answered in probably one of the most extensive FAQ's I've ever seen here.