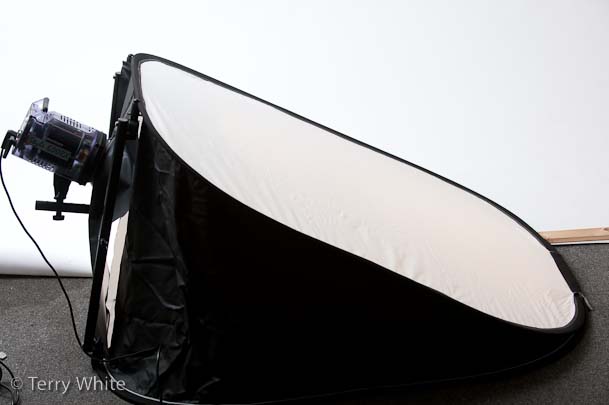 The good folks over at Bogen sent me one of the NEW Lastolite Kickerlite Softboxes to check out. My friends over at NAPP were raving about it and my buddy Scott Kelby did his review a few weeks ago. Although I've had it for a while now, I just didn't have the right shoot lined up to try it on. Well that all changed last night. Last night I got to work with one of my favorite models and my goal was to use the Kickerlite during the shoot. Scott let me get a sneak peak at his NEW Digital Photography Book Volume 3 and in it I found a technique that I just had to replicate: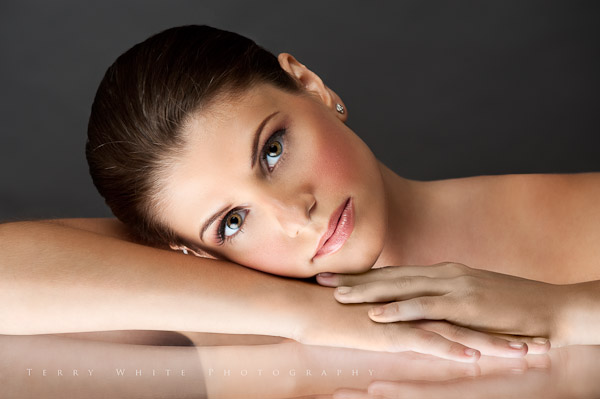 If you want to learn how to do the exact setup for this shot, grab a copy of Scott's book.
How does the Kickerlite Softbox work?
The design is actually pretty cool. Like most Lastolite products it comes folded up in a blue bag. Set up is so simple that the instructions are just pictures. No words. The only thing you really have to spend a few minutes assembling is the support bracket that holds your strobe/flash. The kit also comes with a pop up reflector that you just lay inside the Kickerlite to reflect the light up. Since you can use basically any light you want, you have complete control over the intensity and remote triggering. In my shoot I used my Elinchrom 600RX strobes. The main light was shooting through a 54" Mini Octa softbox and my other 600RX was mounted on the Kickerlite. I controlled the triggering with my Skyport triggers.
Testing it out
After I got it set up I started testing it until I got the right settings. Then I started shooting away. However, I really wanted to see how much of a difference it was making, so I turned it OFF (well actually I just switched groups on my Skyport trigger to not fire that strobe). The great thing about the Skyport system is that you can change the settings of each strobe right from the commander on your hotshoe without having to walk over to each light.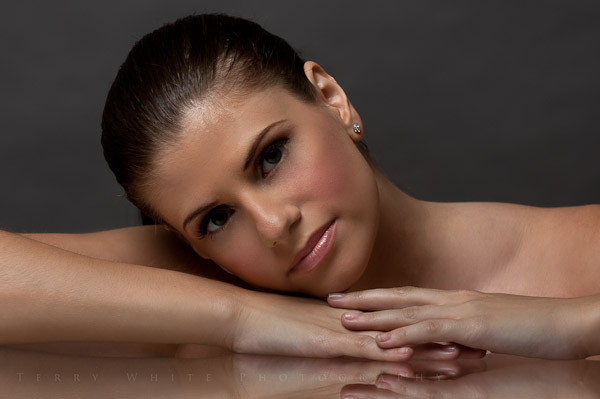 I was stunned at how much of a difference it was making. Basically without it, the image was dull and flat looking. Now of course If I didn't have it, I would have used a reflector instead to bounce light back up. So I did a couple of tests with the Kickerlite, without it and with a reflector instead and the results continued to prove that the Kickerlite blows away a reflector and certainly blows away not using any secondary light at all.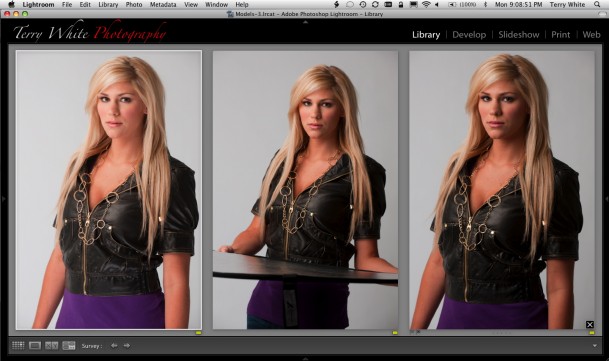 The first one is with the Kickerlite, the second one the model is holding a reflector and the third one is just the main light. Also keep in mind that in this shot she's standing and the Kickerlite is down by her feet.
The Bottom Line
Lighting is everything! If you don't get the lighting right, not much else matters. There is no official lighting committee that will come down on you for a shot that may be improperly lit, but if your shots are compared to someone who did light it properly or better, they will appear to be a better photographer than you.
The Lastolite Kickerlite Floor Level Softbox is another tool in my ever growing arsenal of lighting and photographic equipment.
The Kickerlite Softbox goes for $206.95 at B&H Photo. Learn more about it here.
Makeup by Renata.