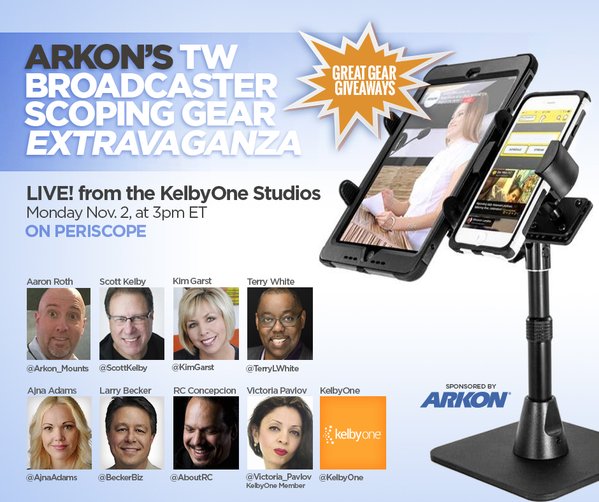 To kick off my visit next week to Kelby Media Group for meetings, on Monday I'm participating in a HUGE Periscope LIVE Broadcast and GIVEAWAY! That's right myself, Aaron Roth from Arkon Mounts, Scott Kelby Kim Garst, Larry Becker, R.C. Concepcion, Victoria Pavlov and Ajna Adams will all be broadcasting to our respective audiences on Periscope and Facebook simultaneously. We will each be giving away at least one TW Broadcaster RM179
and other cool prizes.
How to Win!
First off you need to follow me on Periscope here (from your smartphone) or like my Facebook Page here.
Next you need to be on one of my broadcasts (either Periscope OR Facebook) Monday 11/2 at 3PM ET
During the broadcast I will tell you what comment you need to post in order to enter.
I will then end the broadcast at some point. The Periscope broadcast will be captured on my Katch page and the Facebook broadcast will be on my Facebook page.
I will then start a NEW broadcast to draw the winner from the previous broadcast comments using a random number that you'll see me generate live.
What ever the number is we will scroll to that comment and that will be the winner. So yes you need to be present to win and yes it's a global contest.
I look forward to seeing you all in my broadcasts on Monday! Good luck!
If you don't win you can buy a TW Broadcaster directly from Arkon here and use discount code: twhite for at 20% off now through 11/8/2015. After the 8th the discount drops back down to 10%.
Disclaimer: I don't work for Arkon. I'm not being paid by Arkon. I don't benefit if you use my discount code in any way. Myself and the many other broadcasters that are promoting Arkon mounts are doing so out of love and passion for their products. I'm passionate about a lot of products that i promote here, but my only employer is Adobe.
Amazon is also starting to carry a few models here
.