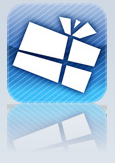 One of the things that really bugs me about the iPhone's built-in calendar is that there is no way to set an alert/alarm for Birthdays. They are already present in most of my Contacts. They appear automatically on the "Birthdays" Calendar, yet Apple doesn't allow you to set reminders for this calendar without going through some workarounds. It wasn't even until iPhone OS 3.0 that I had a way of subscribing to my Birthdays calendar on my IPhone directly. So there is still a LOT of room for improvement in this area.
Occasions
Occasions is an iPhone app that is designed to overcome this shortcoming. It automatically picks up the birthdays and anniversaries in your Contacts. You can also enter events manually if you need to. It then keeps a running list in chronological order of upcoming occasions. While there are many iPhone apps that do this including the app I was using before "Upcoming Events", this app supports the iPhone 3.0 Push Notifications feature. This means that the app can pop up alerts and sounds without being open! My old app still hasn't been updated with this important feature so I've moved on.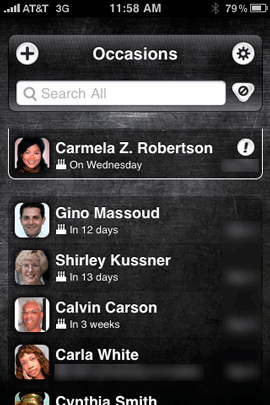 One of the things that was also important to me was the ability to set up the time that I wanted to be alerted. Technically it's someone's birthday at 12:01 AM. However, that doesn't mean that I want my iPhone sounding off in the middle of the night. Luckily you set the time of day each day that YOU want to be notified. You can also set how many days in advance that you want to see upcoming occasions.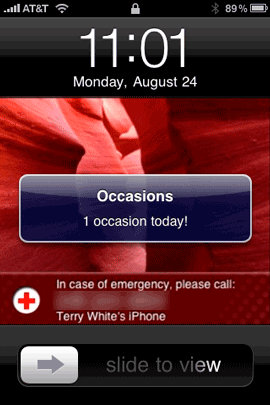 Once you're alerted you can of course do anything you want from running out and buying that person a gift to taking them out to dinner. However, right from within the App you can either call the person, send a Text Message or an email. There is also a notes feature so that you can keep track of the person's favorite things or gift ideas.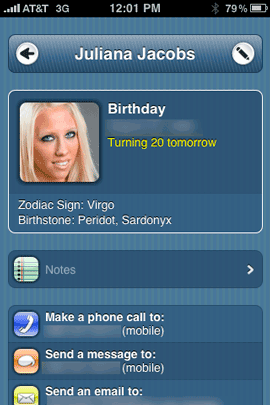 The Bottom Line
Like I said, there are other Birthday/event tracking apps out there. There are some that will even pull down the birthdays from all your Facebook buddies, but this one had the best feature set for what I wanted and the best looking interface.
My only ask and the thing I was a little disappointed in as far as the interface goes is that the Notification that pops up is pretty generic. It just says that you have X number of Ocassions today. I would like to see an update in that the Push Notification actually display the Name of the Occasion, for example "Joe Johnson's Birthday Today". Another nice to have would be the feature in some of the other apps of "optionally" pulling down your Facebook friend's birthdays too. Not a necessity, but definitely would be a nice to have. I did try another app that did both of these things, but it didn't let you set the time of the notification and that was a deal breaker for me. Hopefully, Apple will someday add these features into the iPhone OS itself, but until then Occasions is my reminder app of choice.
Occasions is 99¢ and available here from the App Store
.
Another Site with iPhone App Reviews
Go check out theappdata.com as another source for regular app reviews!