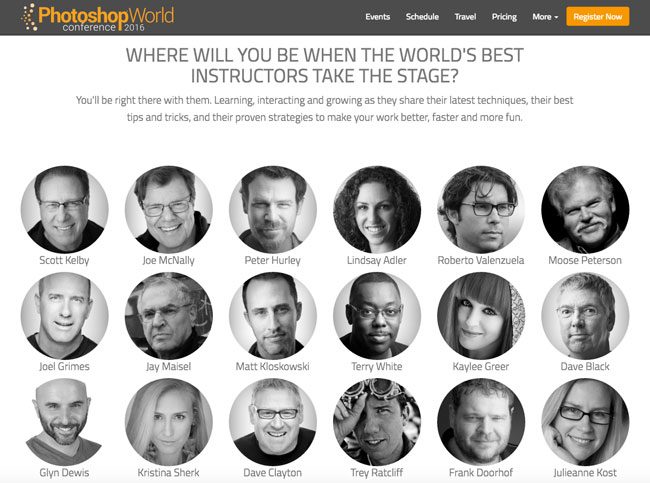 It's almost time for one my favorite Adobe conferences of the year! Yep, Photoshop World is just around the corner and as usual I've got more than a few classes. For those of you who have never been to Photoshop World, you should definitely check it out at least once in your life. You are pretty much guaranteed to walk away knowing a lot more about Photoshop and the rest of the Adobe Creative Cloud products and services. This year's conference takes place July 19-21 in Las Vegas NV. As a matter of fact, this is the last week to save $100 (register before June 10th here).
This year I'll be teaching:
Tue 19
Adobe Mobile Design Apps- Photoshop Sketch and Capture
[12:00 pm-01:00 pm]
Intro to Adobe Muse CC
[04:30 pm-05:30 pm]
Wed 20
Adobe Muse CC Tips & Tricks
[08:30 am-09:30 am]
How to Take Advantage of Adobe's Creative Cloud
[02:30 pm-03:30 pm]
Lightroom for Absolute Beginners
[06:15 pm-07:15 pm]
Thu 21
Shooting for Stock: Does it Deepen Your Pocket and Rise to Fame?
[09:00 am-10:00 am]
Intro to InDesign CC
[01:00 pm-02:00 pm]
There are so many top notch instructors that teach at Photoshop World and I'm honored to be among them once again. I'm really looking forward to my new and updated classes and most importantly seeing all of you! Be sure to either attend my classes or at least stop by and say hello.