My initial response to that question is "no." However, If I were taking bets i'd say that Twitter is more at risk than Facebook. I find that people I know that LOVE Twitter love it mostly because they don't like Facebook. Maybe it's the whole "friend" concept vs. "followers". Maybe it's because Twitter is short, sweet and too the point at 140 characters. I'm not sure what the real attraction is of Twitter over Facebook for those users that prefer it, but the one thing I can say is that Google definitely took a hard look at both services and decided to integrate the best of each into their own Google+ network.
Circles instead of Friends
Like Twitter, you don't have to be someone's "friend" to follow them. You can just add them to one of your Circles and you'll see their public updates. However, like Facebook's "lists" (my favorite Facebook feature) the whole Circle concept makes it easy to control what you share and with whom. You can target both status updates and photo albums to specific Circles of users that you create.
Speaking of photos
I would dare say this is probably one of the most used features of Facebook. Facebook users post millions of photos each week! I think it's the photos aspect that makes a Facebook user prefer Facebook over Twitter. While you can share links to photos on Twitter, it's just not the same.
Google+ Hangouts are cool too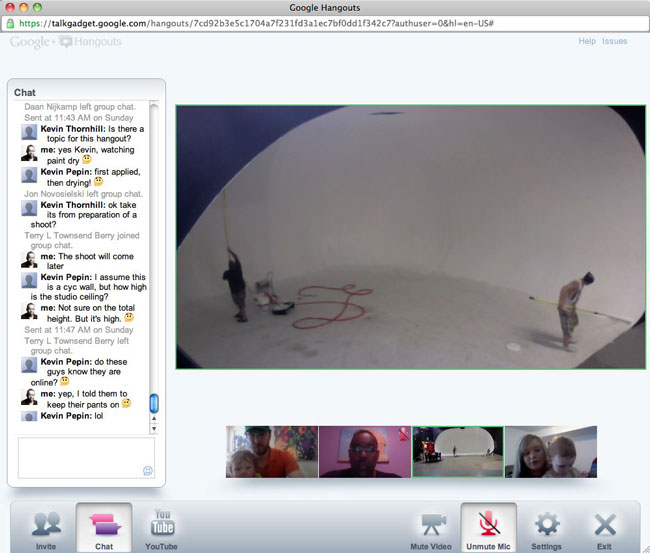 Google+ Hangouts is a cool little feature that lets you set up a LIVE video conference chat with up to 10 people. I gave this feature a whirl while I was watching my new studio being painted. Yes, I invited people to watch paint dry 🙂 OK, I was bored and didn't want to be bored alone. I fired it up. Positioned a spare laptop upstairs and we all sat around chatting about photography, Adobe questions, and of course painting. It worked extremely well. The only downside was the limit of 10 people. But hey, it was free!
Who will win?
I think it's way way way too early to say that Twitter or Facebook is going to die because of Google+. First of all Google+ isn't open to the general public just yet. Most "everyday" people I talk to have never even heard of Google+. This is why I think Google+ will have a hard time overtaking Facebook anytime soon. In order to beat Facebook they'd not only have to do just about everything Facebook does and in most cases better, there would have to be a groundswell movement of hundreds of thousands of users away from Facebook and I just don't see that happening. The reason is, most Facebook users I know (everyday folk) like Facebook. They don't see anything (much) wrong with it. They use it everyday to keep in touch with friends/family and for the most part they are happy with the way it works.
Yes it could happen. Look at MySpace. MySpace was king/queen, but you never hear anyone talk about it anymore. Facebook killed it. So yes it could happen, but you'd have to look at the reasons why MySpace has almost disappeared. It had no class! MySpace was all about letting you create and unfortunately "customize" your presence. This lead to many non-web designers creating really crappy looking MySpace pages. These pages were a pain to read and for some reason everyone thought that you wanted to hear their favorite music the minute you entered their page. I absolutely hated using MySpace and the only reason I was on it was to see the pages of people that I was communicating with. I spent as little time on it as possible. I think this is why it was easy to beat MySpace with something "better" or at least more consistent. I don't miss MySpace one bit. It won't be so easy with Twitter and Facebook.
This begs the question, is there room or desire for all three? I certainly don't need something else to do. Having a Google+ presence means that I now have one more thing to feed and maintain. Share your thoughts in the comments below.
I'm inviting 150 of my fans to join Google+
Like I said above, Google+ isn't available to the general public just yet. However, if you're wanting to get in just click this link and be sure to add me to your Circles! Thanks!
Which one do you prefer?