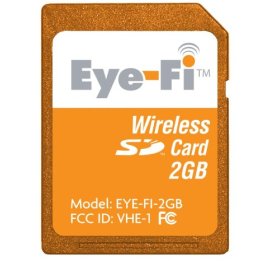 I first read about Eye-Fi Wi-Fi enabled SD card over a year ago and anxiously awaited its arrival. Eye-Fi is an SD card with built-in Wi-Fi capabilities for wirelessly transferring your shots from your SD based digital camera either to your computer or to an online photo service such as flickr, facebook, smugmug, shutterfly, kodak, etc. Although I requested to be on the beta program, I never got the call. So a year later I bought one of the 2GB cards to try out.
The card arrived and setup was very straight forward. You get a card reader with the card that you plug into the USB port of your Mac or PC to set it up. You configure the card with a web browser (although Safari on the Mac wasn't supported). I used FireFox to get mine going. Once I got it setup (which only took a few minutes), I was snapping away and the images automatically downloaded to the designated folder on my computer. After the first batch I took some more and didn't see a way to start the new picts transferring again. After a few minutes of scratching my head I just turned the camera off and on again and that started the transfer process. Since your camera doesn't know anything about the Wi-Fi abilities of this card, there is no way to control the cards functions from the camera. It's all automatic.
It works, but I question its usefulness?
OK, now what? I have this wireless SD card that can transfer the images to my computer or directly to a photo service. This sounds cool and I'm sure some will love this idea. However, here are the issues I have with this card. Like I said, it works as advertised! However, here's the thing, rarely would I ever want my shots transferred to an online service without first reviewing/editing them. Secondly, even if I opt to have them transfer to my computer, the process is not speedy and drains the camera's battery more. It takes several seconds for each shot to download over 802.11g/b. Even a USB2 card reader is MUCH FASTER (and doesn't require the camera's battery power)! The next problem is that there is no way to use this card where you might have public Wi-Fi access that requires you to accept usage terms via a web page first. So while this card is cool and works, what would it save you from doing? I guess if you want direct upload to a photo site from your camera without having to go through your computer first, then this is your answer. And a good answer at that. However, for me it has limited appeal in it's current format. Perhaps if they come out with a Compact Flash version that operates at 802.11n speeds, I'll want to take another look.
The 2GB Eye-Fi SD card goes for $99. Post a comment on how you would use this card!