I'm liking Eye-Fi on a whole new level these days. This company and their products  have come a long way since I tested/reviewed the first card back in 2007. They've delivered on their promise to enable Direct Mode transfers from their X2 cards and they've released Mobile Apps for both iOS and Android platforms. This is great news for photographers as it gives you a way to shoot wirelessly from your camera to your tablet device or even your smartphone. Although I was quite content with the testing I had done thus far with the Pro X2 card going through my MiFi mobile hotspot, I'm even happier that I wont need it (the MiFi) anymore to shoot to my iPad 2.
Upgrade your Firmware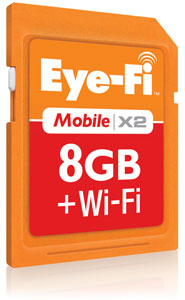 The first thing you'll need to do is download the new Eye-Fi Center Application from their site and upgrade the Firmware of your Eye-Fi X2 card. I and others had problems doing the upgrade as it would immediately fail no matter what. The work around seems to be delete your existing Eye-Fi account (back up your photos first of course) and then create a new account and you should then be able to successfully upgrade your card.
Enable Direct Mode on your Card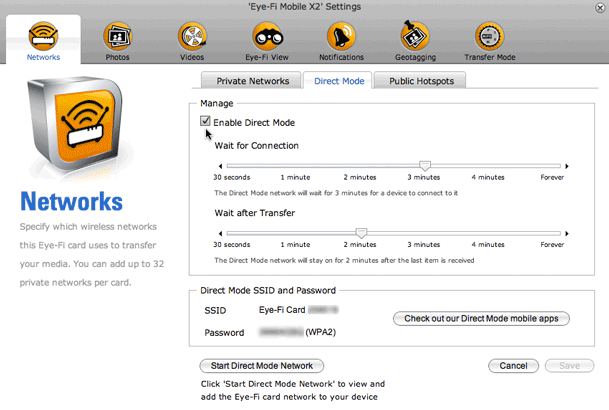 Once your firmware is up to date you should then be able to Enable Direct Mode on your X2 card. You will see the SSID (network name) of the card as well as the password for the card's network. To save time you can turn on Direct Mode while the card is in your computer and then connect your devices to its network. This is what I did with my iPad 2 to enable me to easily see the password while I was keying it in on the iPad.
Download their App
If you have an iOS or Android device you can download their FREE App for your device and log into your Eye-Fi Account. Once you log in you can then enable your card to transfer to the App directly.
A Tip
By default your images will just import and show in the grid. I want to see my images full screen and have them auto advance as i shoot. This is not really called out in the preferences. However if you go to Application Preferences and turn on "Full Screen", your images will not only go to full screen as they come in, but they will also auto advance! YAY!
See more about the Eye-Fi App
I did a more complete review of the Eye-Fi App here.
How fast is it?
In my testing I used my Nikon D7000 (a 16.2 MP Camera) and I used the first card slot to shoot RAW to my regular 16GB SD card and I put the Eye-Fi Mobile X2 card in the second slot. I set the camera to shoot BASIC JPG to the second slot. This means that it's transferring a 16.2 MP Basic JPG image to the iPad.
See the speed for yourself here:
The Bottom Line
Before you can say it, yes I wish there was a Compact Flash option (adapters aren't supported with the X2 cards). However, if you've got a camera that shoots to an SD card, this solution totally rocks! If you got a camera with two card slots, then it gets even better as you'll be able to shoot RAW to one card and your smallest JPG to the Eye-Fi card. I'm loving my D7000 even more now!
You can get the NEW 8GB Eye-Fi Mobile X2 Card here for $79
You can get the 8GB Pro X2 Card (which handles RAW) NEW LOWER PRICE here for $99
You can get the Nikon D7000 here 🙂
You can get the FREE Eye-Fi iOS App here: 
You can get the FREE Eye-Fi Android App here
If you want MORE OPTIONS check out the Shuttersnitch App here. Yes it works with Direct Mode too!