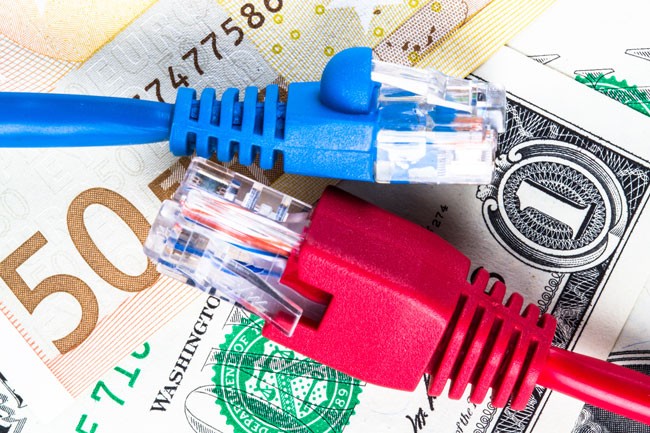 Hey Comcast, it's almost 2015! We're deep into the Netflix and online gaming age. While I appreciate my high speed Xfinity service and the relatively low down time, the 300GB per month data cap seems to be a bit archaic. I moved at the beginning of September and when I did I signed up for your fastest (and most expensive) consumer internet plan. I get a nice 105Mbps download speed and a good 20Mbps upload speed. Once it was finally installed properly (that's another post), the service has been very speedy and stable. No complaints there. However, in about 2 weeks after I got connected I started getting the emails and automated phone calls alerting me that I was nearing my 300GB data cap and then eventually that I had passed it. Many of my readers here probably don't realize that most internet providers have a data cap. Whether it's enforced or not is another story. In the case of Comcast Xfinity it's 300GB per month for years, but not really enforced until 2012. That sounds like a lot! However, in today's world of streaming media, cloud storage, online gaming and cloud backups it's really not a lot at all. I would imagine that there is a need for data caps. If they let everyone do anything they wanted there would likely be some abuse that would slow down other customers. The fact that there's a data cap is not my issue. My issue is that Comcast has one data cap for ALL customers (except Comcast Business customers). So if you're on their cheapest plan or their most expensive plan the data cap is the same. That's the part that I have an issue with. It's like punishing your best customers who chose your fastest speed because they'll be more than likely to hit the cap sooner!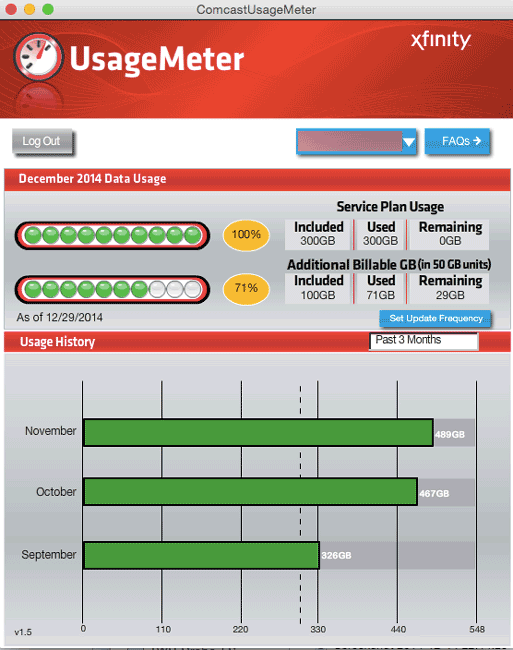 What happens when you go over?
A few years ago I hit the cap and I got a very threatening call from Comcast. They actually gave me a warning that If I went over 2 more times they would actually cancel my service. Back then I thought "how stupid is that?" You have a customer that's using a lot of your service. Find a way to give them what they need and charge them for it. Well it seems that Comcast realized they were missing out and now they give you 3 overage grace months before they start charging you $10 for 50GB units. As you near your 300GB limit you get the warning emails/phone calls. Once you use 300GBs of bandwidth they add on another 50GB of data for $10. Go over 350GB and they add on another $10/50GB unit (this time without warning).
Actually the extra $10 charges (while annoying) aren't the real issue. It gives us the ability to either stick to the 300GB limit or a way to pay extra for the extra bandwidth that we need. There is one problem though. Let's say it's the last day of the month and you hit the 300GB limit. No problem Comcast doesn't interrupt your service, they just tack on another $10/50GB unit. However, chances are you won't use that 50GB in one day. Let's say you only use 5GB of the 50GB unit and you technically have 45GB left. On the first of the month the meter starts over again and you lose that extra bandwidth that you paid extra for. At a minimum you should at least get to carry any extra bandwidth that you paid for over to the next month.
Let's get back to the main issue though. Not only is 300GB really too small in today's high speed world, it's also just not reasonable to have one limit for ALL consumer customers. Comcast I ask that you either raise the cap for all or offer higher caps for those of us on your higher plans. My average appears to be under 500GB so let's start there!
A little Q&A
Q. Terry can't you just go with Comcast Business since you use more data than the average person?
A. Sure and as a matter of fact I had it in my studio. However, there are some other limits like NO premium channels and you have to sign a contract with steep penalties for early termination (which is why I'm still on the hook for paying for it until March 2015).
Q. Terry can't you just pay for the overages? That way you only pay for the amount you use over the cap?
A. Yes and I do. However, since I'm already paying for their most expensive/fastest plan it would seem that their should be a larger cap. Also the unused portion of the overage units is lost at the end of the month.
Q. Why not go with a different provider?
A. When it comes to high speed internet I need the fast available and in my area it's Comcast. If there was a competitor that offered comparable speeds I'd consider a switch.