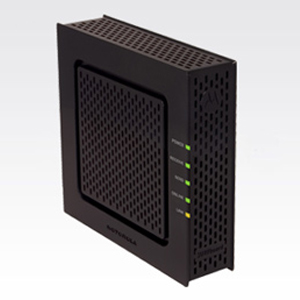 If you're a cable modem user chances are your cable modem is on 24/7 doing its job and you don't give it a second thought. Most people go for years without upgrading their equipment because as long as it's working the cable company has no reason to upgrade you and as long as it's working you have no reason to think about upgrading right? Think again! Like any other technology out there, cable modem manufacturers add new features too. So while your old cable modem is functioning, you may not be getting all of the speed out of your connection that you could be getting. Here in Michigan my cable provider is Comcast and while I've had my issues with them for Cable Television off and on, my Cable Modem service has worked very well for over 10 years. As a matter of fact my internet speeds have steadily increased over the years. So I've been a happy customer.
And then something went wrong…
Very rarely does my IP address change and usually when it does it means that Comcast has changed something on their end. Normally their changes have meant good things for me. Not this time! I was out of town and wanted to connect to my home network and I couldn't (at least with the IP address that I knew) because my IP address had changed. It wasn't a big deal and I moved on. However, once I got home I immediately noticed that my upload speeds were in the toilet. Here's a speed test I performed back on July 7, 2008 (yes almost 2 years ago) when I noticed and blogged about how much faster my service had gotten:

Great download and upload speeds back then.
Here's the speed I was getting when I got home from my trip:

While my download speed was still rocking as fast as ever, my upload speed was way way down. Below 1Mbps. This all happened around the time when I was needing to upload lots of video content via FTP for the CS5 launch and therefore a slow upload speed was very painful.
It's not our fault
I immediately got on the phone with Comcast support (after doing the standard unplugs and resets). They claimed that nothing had changed on their end. Of course! We tried a bunch of things and best I could get was about 1.75Mbps when connecting my computer directly to the modem and a little less than than on the router. I know that routers add some latency, but this was more than just a latency problem and again it wasn't all that much faster connected directly to the cable modem. Comcast told me that they only promise 2Mbps UP on my plan and since I was getting very close to that, there wasn't much they could do.
It's my own modem
I own my own cable modem because it seems that since they don't change very often the math works out in my favor to own rather than rent. Since I own my own equipment that means that I can upgrade to the latest standards whenever I want. If I ask Comcast to bring me out a new cable modem, they will but I'll have no control over what they bring. I know that Comcast is going to be upgrading to faster speeds and you'll need a cable modem capable of handling DOCIS 3 to get those faster speeds. I also know that this kind of upgrading of their systems doesn't happen over night and I figured that they had already started putting some of this new gear in place. So why not take advantage of it?