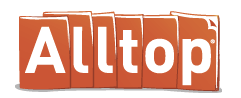 The concept of a custom "newspaper" has been tossed around for years. However, not many sites really deliver on this promise in a visually compelling or easy to use way. Most frequent blog site and news site visitors rely on their favorite RSS Reader Applications and Sites to see the daily headlines of their favorite sites. There's also Read It Later and sites like it that allow you to take the web pages you want with you and read them later offline.
Alltop.com may be the one stop news site you've been looking for
Alltop.com does two things for me. Like a newspaper or magazine It allows me to see stories about the topics I'm interested in. Secondly, it allows me to create my own MyAlltop page with just the sites that I want to keep track on. When I featured Scott Kelby in my weekly Tech Profile post, he reminded me that Alltop can be very useful to see all the news you want in one place. This also means that you can discover new sites by checking out the MyAlltop pages of your friends or people you admire. Check out MyAlltop choices here. Then create your own!