My New iPhone App is Now Available!
As you may already know I have one of the Top Ranked Video Podcasts on iTunes! Each week I provide tips and tutorials on how to use the Adobe Creative Suite via the Adobe Creative Suite Video Podcast.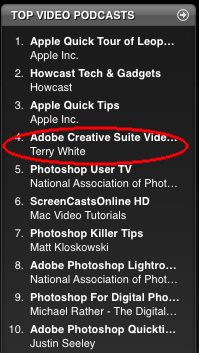 Well now there's an app for that! I'm very pleased to announce the immediate availability of my NEW iPhone App. The "Learn Adobe Creative with Terry White" (CS) not only gives you access to my near 300 Video Tutorials, but here's the catch – you will have access to videos that won't be posted anywhere else! That's right – BONUS CONTENT!
How does your app work?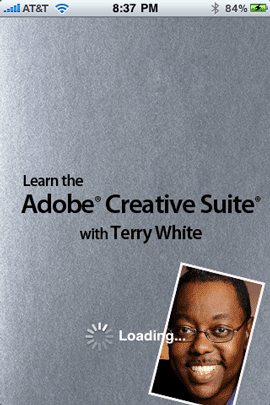 Once you install the CS App you can go and watch any video you want as often as you want. The videos will be streamed to your iPhone or iPod touch. So you don't have to wait for them to download first before you start watching. Rewind, pause or skip ahead.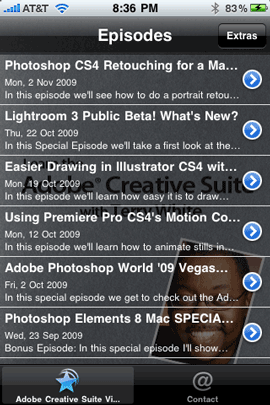 .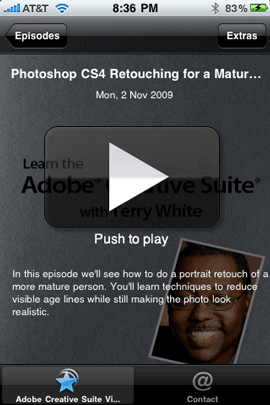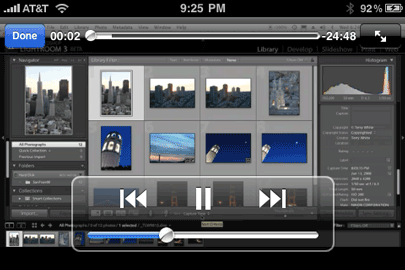 How is this App better than just downloading your Podcast?
I knew you were gonna ask that. 🙂 The biggest difference is the EXCLUSIVE Bonus Content. Starting with my Lightroom 3 Beta Episode you'll be able to tap the "Extras" button and see an additional tutorial that can't be seen anywhere else. These Episode Extras will be in the form of video or PDFs with additional tips, techniques, steps, etc., and only available to the users of this app! Also the app just makes it easier to get straight to my show and all of my episodes without the multiple taps it would take in the iTunes or iPod app.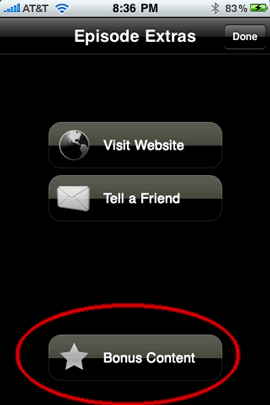 That's right, you get to see more tips and more techniques from videos recorded specifically for the users of this app. This week I posted a video on Retouching in Photoshop CS4. In addition to that episode, there is a bonus clip that covers additional techniques.
What if I want to watch your tutorials offline?
There's a button for that. You can tap the "Download in iTunes" button and the app will take you right to my page on the iTunes store to download the episode of your choice right to your iPhone/iPod touch. Then you can watch it offline.
Will there be new content?
Absolutely! This is not a static app. It's the app that keeps on giving. On average I record at least one tutorial a week. So you'll have something new to watch all the time. My goal is to also provide Bonus content with each new episode from here on out as well.
How do I get it?
The "Learn the Creative Suite with Terry White" app is available for both the iPhone and the iPod touch. You can get it from the App Store for $1.99 here:
I hope you like it and if you do get it, Thank YOU!
P.S. Also do me a favor and if you like it don't forget to go back and rate it on the App Store. It helps!