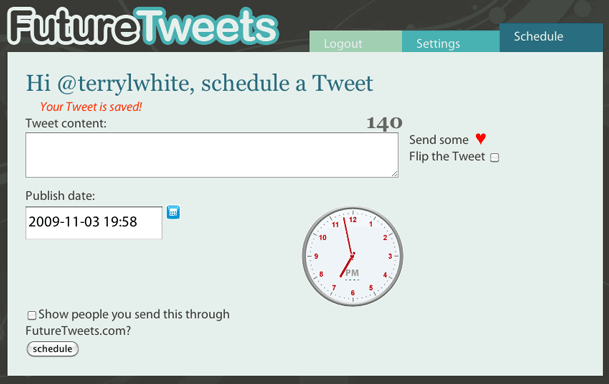 I love social networking! I'm on Facebook and Twitter and I find these sites really useful to get the word out about things that I'm doing or working on and where I'm going to be presenting. However, I do work a day job and can't be spending all my time tweeting and facebooking (yeah it's a word now) all day long. However, sometimes I want my message to get out at specific times during the work day. With my blog or podcasts it's easy! I can write a post any time and schedule it to go live any day or time that I want. However, for Twitter.com it's not so easy. The Tweets are in real-time.
That's where FutureTweets.com comes in
Thanks to my friend Stevie Lynn for sharing this site with me. If you login at FutureTweets.com you can schedule your tweets (announcements) to go out whenever you want. It's that simple. So now you can have the appearance of never sleeping. 🙂
What about Facebook Status Updates
If you tie your Twitter account to Facebook, you can have your Tweets show up on Facebook as Status Updates. Since I didn't want every tweet to be a Facebook status update, I used the "Selective Twitter" app on Facebook instead. This way if I do a Tweet (live or via Futuretweets) and I do want it to be a Facebook status update, I just put the #fb hashtag on the end of it and both Twitter and Facebook fans get the same update.
The Bottom Line
Twitter and Facebook can be useful tools for getting your messages out. However, they are not worth getting fired over 🙂 So use FutureTweets.com (it's FREE) to do your updates throughout the day while you concentrate on the work/job that pays your bills.
Follow me on Twitter and Become a Fan on Facebook.
P.S. I was never here.