I have had my share of point and shoot cameras and since I've gone to a Digital SLR (DSLR) camera, I really don't spend much time (hardly any) using point and shoot cameras any more. However, there are times when carrying a big camera around just isn't fun or convenient. So I set out to find a really good point and shoot camera that would give me decent images.
Where I've come from
My last "pocket" point and shoot camera was the Minolta DiMAGE Xt and while this camera was a break-through in small sized cameras when it came out, the image quality just never impressed me. So consequently I never really used it much. I then thought I had struck gold with my waterproof Olympus camera and while it does take decent shots and is waterproof and shock resistant It bugs me to no end that it uses xD cards. Since going to SD cards with my Nikon D80 and using the SanDisk Ultra II SD Plus USB cards, I just don't want to have to use a card reader any more. So I was back in the market for a point and shoot that not only took great images, but used SD cards (like the majority of point and shoot cameras out there these days).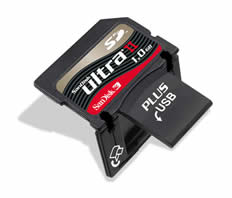 I've always bought Canon point and shoot cameras for my family members and I thought to myself it's time that I started looking for a Canon for myself.
While I was in Montana attending a meeting, a colleague passed me her Canon 800 IS and asked me to take a picture of her and the two people sitting next to her. When I raised the camera to take the picture I was stunned to see 3 little squares start moving around on the screen and lock in on their faces. The Canon 800 IS has "Face Detection." I've never seen this in a camera before. I knew the software existed because it exists in Adobe Photoshop Elements. However, I didn't know that it had made its way into cameras. With this technology the camera uses the face(s) to adjust the exposure of the rest of the image. So without having to go into manual mode or depend on an Auto mode you get great people shots every time. The quality was simply AMAZING! I was sold! I said to myself that this is my next camera. The "IS" stands for Image Stabilized" and Canon is known for its great image stabilization features. When I got home and did some research I found that I had a choice between the Canon Powershot SD800 IS and the Canon Powershot SD850 IS. The biggest difference is that the SD850 IS is 8 megapixels and the SD800 IS is 7.1 megapixels. There is also a difference in focal length and the 850 is slightly faster in shooting speed. So figuring that I don't buy point and shoot cameras that often, I went with the Powershot SD850 IS.
The SD850 IS also has a 16:9 widescreen shooting mode, 6 movie modes, various white balance modes including a Custom setting and a 4x optical zoom.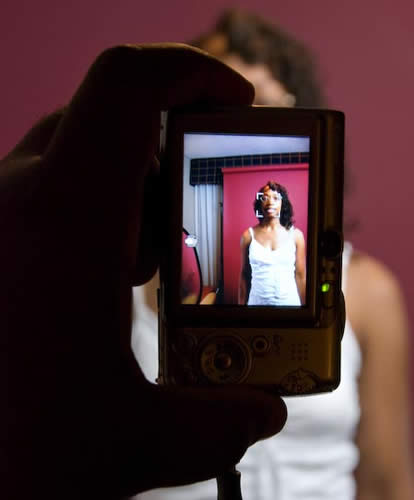 Face Detection at work on the SD850 IS
Shooting
The beauty of a point and shoot camera is that in most cases you turn it on, point and shoot. However, since I'm now so used to shooting with a DSLR, this whole "let the camera do everything" approach is kind of unsettling. I'm looking for ISO settings, shutter speeds, white balance, etc. It took me a minute to realize that the Powershot SD850 IS has a "Manual" mode right on the dial. Once I switched to it, I was in control of my settings. Now keep in mind, I don't plan on doing a lot of shooting in Manual mode as that defeats the use of a "point and shoot" camera, however, I just wanted to know that I have the option and where to set my own settings if the shot demands it. I found everything I wanted at first glance except shutter speed. I'm not sure if I can set the shutter speed on this camera or not, but that's not a big deal for me with this camera anyway. Even with my DSLR I shoot in Aperture Priority Mode most of the time anyway letting the camera set the shutter speed.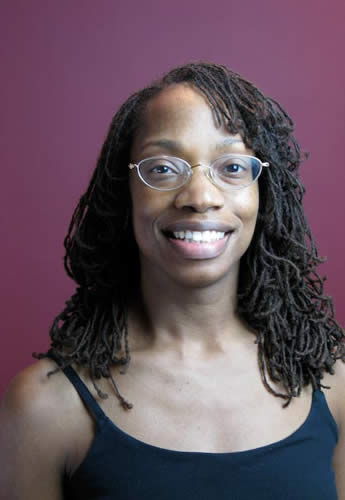 shot in Auto mode, ISO 200 with no flash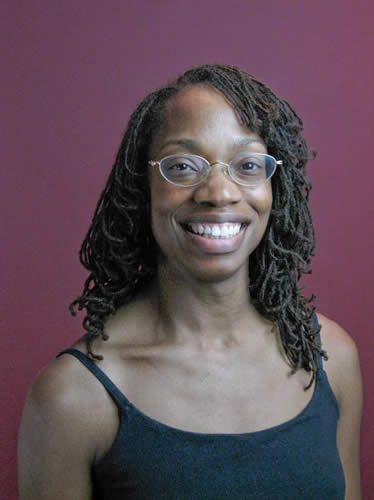 shot in manual mode, ISO 400, no flash. With the higher ISO there is more noise as you would expect.
The Bottom Line
You simply can't go wrong with Canon's line of Powershot cameras. If you're looking for a GREAT point and shoot camera, I would definitely check them out. I guess my only complaint is that this camera offers so many features that the menus can be a bit daunting. Canon uses icons to represent most of the features. Once you learn what those icons mean you're good to go. However, for a camera that I only plan to use occasionally, I may not remember where a certain feature is. I like the way Olympus provides a complete description of any feature or mode at the push of a button. Canon could really stand to copy this feature. However, with that said, the SD 850 IS will be a permanent fixture in my travel bag.
If you want a more exhaustive review of this camera or any other cameras for that matter, more sample shots, etc. head over to Steve's Digi-cams Reviews. They do a great job taking cameras through their paces! I got the Powershot SD850 IS at B&H Photo for $345.