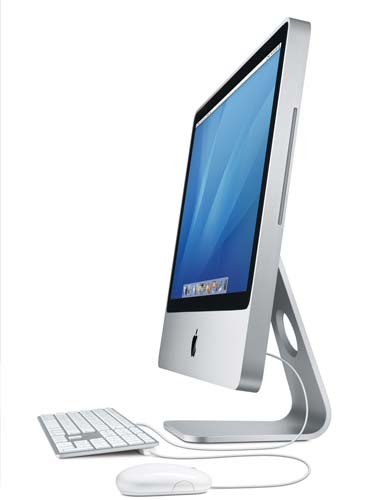 Apple had four major announcements yesterday. Yes, I know in the technology field something that happened yesterday is old news, but I wanted some time to digest the announcements before posting my take here. After all, there are other sites out there that are dedicated to "Apple News" and if that's what you were looking for, chances are you already got your fix. So here goes:
A New iMac
Apple updated its very popular all-in-one iMac and lowered the entry price point for the 20" model at the same time. The 17" model has been discontinued. So if you wanted an iMac you would go with a 20" or 24" model. It's all about design! The new iMacs are aluminum and have the popular glossy screens found on their notebooks. If you're in the market for a simple all-in-one computer design with a nice beautiful large display it's hard to go wrong here. As you would expect the internal specs have also been updated with more RAM capacity (up to 4GB now), larger hard drives (250GB and 350GB standard with upgrades to 1TB possible) and faster intel processors (2.0GHz or 2.4GHz Core 2 Duo). Apple also added Firewire 800 (Firewire is not dead – yet) ports standard and improved ATI graphics cards.
So all in all, a very nice upgrade for those in the market for a desktop computer. Also keep in mind that even if you're a Windows user, this is a great computer because it can run Windows XP or Vista natively via Boot Camp, Parallels or VMWare.
Apple also replaced the keyboard on the iMac with one that has a much lower profile and of course matches the aluminum styling. However, what I found most interesting is that the new wireless keyboard doesn't have the numeric keypad. Granted I probably wouldn't miss it and the smaller size for lap typing is nice. I'm just wondering how well that will go over since it's $30 more than the wired version which includes a numeric keypad. Has anyone ever tried pairing one of Apple's keyboards with a PS3? I wonder if that would work? For home theater applications the new smaller size would also be a plus.
I think that the iMac is an important product, but I have no plans to get one. My family uses iMacs currently however, when it's time to upgrade them I'll most likely replace them with notebooks (MacBooks). Especially for my daughters who will be going off to college in the not too distant future.
iLife '08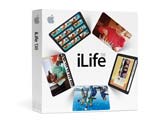 Skipping iLife '07, Apple has released the long awaited update to their iLife suite of products. iLife includes iPhoto, iMovie, iDVD, iWeb and GarageBand. As you would expect all the products received updates. However, the most significant updates were to iPhoto and a completely new iMovie. iPhoto gains the ability to organize your photos into "Events" automatically. So if you come in from shooting all day, when you download your images iPhoto will organize the day's shoot automatically into an "Event" which you can name. If you shot more than one event that day, you can easily split the shots into multiple Events. While I haven't played with this yet, it seems like they took their existing "Film Roll" concept and enhanced it a bit. "Events" sounds better than "Film Rolls" in this digital age.
The story behind iMovie in that an Apple engineer took a weekend diving trip and when he returned he was frustrated with the way iMovie and Final Cut Pro worked (or didn't work the way he wanted) and therefore he wrote a new version of iMovie from scratch. Wow! That's pretty ambitious for one guy. My suspicion is that he was shooting with an HD camera that stores video in AVCHD (a highly compressed video format stored on memory cards) and was frustrated because iMovie and FCP didn't currently edit in that format (most editors don't). According to Apple iMovie still doesn't edit in this format, but it does convert the video into an editable format upon import. So the real question is how long does that conversion really take? Look for benchmarks once people get their hands on this new version and put it to the test. Otherwise iMovie looks like a nice upgrade. I'm not sure that it's really easier, I'll let you be the judge of that since I'm not an iMovie guy.
Apple barely gave mention to iDVD. Steve even made the comment that "there are some people that still want to create DVDs." I thought about that statement for a moment and I then realized that this attitude may explain the lack of any kind of Blu-ray announcements from Apple. Also keep in mind that even in their latest professional video suite that DVD Studio Pro wasn't touched and remained at version 4.x. Is DVD dead to Apple? Is it all about streaming video on the web, watching it on your iPod/iPhone or Apple TV as far as they're concerned? Is it that this format war (HD DVD vs. Blu-ray) getting in the way and Apple (who was strongly behind Blu-ray) has decided to sit this one out? Only time will tell, but I was really taken back by the lack of attention in the DVD space. iDVD didn't even get a video tour like the rest of the iLife apps did.
Clearly Apple's iPhone partnerships have had influence here as well. For example, now in iMovie you'll be able to publish (Share) directly to YouTube and in iWeb you can now add a Google Map to your page with a single click and add YouTube videos and other HTML snippets.
Rather than continuing this blow-by-blow on iLife '08, it's best to check out this video on the new features found in iLife '08. Apple did a really good job covering what's new here.
iWork '08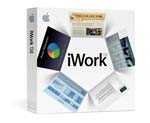 Apple also updated it's productivity suite for business users and students. iWork '08 includes Keynote (my favorite presentation app), Pages (a visual word processor) and a brand new app "Numbers" which Apple's new entry into the world of spreadsheets. Numbers has been rumored for years and is finally here. Yet, I really didn't even look at it. Why? because I don't do much spreadsheet work or word processing for that matter. While I'm sure it's a great app, the spreadsheets I receive from others are in Excel format (which Numbers will open) and If I need to make any changes and give it back to them, it's just easier and safer to open it in Excel, do whatever I need to do, hit Save and give it back to them. I've created maybe one or two spreadsheets from scratch in the last year. So Numbers, while I'm sure it's cool has virtually no appeal to me. Same goes for Pages. If I create a document, it will likely be something either very simple that TextEdit will handle just fine or something more complex that I'll use Adobe InDesign CS3 for. So while these two apps are probably welcomed from those looking to break away from Microsoft Office, they have little appeal to me. However, on the other hand I'd buy the upgrade to iWork '08 just for the new version of Keynote! Keynote is a joy to use and simply blows PowerPoint away in most cases. This new version of Keynote includes new text effects and transitions, Action Builds (which it sorely needed and this was one area that PowerPoint excelled over Keynote) which gives you the ability to animate objects along a path or scale objects. Apple has also included Voice-over recording so that you can create a presentation that can be played back later without you having to deliver it in person. Apple also finally gave Keynote an Instant Alpha feature which allows you to remove the background from an image on a slide. Again PowerPoint has had this for a while and it's nice to finally see it in Keynote. Another cool addition is Smart Builds which lets you create sophisticated animations from your images without having to know how to do this in a 3D or video app.
Check out these new features and watch the videos on how they work here.
Apple updates .Mac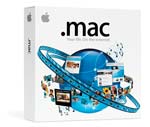 Each year that goes by, I wonder how much longer .Mac will survive or will Apple really upgrade it to the be the service that we all want? One of the biggest complaints has been solved and that is the complaint that for $99/year the storage space was anemic. Gmail accounts for example had more space for FREE. Well Apple has done something about this by upping the .Mac storage space to 10GB per account at no additional cost. While this is a nice and welcomed upgrade, the second biggest complaint comes to mind and this is the one of speed or lack there of. It's great having all this extra storage space, but did they speed up the access to it? It seems like it takes forever to upload or download from an iDisk. As a matter of fact it's faster to use the web interface to the iDisk as opposed to the one built into the Finder.
Apple also now allows you to more easily have your own personal domain name point to your .Mac website. They also integrated .Mac with iPhoto in that you can press one button and create a web gallery of your photos with a unique URL and you can even allow others to add photos to your gallery either via a standard web browser or via a special email address for that particular gallery. In true Apple fashion the gallery pages and options are beautiful and very well designed.
.Mac is nice and easy, but for $99/year I want more! I had to switch my Adobe Creative Suite Podcast and this very blog away from .Mac hosting because Apple was too restrictive on bandwidth and iWeb was just to limited. Even with the new .Mac's bandwidth limit being raised to 100GB/month, that's not enough and their policy of simply cutting you off once you hit that limit just doesn't make sense to me. Why would you cut someone off (for days at a time) instead of charing them more money for the overage? So I have no plans to return to .Mac for web hosting beyond a simple personal page here or there.
What Apple didn't announce…
Apple managed to quietly upgrade a few products without any fanfare. For example, the Mac mini received processor updates (1.83GHz and 2.0GHz processors). The Mac mini is one of those products that hasn't received a lot of attention since it was first launched. I think it's because sales of this particular Mac aren't where Apple would like them to be. However, it remains an important entry level product so it stays in the product line for now.
Apple also added a hardware RAID card option to the Mac Pro. This $999 add on allows you to increase (or decrease with redundancy) your storage beyond the box with multiple hard drives raided together.
Apple also updated the NEW AirPort Extreme Base Station to have Gigabit Ethernet ports. This was one of the biggest wishes from people that evaluated the earlier version.
Lastly, the iPhone got a "magical" update to support the emailing of photos to a web gallery. I call this upgrade magical because it just appeared on people's iPhones yesterday. My guess is that it was a time/date released update that was a part of the iPhone 1.0.1 update or a part of the original iPhone firmware. Now if you go to any photo in your Photos and tap the send button, you'll have a new option to "Send to Web Gallery." This feature requires a .Mac account to be configured for posting from mobile devices. Now if they could just magically turn on 3g support that would really be something 🙂