One of my favorite travel management website is tripit.com. I discovered TripIt when I reviewed the iPhone App FlightTrack Pro.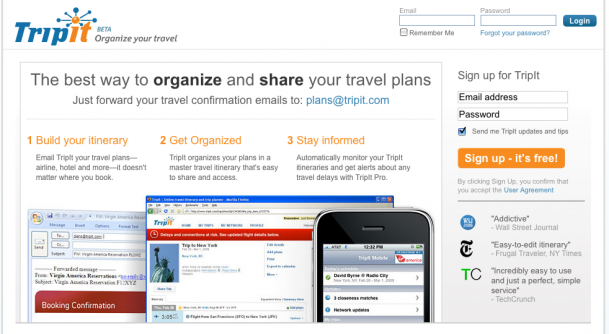 How does it work?
What makes TripIt so cool is that it doesn't require you to manually enter the information about your trip. You simply forward your itinerary from your airline, hotel, rental car company, etc. to plans@tripit.com from the email address(es) that you registered from and TripIt.com will automatically add all of your travel information to your online itinerary. I was blown away that this even worked with the PDF itineraries that I get from my work travel agent.
Now what makes this even sweeter is that they have a Free iPhone App. The TripIt iPhone/iPod touch app allows you to see all the pertinent information about your upcoming trips.
TripIt also allows you to subscribe to an iCal/Outlook calendar of all your trips.