Today marks the 300th episode of my Adobe Creative Suite Video Podcast! I'm thrilled that the show has been such a success. When I first launched the Creative Suite Podcast back on February 13th, 2006 I had no idea that it would be the success that it has been.
The show has consistently ranked in the Top 10 of Software How-To Video Podcasts on iTunes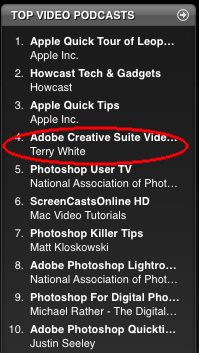 Back in 2006 it was Awarded a People's Choice Award on iTunes
This year I launched a NEW iPhone/iPod touch App to compliment the show and the feedback had been great!
See the 300th Episode here:

So let me say thank you for your continued support and for helping me celebrate this milestone. If you haven't checked out the show yet, it's free. Head over to the site and start watching today.