It's 2 for 1 iPhone App of the Week Reviews today. I thought I would cover two apps this week that I've come across to assist photographers. If you are lucky enough to have a photographer's assistant, then you know how nice it is to just concentrate on the shoot. That's because your assistant has packed all the necessary gear that you're going to need and he/she has setup your lighting. All you have to do is walk in and pick up your camera and start shooting. How cool is that? Alas, I'm not so fortunate. Since photography is not my full-time gig, I can't really justify a full-time assistant. So it's all on me. However, these two iPhone/iPod touch apps help me with the details:

PhotoAssist
PhotoAssist is an app that is geared to help you remember all the gear that you need to take on a particular shoot. It seems like I'm always forgetting something when I do location shoots. So this app is very much appreciated.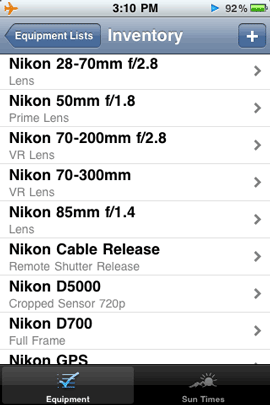 The easiest way to start off is to spend some time entering all of your gear into the "Inventory List."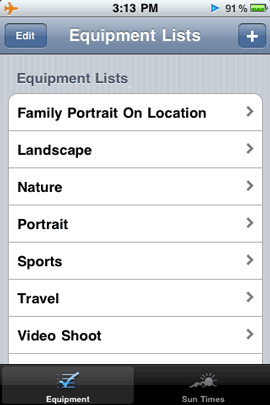 At that point you can then make "Equipment Lists" for the different kinds of shoots that you do. For example, if you're making an Equipment List called "Landscapes" then you'll probably want to include your Wide Angle Lens, Tripod, Cable Release, etc.
However, if you're making an "Equipment List" called "Studio Portraits" then you might want to include your wireless triggers, reflectors, favorite portrait lens, etc.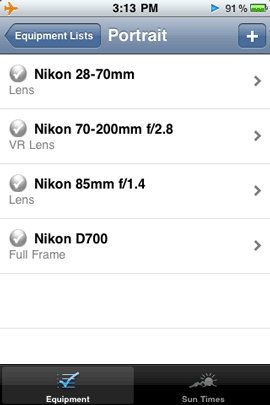 When it comes time to pack for the shoot, just go to that list and check off each item as you pack it. You can check off each item as you put it in your bag/case.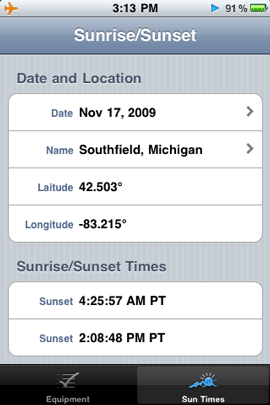 PhotoAssist also includes a "Sun Times" feature to give you the Sunrise and Sunset (although there's a typo in the app as they both say sunset) times for a particular location.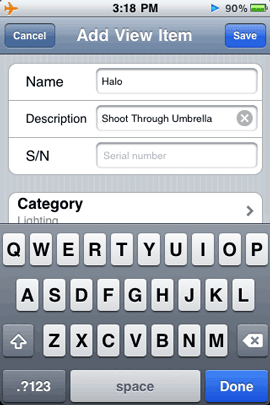 Using the PhotoAssist App is pretty straight forward and I really like the inclusion of a "Serial Number" field, which comes in handy when you need the serial number for a piece of equipment without having to physically go find that piece of equipment and look it up each time.

Room for Improvement
Although the app works as advertised, there are a couple things that would make it even better. First off entering items in the Inventory List is more tedious than it needs to be. It would be nice to be able to pick items from a list that's built-in instead of having to enter everything from scratch. Also when entering multiple items it would be nice if it would just stay on the entry screen until you're done instead of having to tap the + sign each time. How about an online account setup from your computer that could be setup with all your gear and then the app would just sync with it?
Secondly and this one should be in any checklist app of this kind and that is an "Uncheck All" option. When I'm done packing and want to uncheck all the items on the list, currently I have to do it one by one. Also speaking of checking items on the list the check circle needs to be bigger. It seems hard to tap at least with my fingers.

The Bottom Line
This App is a welcome addition to my stable of Photography Apps. You can get it here from the App Store:

Strobox
Strobox is an app for easy creation of lighting diagrams. Thanks Brad Moore for turning me on to this one. At first I didn't really see much use for this app for my own photography, however my buddy Scott Kelby had a great idea and that was to use the app to document lighting setups that you see others use say while attending a workshop or in a photography magazine. That makes it a no brainer to have.
The app is really easy to use and comes populated with icons for softboxes, strobes, backdrops, reflectors, etc. I created a diagram in a matter of seconds. Each icon can be rotated 360°. There are also buttons for send to the back and bring to front.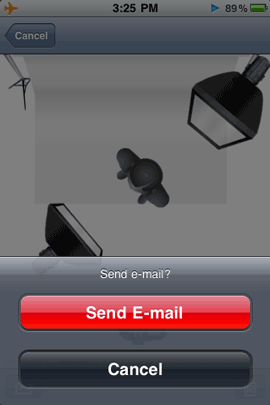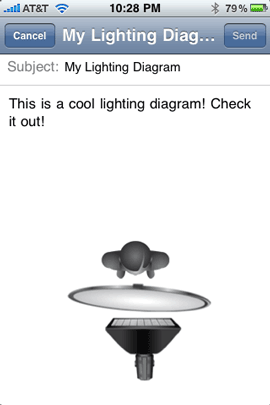 You can even share your diagrams via email right from the app itself.

Room for improvement
This app is free, so it's hard to complain and it does exactly what it claims to. However, the one thing I ran into pretty quickly is that everything is on the same level/axis. So for example, If I wanted to diagram one of my beauty setups that involves a light above the subject and a reflector or KickerLite softbox below there really isn't a good way to do it in the app.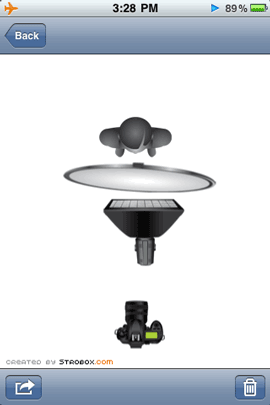 Now this could be accomplished if there were more icons that showed the objects facing down or up. However as it stands in this version each icon is upright except for the hair lights.

The Bottom Line
If you want to put a quick diagram together to either remember a lighting setup that you like or to share with someone that says "how did you light that shot?" then this app is pretty cool. Also you can't beat the price of FREE. Download it here from the App Store: