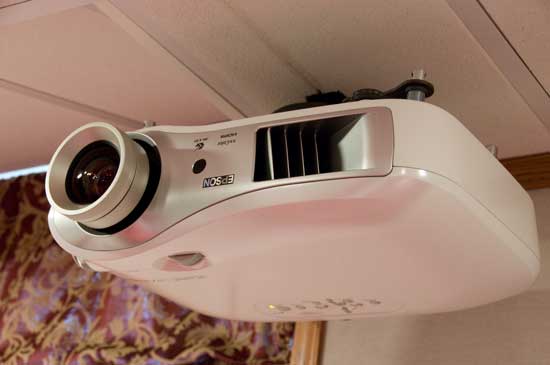 In October of 2004 I decided to convert a storage/server room in my home into a home theater. This room used to be the catch all for empty boxes, discarded computer equipment, my web and file servers as well as the place that old papers and software seemed to go to die. At one point it was almost impossible to walk from one end of the room to the other, because of the amount of crap that was in the way.
So I decided it was time to turn this: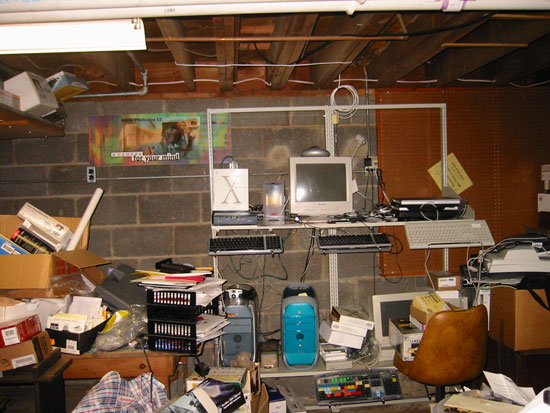 into this: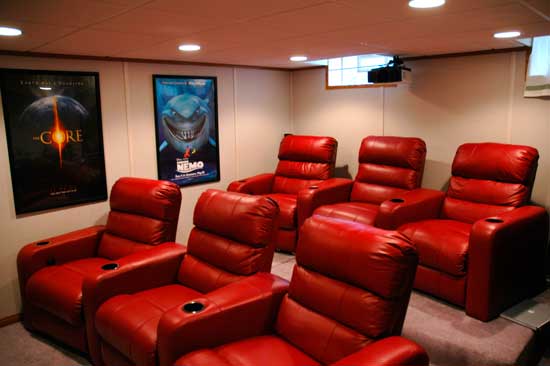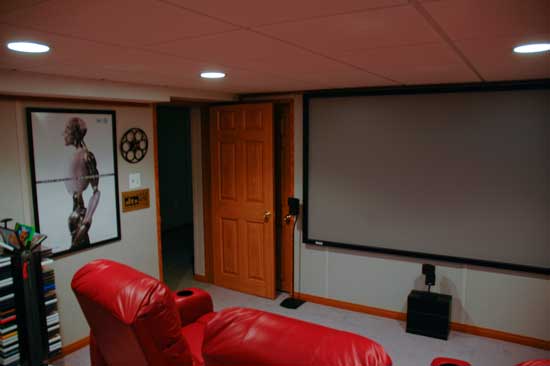 At the time I spec'd out the latest and greatest sound and video gear. I settled on the Sony Cineza VPL-HS20 1080i HD Projector. My friends were telling me this one was the one to get and the good folks over at projectorcentral.com had this GREAT REVIEW. So it was a done deal and I've enjoyed that projector for the past 3+ years. However, my cravings for "higher Def" lead me to want to experience Blu-ray at its best which meant that it was time to upgrade from 1080i (interlace) to a true 1080p (progressive) projector. I started asking around and my colleagues at Adobe (Kevan O'Brien and Dave Helmly) were both quite impressed with the Epson PowerLite Home Cinema 1080 UB projector. I've always been a fan of Epson projectors for data/business presentations, so it didn't take much convincing to look into Epson to replace my Sony.
I also turned to ProjectorCentral.com once again to see what they had to say. They had not only reviewed the pro version of this projector, but they gave it their highest honor of Editor's Choice! That's all I needed to hear. My mind was made up! I figured I'd get it in the next few weeks when my schedule settled down a bit. However, I noticed that B&H Photo and Video had it and also alerted me to the current $200 rebate that is in effect until 3/31/08. So that pushed me to order it now instead of waiting. After all, $200 is $200 right?
I ordered it so that it would arrive in time for the weekend. That way I'd have time to set it up and enjoy it before going back to work and back on the road. Setup was quite easy. I used the same universal mounting bracket that I had used with my Sony projector and I ran a new HDMI cable to replace the DVI and Component cables I was using with the Sony. Although they (Epson) offer a ton of different configurations for getting just the right color and picture, the defaults produced STUNNING image! Yes, I might go back and play with the settings to compare, but out of the box I was blown away by the picture quality. It wasn't like I looked at it and said, "well it's a little too green or it's a little to contrasty." It was dead on right out of the box. I can't imagine it being better!
Comparing the old to the new
The Sony VPL-HS20 has a power zoom and focus. The Epson relies on a manual focus and zoom ring. So I sat right under it and just reached up and adjusted it until I was happy. There is also a "Pattern" button on the remote that allows you to throw up a pattern on the screen to make sure you have it aligned properly. The lens will shift up/down and left/right so that even if your mounting location is not dead on, you have some wiggle room (which worked out great for me!) This way I didn't have to move the mounting bracket since the Sony's lens is centered and the Epson lens is off to one side. It would have been a major pain in the butt if I would have had to relocate the mounting hardware in the ceiling. Luckily I didn't have to.
The Epson is better in just about every way over my almost 4 year old Sony. It powers on and starts to display your image almost instantly. It powers off quickly too. There are a few little things I like about it: for example, there is a separate on and off button on the remote instead of just one power button. This makes it nice for programming universal remotes and macro sequences. In other words with a single power button, if the projector were already on and someone accidentally hit the power on macro, it would power the old projector OFF! Then we'd have to wait for it power all the way down before being able to bring it back up again. Although I'm only using a single HDMI cable to it, I like the fact that the Epson remote has buttons for each source. With the Sony I had to cycle through several sources to get to the one I wanted. Epson also allows you to diable the projector's control panel so that kids or other people don't mess with your settings. There is even a "Child Lock" that prevents small children from accidently turning the projector on.

I will have to hand the overall styling to Sony though! The Epson projector doesn't win any awards in my book for design of their cases. The Home version is white and the Pro version is black. The latest Sony projectors look like something right out of War of the Worlds. Their home theater projector designs set themselves apart from standard business projectors. Epson could learn a thing or too here.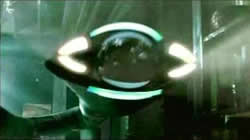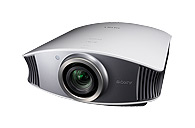 A scene from War of the Worlds where the alien probe has a look around. This bears a striking resemblance to the Sony Bravia VPL-VW40.
Back to the Epson…
Epson also does the right thing by standing behind their products if something does go wrong. Rather than making you take it into a service center, they will advance ship you a replacement! You just send the defective one back when the new one arrives. However, in my over 10 years of using Epson projectors, I've yet to have one break down!
I did find it funny that in the literature when they were bragging about their service, that they used the example of if your projector goes down before the "big game", they'd send you a replacement. I had a simple question and I thought I'd give them a call only to find out the service is open Monday through Friday only. So if the big game is on the weekend, you might be hosed 🙂
What about Blu-ray playback?
Now it was time to try out the one thing that I upgraded for. I wanted to see a Blu-ray movie in true 1080p high def. So I fired up the Playstation 3 and loaded up a movie. Believe it or not, Rocky Balboa was the closest so that's what went in. I'm glad that it was, because that particular Blu-ray disc starts off with an opening ad for Blu-ray movies with clips and scenes from several blockbuster movies. I had seen this ad before, so it was a great comparison. My mouth hit the floor. I had never seen that ad with such clarity and depth. I was stunned by how much better the quality was. I also set my Apple TV to 1080p output and the photo slideshows are even more spectacular!
The Bottom Line
If you're looking for a true 1080p Projector Experience, you can't go wrong with the Epson PowerLite Home Cinema 1080 UB. If you're not technically inclined and want someone to set it up for you and calibrate it, then you'd want to go with the Pro Cinema 1080 UB version which is only sold through Home Theater companies. Now I know what you're thinking: "what are you going to do with your Sony VPL-HS20 HD projector?" Well, if you hurry, you can get a great deal on it here 🙂