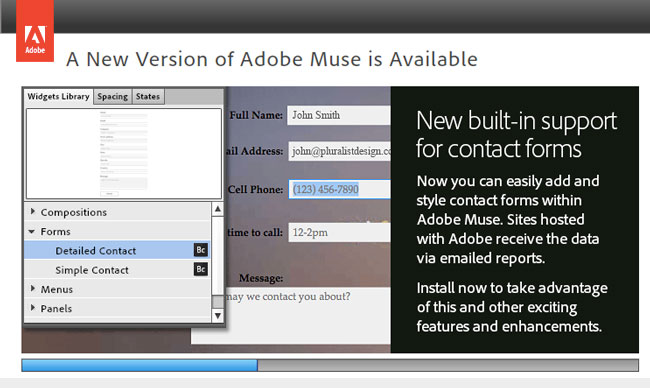 Delivering on the promise of Creative Cloud and subscriptions Adobe has released a major feature update to Adobe Muse in just 3 months after its initial 1.0 release. This update brings many of the most requested features to Muse without having to wait for the typical 12-18-24 month cycle.  Creative Cloud Members and Muse Subscribers will simply be able to click update the Adobe Application Manager or from launching Muse to get these new features.
In this episode of the Adobe Creative Suite Podcast Terry White shows the main new features in the Adobe Muse 2.0 update:
Align Panel and Ruler Guides
Asset Upload (link to external files)
Contact Forms
Drag & Drop Styles
FTP Upload (for non-Adobe hosting)
Adobe Edge Integration (place Edge HTML5 animations directly into Muse 2.0)
Sitemap.xml (for non-Adobe hosting
Adobe Muse 2.0 now generates CSS for gradients, shadows and glows instead of images.
More optimized code
Japanese Language support
Several UI tweaks, better font handling and bug fixes
Also be sure to check out Edge Animate 7
Edge Animate preview 7 is here! This is a huge update with new resizable layouts, rulers and guides, shadows, enhanced text editing, timeline grid and SO much more. Download it now! Download it here.
Do you have my App?
See more of my Adobe Creative Suite Videos on my Adobe Creative Suite Podcast and get the App here.